Sankei-en
The Traditional Japanese Garden in Yokohama
Add to my favorite places
Sankei-en is a vast typical 175.000m² Japanese garden facing Tokyo Bay, on the south-east of Yokohama city, in the Southern suburb of Tokyo. The place displays seventeen historical buildings in a verdant area enjoyable in any season. A part of its lawns welcomes visitors for enjoying a relaxing moment.
Sankei-en garden's origin is quite unusual, as it was created by Sankei Hara, a Yokohama's businessman who succeeded in the silk industry and from whom it was named. The construction of the garden started in 1902 to last about twenty years. Part of the garden was already open to the public as soon as 1906. It was thereafter transferred to the city of Yokohama. In 2007, the garden was recognized as a "Place of Scenic Beauty" by the Government of Japan.
Several courses of visit start from a vast pond around which Sankei-en garden is arranged. Seventeen ancient buildings, gathered from the whole country, stand in the garden. It is also possible to visit several teahouses. The masterpiece, a three-story pagoda, was built for Tomyo-ji Temple in Kyoto in 1457 before being transferred in Sankei-en in 1914.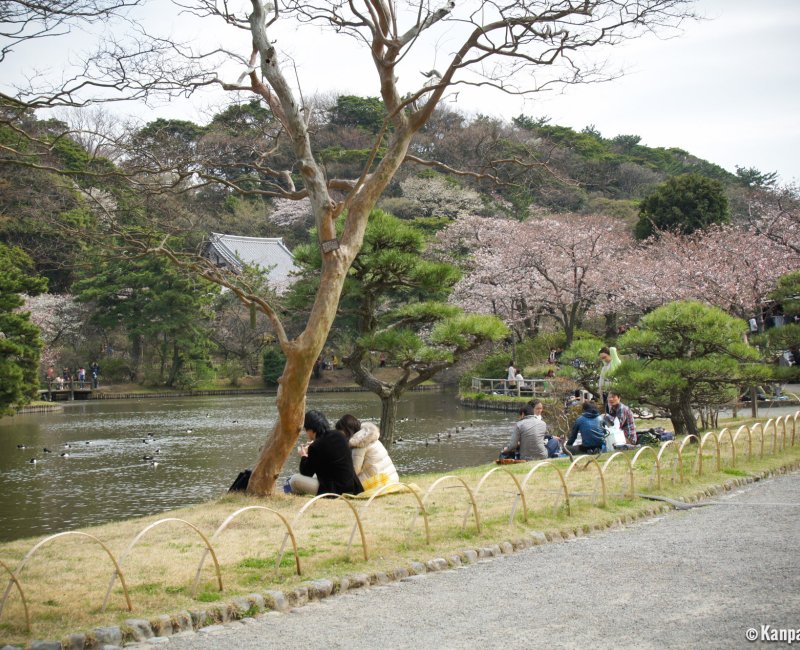 The inner garden, which used to be Sankei Hara's private residence, is a genuine historical part, meticulously cared for, that reminds of the famous Moss Temple Kokedera, as you can see in the pictures below.
The garden is a quite charming and relatively quiet place, except for its southern part bordered by an inappropriate highway, fortunately hidden by the trees most of the time. It is possible to picnic in some parts of the garden, especially on the pond's shores, an activity quite popular with families. However, drinking and eating in the inner garden is strictly forbidden.