Landmark Tower
Yokohama's Observatory in Minato Mirai 21
Add to my favorite places
Landmark Tower is one of Japan's tallest skyscraper, with a 296 meters height, located on Minato Mirai 21 waterfront in Yokohama, in the southern suburb of Tokyo. The observation deck occupies its 69th floor and opens on a panoramic view on the city and Tokyo Bay.
Located a couple of minutes' walk from Yokohama station, Minato Mirai 21 can be considered the leisure and entertainment district of the second largest city of Japan.
Its attractiveness outshines Yokohama's historical downtown, with several places of interest gathered around the port (whose Japanese name means "harbor of the future"!) and beautiful walks. Hotels 🏨, shopping malls, museums, including the Cup Noodles museum, a spa-onsen ♨️ and even an amusement park, Cosmo World built on Shinko polder, are major attractions.
A record-breaking tower in its time
Minato Mirai 21's most famous building is certainly Landmark Tower. Three years of works were necessary to complete the tower, that was opened to the public on 16 July 1993. At the time of its construction, Landmark Tower set new highs and was a record-breaking building:
With a 296,3 meters height, it was Japan's tallest building, and it held the title of the highest observatory until 2014's construction of Abeno Harukas in Osaka, towering at the totemic 300 meters height; in 2023 it is topped by the new Mori Building complex in Toranomon Azabudai Hills towering at 330 meters high.
It was equipped with the fastest elevator in the world, with a 12,5 meters per second (45 km/h) speed, toppled in 2004 by Taipei 101's elevators (60,6 km/h) in Taiwan. However, it is still the fastest in Japan.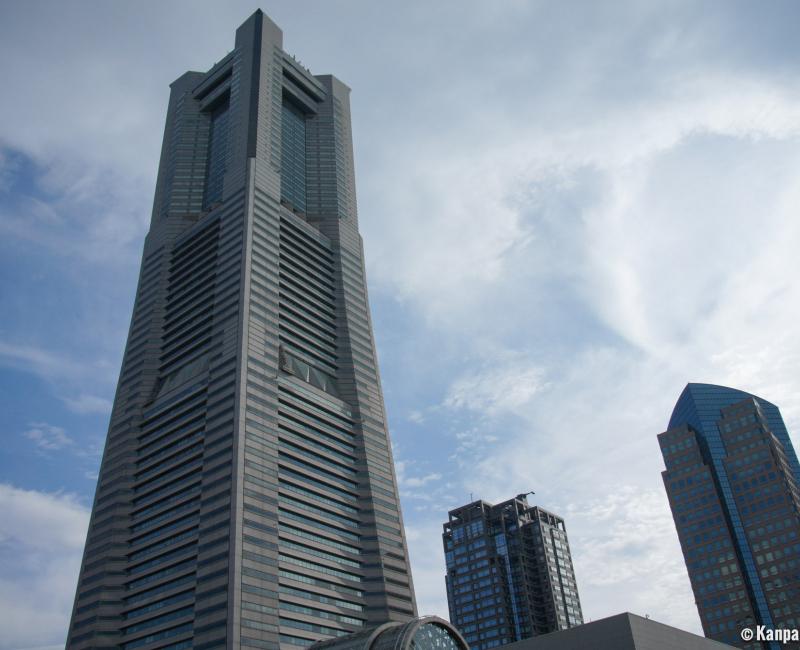 An amazing view on the urban landscape
At the foot of the tower, visitors are welcomed by the famous modern sculpture in Queen's Square. Landmark Plaza, a vast shopping mall distributed on five floors, gives access to the Tower and to a classical shopping experience. There even are a Donguri shop (Studio Ghibli official store) and a Jump shop. You can get on the elevator to the observatory from the second floor (3F), and you will reach the 69th floor in forty seconds!
The observation deck named "Sky Garden" is located at 273 meters above sea level, and offers a stunning 360° view. On a clear weather day especially the skyline extends up to eighty kilometers away, with views on Yokohama of course, but also Tokyo (including Shinjuku, Sunshine 60 in Ikebukuro or Tokyo Tower 🗼), and up to Mount Takao and Mount Fuji 🗻.