Chukagai
The Big Chinatown in Yokohama
Add to my favorite places
Chukagai is the largest and oldest Chinatown of Japan, located in Yokohama, to the south of the capital, on the shore of Tokyo Bay. Chinese immigrants have settled here since the end of the 19th century and Yokohama's Chinatown is now a destination sightseers love for its exoticism, which is appealing both to Japanese and foreign tourists alike.
Initially a small fishermen village on Tokyo Bay, Yokohama started to develop during the Meiji Revolution (1868 – 1889), after the American Commodore Matthew Perry arrived in Japan in 1853 and forced trading relationships with Western countries. Until then, Japan indeed enforced a voluntarily isolationist policy, called sakoku, and only traded with the Netherlands and China. The port of Yokohama was therefore built to accommodate the new international trade operations and inaugurated in 1859. Japan thereafter actually opened to the world and had its first foreign communities settling.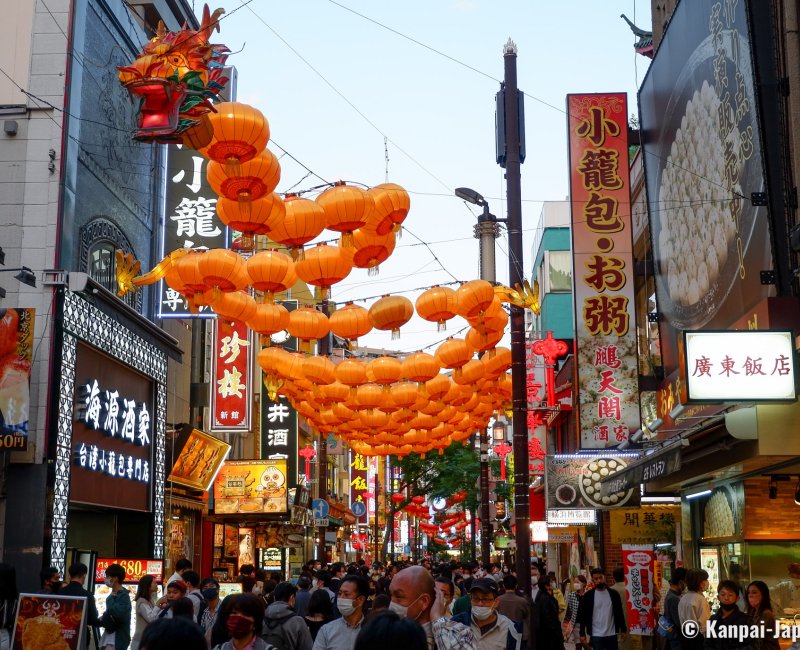 The beginnings of the Chinese settlement in Yokohama
Naturally, thanks to the geographical and cultural closeness, Chinese immigrants were the first to come to work and settle in Yokohama. They originated from Hong Kong, Guangdong (formerly Canton or Kwangtung) and Shanghai, and acted as trade go-between and interpreters for English-language companies and the Japanese. They leverage their previous trading experiences with the West to advise but also develop their own businesses there.
Consequently, Yokohama's Chinese community gradually strengthened over time and expanded their business to many industries. In addition to Chinese restaurants, they excelled in various fields such as architecture, painting, furniture and piano making and tailoring. Yokohama's Chinatown is called Chukagai and is now a must-see of the city and the largest Chinatown of Japan and Asia.
A maze of exotic culinary delights
Reaching Chukagai by public transports is easy:
By metro, stop at Motomachi-Chukagai;
By JR train 

🚅

, get off at Ishikawacho station;
By bus especially with the touristic City Loop Bus "Akai Kutsu"; or,
By water bus service with the Sea Bass.
The Chinese district is also located near Minato Mirai 21, the entertainment port area. The China town's 30 hectares are closed by 4 large arched gates, very noticeable and decorated in the purest Chinese tradition:
Choyomon, in the east (probably the most impressive);
Suzakumon, in the south;
Enpeimon, in the west; and,
Genbumon, in the north.
The district includes 6 other gates of various sizes, adorning the main shopping streets.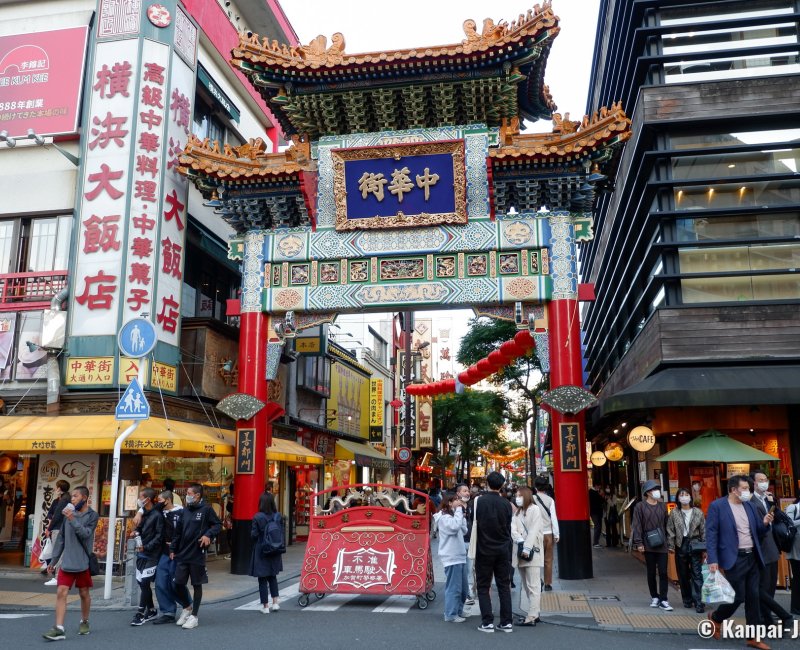 This labyrinth of very colorful streets and avenues, is teeming with a variety of shops. There are naturally many Chinese restaurants but also retails shops, furniture or sundries shops as well as antique stores.
By the way, you can eat and walk in the street, which is called in Japanese 食べ歩き tabearuki, and is not usually in the country's habits. It is a pleasure to pick among the gargantuan fare of street food stalls and try all kinds of Asian food specialties, such as:
Grilled skewers;
Chukaman steamed meat buns;
Peking Duck rolls;
Goma dango 

🍡

fried sesame balls;
Taiwanese karaage breaded chicken; or,
Hong Kong egg tarts.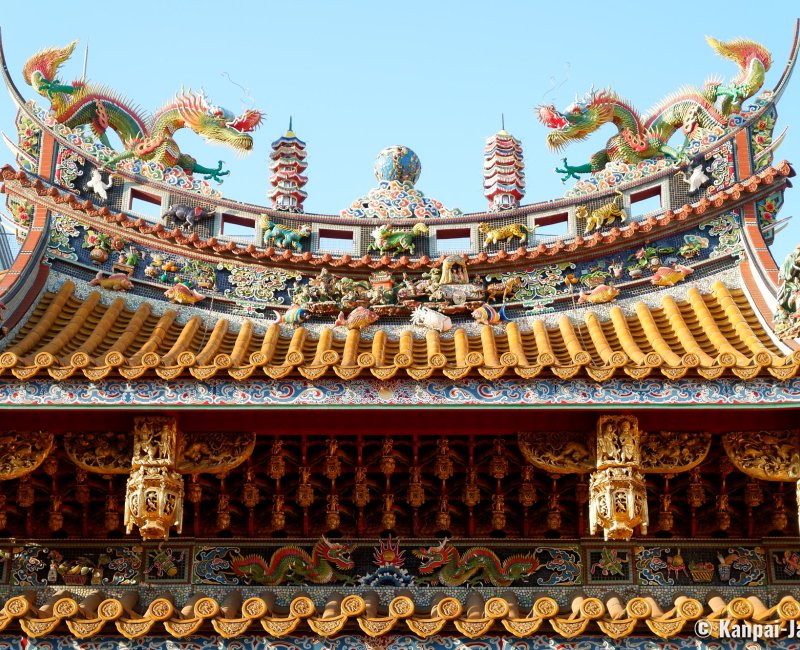 Chinatown's colorful temples
A real town within the town, Yokohama's Chinese district has its own places of worship, built by its first Buddhist and Taoist inhabitants. Several tragic events saw the destruction of the original buildings, such as the Great Kanto earthquake in 1923, then WWII bombings between 1939 and 1945. Chinatown's community always rebuilt the sacred sites, and a great care was put into keeping their ornamentation rich and their colors vivid, like in their early days.
2 temples are particularly interesting: Kantei Byo and Maso Byo.
Kantei Byo (Kuan Ti Miao)
Kantei Byo temple or Kuan Ti Miao in Chinese is in the heart of the district, at the crossing of Kanteibyo Street and Chuzan Road. It is mainly dedicated to Guan Yu (~160 – 220), a 2nd and 3rd century lord of the Shu Kingdom in China, renowned for his war prowess and its spiritual influence. In his deified form, Guan Yu is now revered for successful business and wealth.
After admiring the colorful and richly ornamented facades of the pavilions, visitors are invited to purify with incense sticks and pray the 5 deities governing prosperity, health, fertility, friendship and success in any endeavor.
Maso Byo (Mazu Miao)
Maso Byo temple or Mazu Miao in Chinese is located in the east of the district and is particularly dedicated to Mazu, a legendary empress who notably had the power of seeing the future, including weather conditions (and therefore foretell natural disasters), heal diseases and ward off evil. Chinese sailors prayed for her protection.
With a lovely octagonal pavilion, the temple was last renovated in 2006.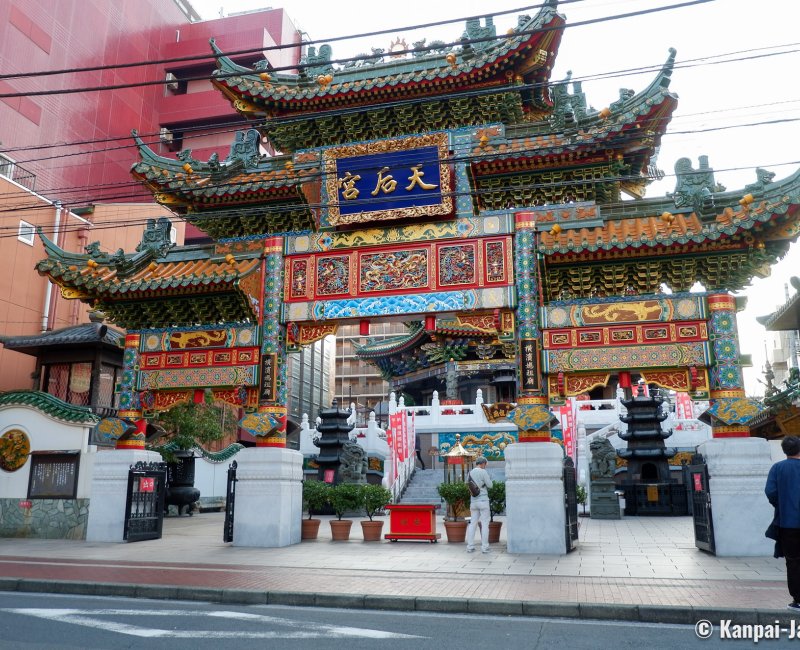 The district enters in a festive mood at the occasion of several yearly events, such as:
The matsuri held in early February and for 2 weeks to celebrate the Chinese New Year, during which can be spotted the parades, Dragon dances and Lion dances;
The Kanteitan festival, that celebrates the anniversary of Guan Yu in summer; and,
Chukagai is always lively and colorful, and is also nice at nightfall, when the many lanterns 🏮 decorating the streets are lit up.