Hotel Abest Ginza Kyobashi (Review)
A Convenient Short Stay Base in Tokyo
Add to my favorite places
Hotel Abest Ginza Kyobashi is a standard 3-stars hotel in the touristic center of Tokyo. Nonetheless located in a quiet area and a stone's throw away from Tokyo Station on Yaesu's side, this hotel is convenient for a short stay in the capital.
3-stars standard hotels are plenty in the Japanese capital, and if choosing an accommodation based on its convenience rather than its comfort, its location should be ideal. And this is the case for Hotel 🏨 Abest Ginza Kyobashi (Hotel Sui Ginza Kyobashi By Abest) that is standing less than 1 kilometer from Tokyo Station. It takes about 10 minutes' walk from Yaesu East exit whose renovation was just completed in 2023.
Backing the small Takaracho Station of the Toei Asakusa Line, the hotel is also easily reachable by Tokyo Metro via Kyobashi Station. Sightseers can therefore enjoy a central location to travel the capital by train 🚅, and a quiet night and a good rest as the neighborhood is slightly off the main roads.
The hotel's amenities are suitable for solo travelers, or people traveling in couples without children or a pair of friends. The rooms are small, with an 11 to 16 m² superficies and are furnished with the essentials:
1 or 2 western-style beds;
A shower room with private toilets 

🚽

; and,
A desk and a TV set.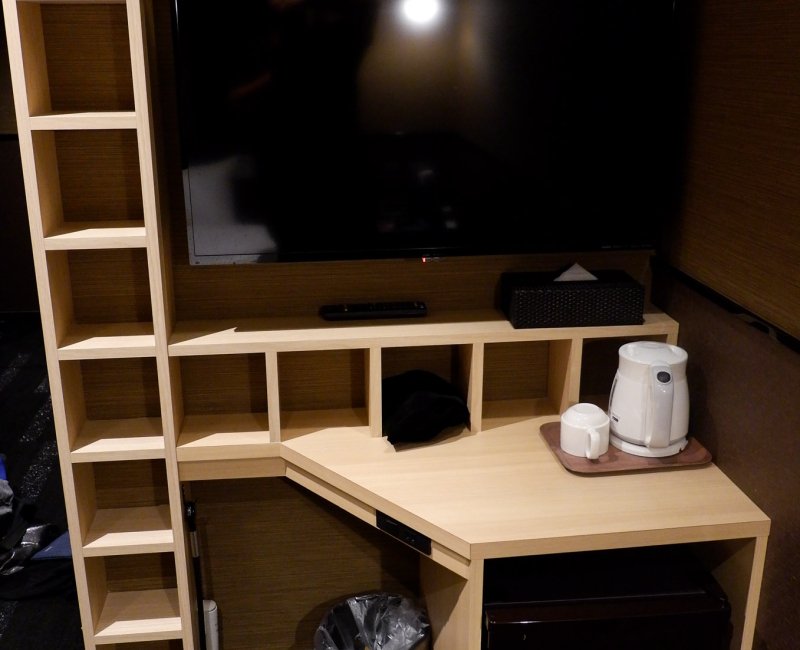 Rooms are equipped with air-con but it can be noisy as it is not always well maintained. There is no decoration nor view on the outside. However, the place is clean overall, and the water pressure in the showers is good.
At the 1rst floor, the coffee area is also used as breakfast room in the morning. Breakfast is an option to select upon checking-in, and mainly consists of onigiri 🍙 (rice balls) which can be light for people who need a substantial meal in the morning. Fortunately Hotel Abest Ginza Kyobashi is ideally located so we recommend going out for breakfast in one of the many delicious eateries of the dynamic neighborhood. In the evening, free drinks are available in a self-service buffet.
The hotel is not designed for a leisurely indoor stay despite its good location in Tokyo and its convenience. However, tourists will find it very useful for a few nights on a short stay in the capital.