Hotel Keihan Asakusa (Review)
Convenient Bed and Breakfast in the North-East of Tokyo
Add to my favorite places
Keihan Asakusa is a 3-stars hotel in Asakusa district, in the north-east of Tokyo in Japan. This standard and functional accommodation offers a good price – location value in a very popular and touristic area of the capital.
Due to its touristic and historical atmosphere, sightseers in Asakusa usually prefer staying in a more traditional lodging, such as a ryokan inn in the heart of the capital. The district, however, offers a wide range of accommodation options: from the house rental in a residential side street to the classical hotel 🏨 at the exit of a train 🚅 station. Keihan Asakusa Hotel belongs to the latter category and is located next to a secondary station in Asakusa, served by the Tsukuba Express Line (TX), slightly to the west of the Sumida river.
Despite not being directly next to Tokyo Metro's network, the hotel's location is nonetheless interesting and central to visit the area, and within 5 minutes' walk from:
Hanayashiki theme park;
Kappabashi-dori shopping street;
Hoppy Street yokocho and its lively izakaya pubs in the evening.
The surrounding streets also have miscellaneous cafes, restaurants, konbini and malls to do shopping or eat at any time. We also recommend going to Life for grocery, a supermarket located at the corner of the opposite street, in front of the hotel.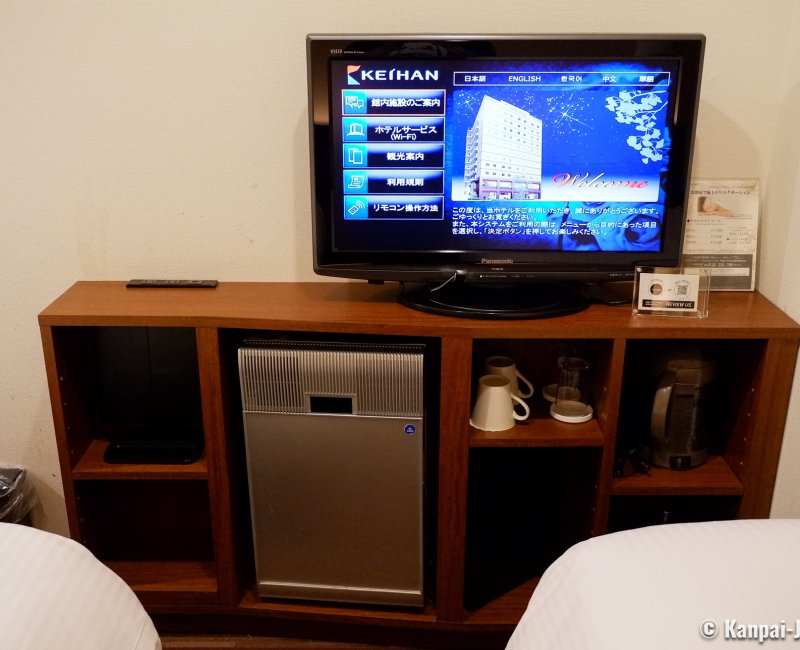 Lodging for couples and solo travelers
The hotel is a standard 3-stars business hotel operated by the Keihan Electric Railway company, whose activities are mainly established in the Kansai area. The 178 rooms of the Keihan Asakusa all have a slightly outdated dark wood decoration, and are similarly laid out with:
A Western-style bedding, in a selection of rooms with a large double bed (Double) or 2 simple beds (Twin);
A basic Japanese bathroom 

🛁

, in plastic and with a WC;
A little desk area including a TV set, a kettle and a mini-fridge.
Each room is equipped with AC and a Wi-Fi Internet 📶 connection. The cleanliness is noteworthy, as well as the staff's care for maintaining the hotel.
Size wise, the rooms for 2 are rather decent for the capital, with an about 15m² superficy, and solo travelers' rooms are 12m². Keihan Asakusa Hotel even has 28m² rooms for a couple with a child or a person with reduced mobility.
Breakfast is served in a continental and Japanese buffet every morning at the hotel's restaurant "Pietmonte".
Note that since the Coronavirus 🦠 pandemic, the check-in is primarily done at the automatic booth in the lobby, accessible by an escalator from the entrance hall of the building.