Hotel Mori No Kaze Tateyama (Review)
The Comfortable Hiking Rest Stop
Add to my favorite places
Hotel Mori no Kaze in Tateyama is a three-star hotel at the western entrance of the Tateyama Kurobe Alpine Route. Travelers in this mountainous area will find large rooms, several onsen hot baths and a broad range of foods.
The massive and rather bland front of the Mori No Kaze Tateyama hotel 🏨 complex can certainly give the wrong impression. Contrary to what it looks, once the doors of its large lobby are passed, the place is indeed very welcoming and offers various spaces and services.
From hotel rooms to private bungalows
Western or Japanese style rooms with a tatami floor, a coffee table for dinner and futon bedding are located in the hotel's upper floors. They are nicely laid out and quite clean. But what's make lodging at Mori No Kaza Tateyama interesting is the dozen of 50m² individual mountain cabins, a kind of chalet that can be booked apart from the main building. The price per night is naturally higher than for a classical hotel room, but the experience is worth it.
These private houses are fitted with:
A Western-style bedding, with a bed frame on legs,
An elevated space arranged in the Japanese style, with a tatami flooring and the possibility to sleep in a futon,
A small lounge with a desk and a fridge,
A private onsen 

♨️

bath with a view on the surrounding mountain,
A small outdoor terrace provided with deckchairs,
Free drinks: tea, coffee, soft and alcohols; and,
A few CDs of jazz, blues and classical music to listen to.
The combination of all these services provide a wonderful relaxing time, ideal to replenish before or after a hike in Mount Tate and its touristic Alpine Route.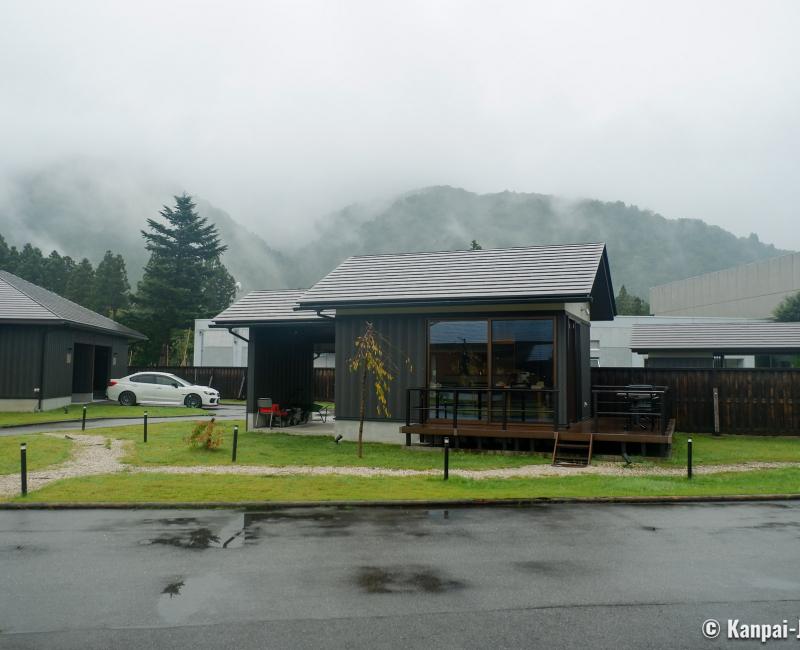 Various amenities for the whole family
All the hotel's customers are welcomed to enjoy its hot springs, in wide and well-maintained bathing spaces. The floor is covered with white tiles and the walls are white as well for a better luminosity: it almost feels like being in a European thermal facility. There are two large indoor baths with different temperatures and a small Jacuzzi. The outdoor bath is partly covered by a cantilevered roof and offers a beautiful view on the natural landscape, enjoyable in any season.
Mori No Kaze Tateyama has two restaurants, one of Italian inspiration and the other of Japanese style to cater to all the family. The most traditional restaurant offers seasonal menus with plenty of varied and hearty dishes, that are also delicious. We enjoyed among other things steamed vegetables, sashimi, yuzu citrus pudding and other seasonal fruits deserts.
In case of bad weather conditions, the resort has many possibilities for entertainment:
Adults can rest in a cozy lounge with large windows on the garden,
Children have a large indoor playground, with foam pads, slides and a ball pit,
A karaoke room for everyone, and,
A souvenir shop for last minute shopping.
At the Hotel Mori no Kaze in Tateyama, clients can enjoy a comfortable stay in a large space with various activities offered inside the resort, and in-between two hiking days in the mountain.
This article was written after a tour sponsored and organized by
Tokyo
Metropolitain Government
to promote the destination #HOKURIKU×TOKYO. Kanpai ahas been invited and guided but keeps a total freedom of editorial content.