Karigane (Review)
The Elegant Rental Machiya in Northern Kyoto
Add to my favorite places
Karigane is a machiya, a Japanese traditional townhouse, located in Murasakino district in the north of Kyoto. All year round, the owners Shimo and Rika welcome travelers looking for an authentic private lodging for their stay in Kyoto.
Kyoto offers a large range of accommodation solutions for tourists. It is quite easy to find a convenient place to stay in downtown Kyoto or near the Station, such as hotels 🏨 or more luxurious places like ryokan traditional inns, with easy access to the former imperial capital and Kansai area's must-sees.
Beyond the prominently touristic places, it is possible to (re)discover Kyoto and its inhabitants, in more peaceful and quiet residential areas. Travelers can indeed choose to rent a traditional machiya house to enjoy an authentic stay imbued with Japanese refinement.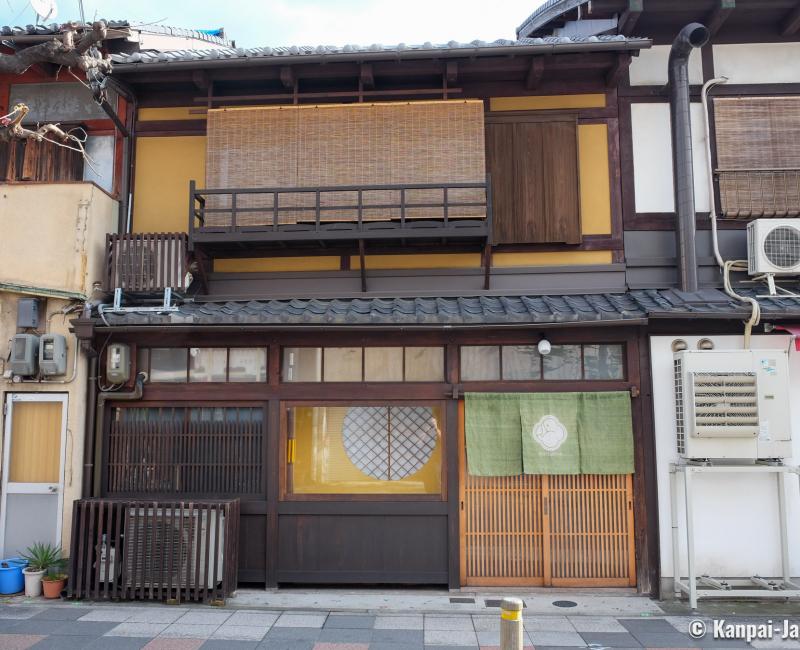 Stay in a comfortable Japanese townhouse in Kyoto
Located in northern Kyoto's Murasakino district, the Machiya Cottage Karigane is a beautiful and ancient typical townhouse, to rent as a whole accommodation. Its two levels can accommodate up to five persons with:
A ground floor, with shared spaces such as kitchen, living room, dining room and a bathroom with a beautiful round bathtub covered with mosaic;
A first floor, with two rooms separated by fusuma sliding doors.
The house layout is ideal for a family with children. It was entirely renovated and equipped with modern amenities, but still retains the charm of old houses and one feel quickly at home. Walls and floors in each room are made of different materials, creating a specific atmosphere for each space. The quality tatami floors and harmonious minimalist decoration are in the line of the city's historical heritage.
Guests just have to unpack to feel at home, as the machiya is ready for use:
Shampoo and soap offered;
Fully-equipped kitchen;
Futons spread upon arrival;
Internet Wi-Fi connection;
Reversible air conditioning system in each room;
Free bicycles to visit the surroundings.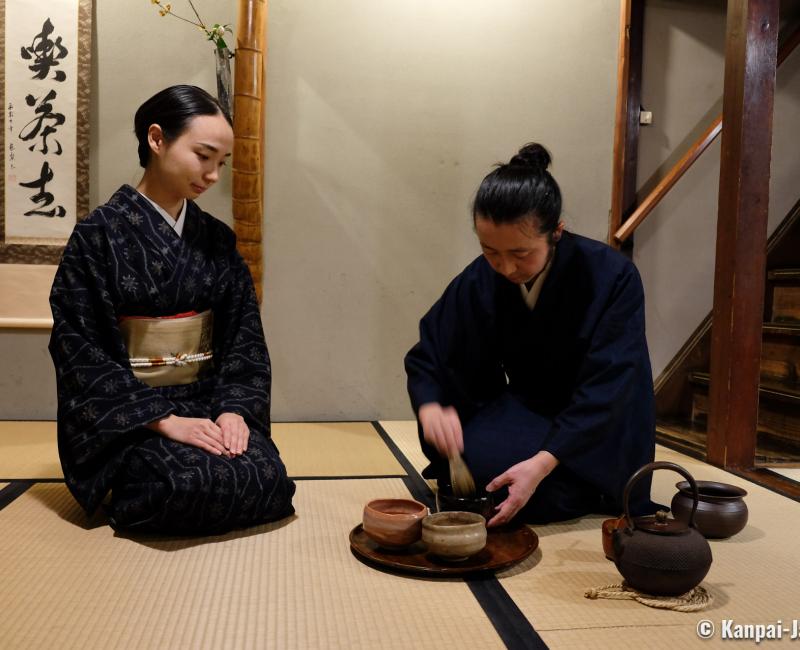 The former imperial capital's tour by locals
This Karigane Machiya is perfectly maintained by its owners Shimo and Rika, a lovely Japanese couple who care for the house and its residents. They hospitality is probably the main reason to come and stay in Karigane house. Each new arrival is celebrated with a traditional tea ceremony performed by Shimo, the husband.
Shimo and Rika speak a good and fluent English and know how to make their guests comfortable, and provide good advices to enjoy the house and its surroundings. There are indeed numerous good restaurants and nice shops in the vicinity, as well as Kyoto's important sacred sites such as Daitoku-ji, a Buddhist temple complex at about a few hundred meters from the house.
Guests in Karigane can enjoy the advantages of an autonomous accommodation and are assisted when necessary by Shimo and Rika, available before and during the stay, for breakfast reservations for example. It is indeed a pleasant experience for a stay far from the crowd and closest to Kyoto's tradition.

This article was written after a stay organized by Shimo and Rika, the owners of Machiya Cottage Karigane. Kanpai has been invited and guided but keeps a total freedom of editorial content.