Atami Castle
The best panoramic view of Sagami Bay
Add to my favorite places
Atami Castle is a replica feudal castle that stands on the heights south of downtown Atami, a seaside resort. Rather than a historical monument, it is an eclectic facility designed solely for tourism. The panoramic view from the top floor, 120 meters above sea level, is the best place to admire Atami City and Sagami Bay.
Despite its ancient appearance, Atami Castle was built in 1959 as a replica of the architectural style in vogue during the Momoyama period (1573-1603). Because it is solely a tourist attraction, it houses no particular historical artifacts. The view of Atami Castle towering majestically over the port town is a beautiful sight to see, but the castle's interior might not meet visitors' expectations.
Inside, the castle's rooms are rather plain, with neon lights and no specific decorations. However, on each floor, visitors can enjoy various amusing activities based on lighthearted historical games.
The first floors display numerous suits of samurai armor and various objects from the Edo period (1603-1868). Visitors can feel the weight of a real Japanese sword. There is also an exhibition of several architectural models of famous Japanese castles 🏯, some of which, such as the model made of matchsticks, are rather unusual. A flight ✈️ of stairs away, the period costumes area allows visitors to dress up as samurai for fun or experiment with the livelihood of Japanese peasants by trying to lift two suspended buckets. Finally, a tatami floor allows visitors to experience the basic comfort of genuine Japanese bedding.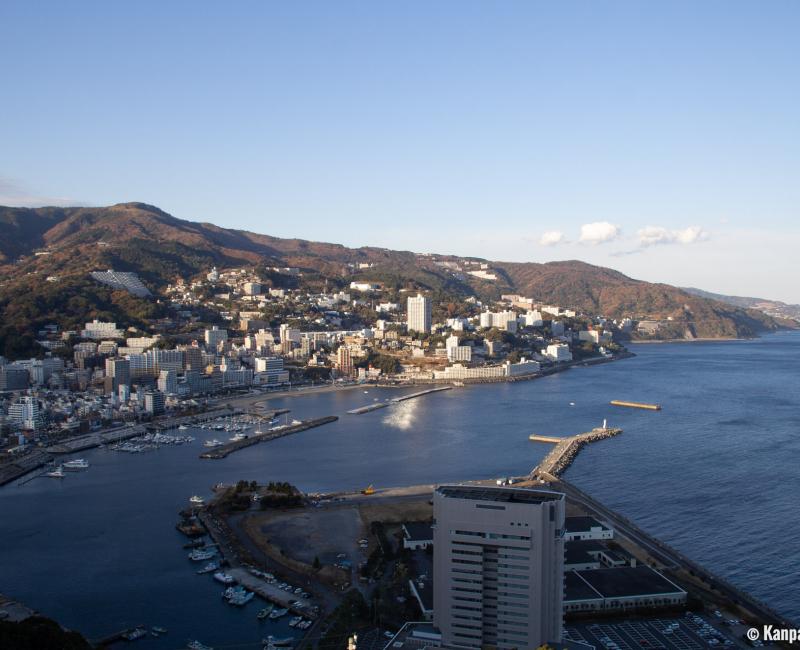 The most interesting exhibition is rather unusual and for adults only. It consists of a room forbidden to people under 18 years old, where several erotic ukiyo-e etchings of rather good quality are displayed. Advanced Japanese learners or amateurs may enjoy the fourth floor, which features approximately fifteen pictures that present quizzes and wordplays in Japanese.
At the top of the castle is an interesting viewing platform offering a rather beautiful view of downtown Atami, its port and Sagami Bay. One of the best ways to enjoy the scenery is to savor a hot or cold drink purchased on the premises. The ashiyu (outside baths for feet) come as a bonus, as they are placed in front of the ocean, on the mountain side. The observation deck is also open during summer and provides a view of the numerous fireworks 🎆 displays set off on the beach 🏖.
Visiting Atami Castle is a nice, fun excursion, as is Atami on the whole. Experiencing culture is a nice way to have fun. Atami Castle is not necessarily a must-see on the Izu Peninsula, but the observation deck is worth the visit for the view it provides on the area. On a useful note, visitors can buy a combination ticket allowing entrance to the castle and the nearby Trick Art Museum.