Atami
The Warm Sea Northeast of Izu Peninsula
Add to my favorite places
Atami is a small coastal city located in Sagami bay area on the Izu Peninsula in Shizuoka Prefecture. Connected to Tokyo in less than one hour by train, this seaside resort town stands out as a refreshing leisure destination for a side trip from the capital or a stopover on the Kansai route.
Hidden between the sea and mountains, slightly looking like the Mediterranean coast, the holiday village of Atami is very charming. From the main train 🚅 station, passing through Nakamise and Heiwadori arcades, a first walk allows to discover the lower city with its natural onsen ♨️ hot springs, its beach 🏖 and its small marina. Then we climb on the heights along small streams running through this spa resort. The upper town shelters several cultural heritage sites and natural observation decks on the bay or on the other side on the mountains, towards the peninsula. On clear days, it is even possible to enjoy Mount Fuji 🗻 views from Jukkoku Pass.
Relaxation and leisure are the keywords of this destination: travelers looking for preserved historical landscapes should walk away. A professional tourism was developed in the 1980s and 1990s with the construction of high-rise buildings on the seafront. They welcomed numerous salarymen coming from nearby big cities for motivational seminars. From this period remains today an old fashioned industrial architecture as well as a slightly libertine atmosphere, which can be found here and there in the city, with erotic art exhibitions and the Hihokan adult Museum.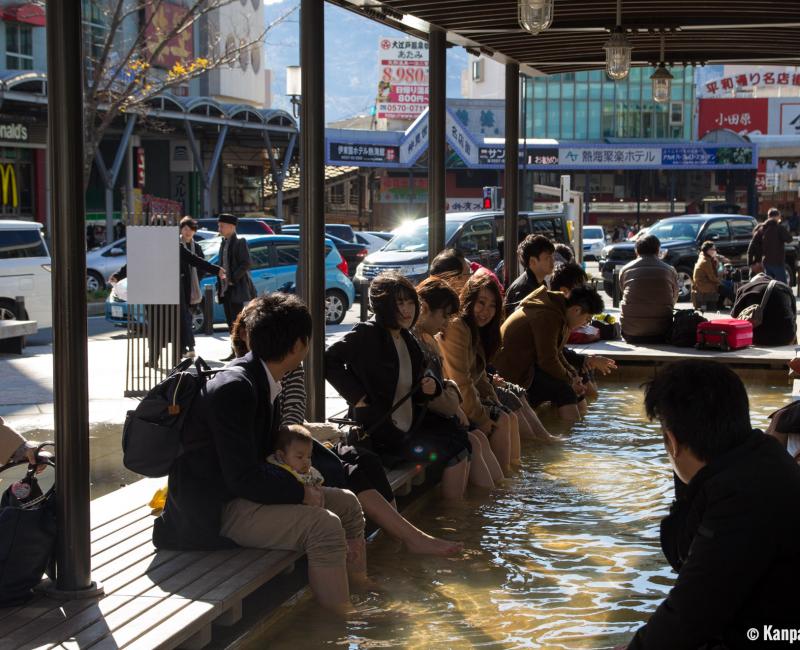 Resort destination of easy access from Tokyo
Just like Enoshima a little further more in the North, its closeness and easy access from Tokyo guarantee a high tourist frequentation in summer, so its main beach is often crowded. The rest of the year, Atami is also famous for its plum trees at Benten Tein park and its cherry trees 🌸 in the city center, which blossom quite early (usually as soon as February).
Multiple ryokan inns and their onsen (hot springs) deserve a stopover as temperatures drop. This way, the city happens to be interesting to visit all year round, more or less crowded depending on the season. Important to note are the fireworks 🎆 regularly organized on the bay: there are more than fifteen each year, during summer and winter periods.
For those willing to enjoy panoramic views of Atami Port topped by Mt Fuji, Hatsushima island, only a thirty minute boat trip away, offers a privileged ground.