Shukugawa Park
Nishinomiya's Blossom River
Add to my favorite places
Shukugawa Park is located in Nishinomiya City, in Kobe's outskirt in Hyogo prefecture. Spreading on 4 kilometers along the Shuku River, it offers a pleasant spot to watch the blooming cherry trees each spring in the company of the locals in a laid-back atmosphere.
Easily accessible by train 🚅 from Kobe or Osaka, Shukugawa Park is hugging the eponymous river that crosses Nishinomiya from north to south. Located in the heart of the city, this green space and its conveniences are very much appreciated by the inhabitants all year long.
As a matter of fact, the Shuku-gawa River bed has been totally artificialized with concrete and the riversides arranged for an easy circulation with sidewalks and stepping stone bridges to cross the shallow stream. The river is overlooked by rectilinear alleys bordered by pine and cherry trees overhanging the water and making a lovely place to walk, cycle or run. There are also several children playgrounds, picnic areas and about fifteen public toilets 🚽 distributed on each side.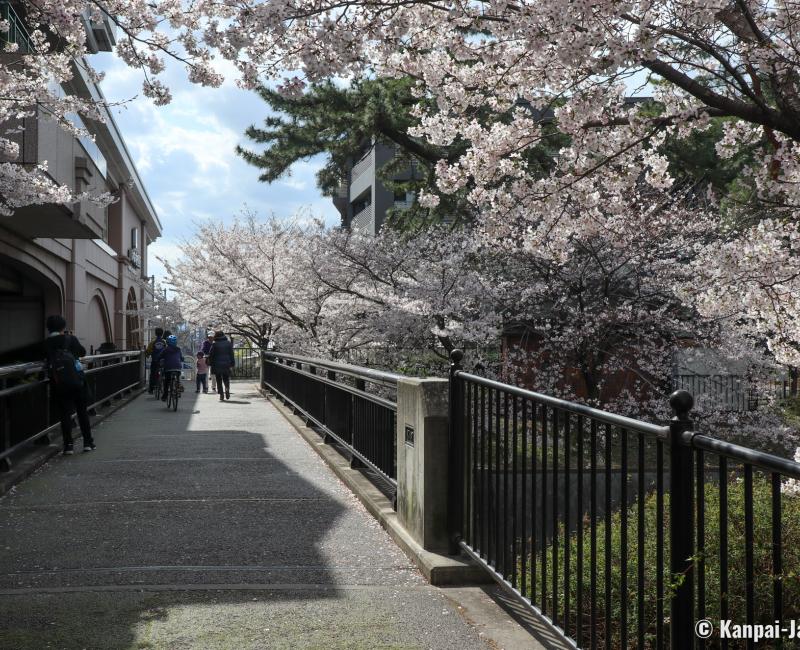 Sakura viewing spot in spring
In early spring, especially in the evening and on the weekend, the park is a lot more frequented due to the sakura 🌸 blooming. Flowers amateurs come to admire the blossoms of the 1,660 cherry trees gathered on a 3 kilometers walk. Most of the trees are somei yoshino that were planted in 1949 by Nishinomiya's mayor, however, there are also about a ten of various other species, including 2 that were created especially for the park and exclusive to it. This seasonal landscape is popular among Hyogo prefecture's inhabitants and the Japan Cherry Blossom Association even ranked it among the "Japan's 100 most beautiful cherry trees sites" list in 1990.
The surroundings of the Shuku-gawa river are popular among locals from Kobe and Osaka's areas, who enjoy the lawns under the trees where they spread tarpaulins and celebrate hanami in good company. There are also street food stalls sprouting near the 3 stations that cross and serve the park. It is by the way one of the specificity of this sakura viewing spot: the possibility to take pictures of trains enshrouded in cherry trees. Another typical scenery is the reflection of the flowers in the river's water which is still like a mirror.
Even after the spring season, walking Shukugawa Park is still a pleasant and refreshing experience in summer thanks to the 1,520 Japanese pine trees and the soft sound of the water flowing to its final destination: Osaka Bay.