Universal Studios Japan
The half-blood theme park
Add to my favorite places
Universal Studios Japan (USJ) theme park opened in March 2001 in Osaka bay, in Kansai region. It is the first park dedicated to the Hollywood productions to be located in Asia. Its success is indisputable, being the second park after Tokyo Disney Resort by number of visitors.
Universal Studios Japan is obviously the most famous theme park 🎡 in the Kansai region. Real Mecca of theme parks for United States' blockbusters, it is one of the only two in the world located outside the USA, but remains based on the Orlando original park.
With its grand opening on March 31st 2001, it was the fourth most attended park in 2015, with close to 14 millions of visitors in 2015 (and more than 10 millions every year since 2013). Close to one million clients have an annual pass to visit the place whenever they want.
Another version in Okinawa, thought for some time, is not anymore part of Universal's projects since May 2016.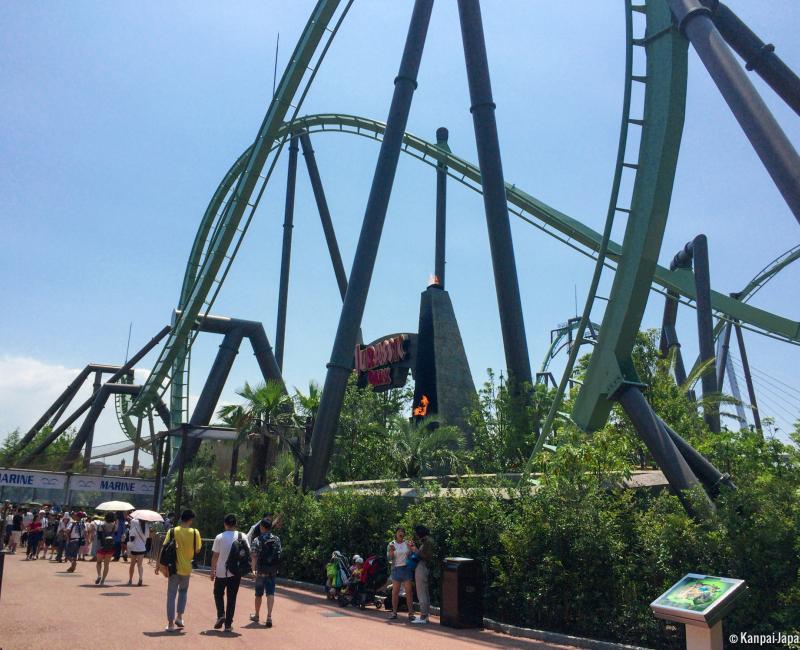 Attractions on various themes
Based in Osaka, USJ spreads on about 50 hectares (123 acres) and gathers several theme zones:
Hollywood (Shrek, Barbie…), New York (Spiderman, Terminator 2…) and San Francisco ( Despicable Me…);
Jurassic Park, Waterworld, Amity Village (Jaws), Harry Potter (since mid-2014);
And Universal Wonderland (Snoopy, Hello Kitty and Sesame Street).
Older attractions, such as Back to the future, ET, Oz or Wild Wild West have been replaced. Temporary attractions, while definitely out of the American empire, have a great impact and play local such as:
One Piece, Dragon Ball, Attack on Titan or Evangelion based on manga (in 2019, between May 31 to August 25, there was even an Eva vs Godzilla);
Kyary Pamyu Pamyu, based on the successful J-pop singer;
Or Final Fantasy XR, Biohazard (Resident Evil) and Monster Hunter, based on video games.
The Super Nintendo World finally opened in early 2021. We visited again USJ to discover this incredible land, that we described in a dedicated article:
Crowd, lines and price
To fully enjoy all what USJ has to offer, a good amount of patience is required as well as a well-supplied wallet. The ambiance is set even before entering: if you do not arrive before the opening hour, the line starts as early as the ticket machines, even before the ticket booths. And prices are even higher than Tokyo Disneyland's, already quite expensive! The big show with 3D and 4D effects is definitely on the receipt.
For those who do not have enough of them, the great Universal Citywalk gathers numerous goodies' stores of all kinds, restaurants with some prohibitive costs (among which a local takoyaki cuisine) as well as hotels 🏨 with direct views on the park.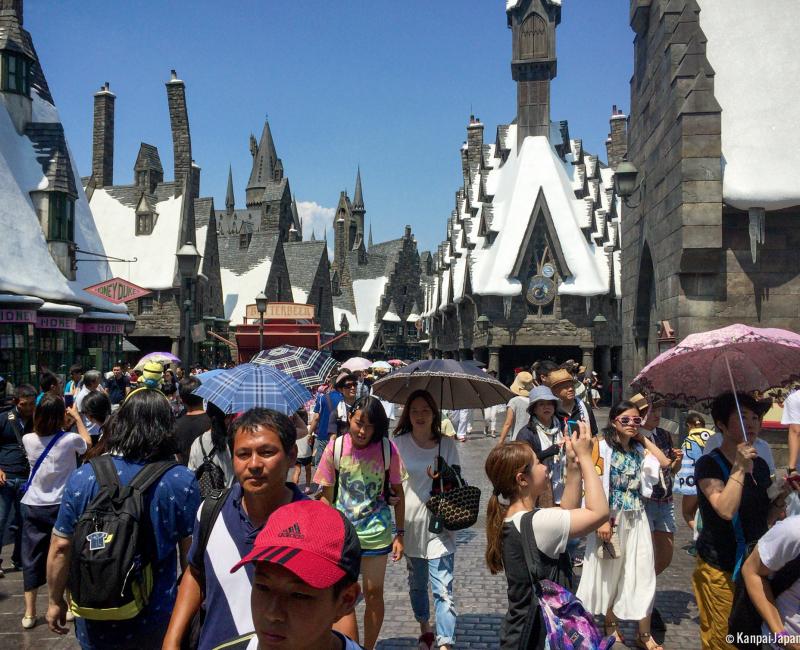 Once inside USJ, Hollywood's glitters shine and represented films and series are numerous. There is something for everyone and for all tastes: parents can visit the moving films of their childhood. The painting could be ideal if there were not so many people, Japanese and foreigners altogether. With the completion of expansion works, development of hotels and arrival of very popular licenses, everybody rushes at the entrance gates, and it is not unusual to wait up to two hours to try one attraction during the weekend.
Even so, and despite the park being definitely exhausting, the USJ experience remains rich and the success is guaranteed for a young audience. Families, who may grow tired of visiting numerous temples and other traditional places in Kansai area, can also fully enjoy USJ!