Mount Rokko
The Beautiful Panorama on Kobe and Surroundings
Add to my favorite places
Mount Rokko is the highest summit of the eponymous mountain range, in the north-east of Kobe in Japan. The peak culminates at 931 meters (3,054 ft.) altitude and offers various sports and cultural activities. Visitors can also enjoy a beautiful view on the urban landscape and Osaka Bay downwards.
Many cities feature an interesting vantage point that sublimates the look one can have on human activities. Mount Rokko perfectly fits this role for Kobe area. Among the various observation platforms that were laid out there, we particularly recommend Tenran terrace.
Nightly view on Kobe port
The night view on the bay is particularly famous, starting with the sunset. The urban lighting rises as soon as the sun has disappeared behind the treetops. It is then quite easy to spot Kobe's various districts up to its port. Beyond the city, the large and dark bay connects to Osaka and its suburb, closing the distant horizon in a mesmerizing panorama.
On the daytime and on clear weather days, there is also a charming and unobstructed view on the surrounding alpine forest. It is worth a look at season changings, and especially in autumn 🍁 when the colors are the most flamboyant.
Tenran Observatory is an open-air observation deck, and it is highly recommended to bring light covering clothes as the place can be quite windy. In summer however, the mountain breeze is pleasantly refreshing. Next to it, a cafe allows to continue the contemplation sheltered and sitting at nice table.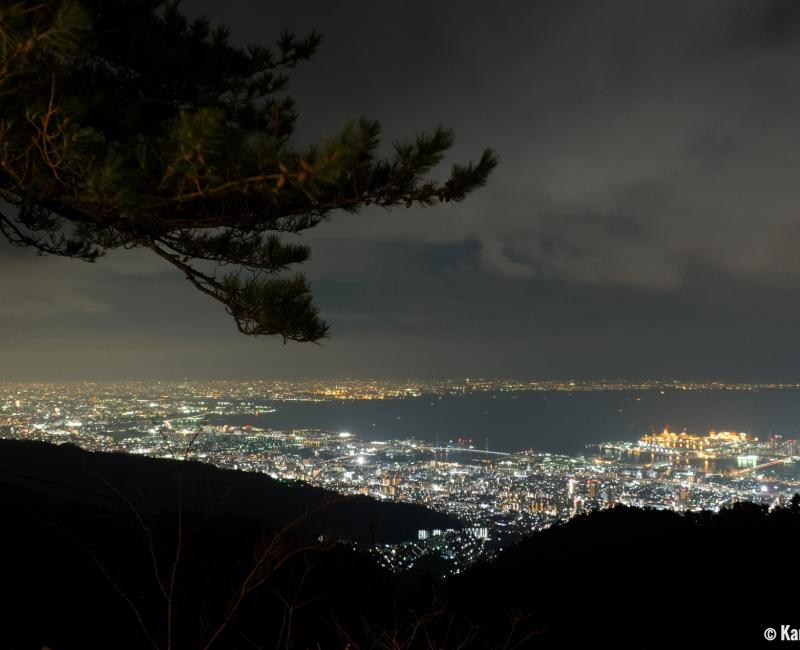 Leisure activities at the top of Mount Rokko
Moreover, Mount Rokko offers plenty of choices regarding entertainments of all kinds: museum, botanical garden, ski resort and hiking can help vacationers fill at least half a day. However, an admission fee is necessary for each activity.
Easily reachable by a ropeway from Arima Onsen ♨️ hot spring 🌸 resort, or by cable car 🚙 from Kobe downtown, this nice nature excursion is certainly refreshing for the youngest as well as for the adults. On site, no need to be adventurous or a professional athlete: the various attractions can be connected walking or by bus.
This article was written after a tour sponsored and organized by Hyogo prefecture. Kanpai has been invited and guided but keeps a total freedom of editorial content.