Super Nintendo World
The First Mario Theme Park in the World
Add to my favorite places
Super Nintendo World is a thematic land opened in 2021 in Osaka's Universal Studios Park and dedicated to Mario, the famous Italian plumber. As a video game franchise and the first official Nintendo Park in the world, this attraction park is unique in its category. After 3 years of works and a delayed opening, it was inaugurated during the Covid-19 pandemic.
🚧 Access Restriction
State of emergency in Osaka prefecture: USJ Park is closed from April 25 to May 11, 2021 as a preventive measure against Covid-19 in Japan.
Located in the eastern part of Universal Studios Japan (USJ), the first interactive Nintendo Park in the world, dedicated to the Mario series, has officially opened to the public on March 18, 2021. The opening was delayed several times, and coincided with USJ's 20th anniversary. However the international context is unfavorable with a lingering Coronavirus 🦠 pandemic and only 5 months before the summer Tokyo Olympic Games 🏅, postponed to 2021 and to which overseas spectators will not be allowed.
Compared to Harry Potter's world, Super Nintendo World covers a larger area, its construction budget was about 25% higher than the famous wizard's land and amounted to 50 billion yens (~457.3 million dollars). The construction began in early June 2017 and lasted 3 years.
One month after Super Nintendo World's opening, the sanitary conditions still require to limit visitors' number in the park. For this first visit, we knowingly chose a low attendance day: on a weekday and not during Japanese school holidays. A little bit after the gate-opening hours, USJ is still quite empty and waiting times for attractions, even the most popular, do not exceed twenty minutes. Despite the happiness of enjoying the park without the crowd, one cannot help feeling the empty alleys weight on the atmosphere which is not as cheerful as usual.
We did not need to book a timed ticket, as the day pass (or year pass for us) is enough to enter immediately Super Nintendo World at times when visitors' number is low. Note however that it is almost impossible on the weekends and holidays: then registration for a time slot is required. At the time of writing, this reservation, named Area Timed Entry Ticket, can only be made on site and for the same day, either via:
A connection to USJ official smartphone app; or,
A specific booth when arriving in the park.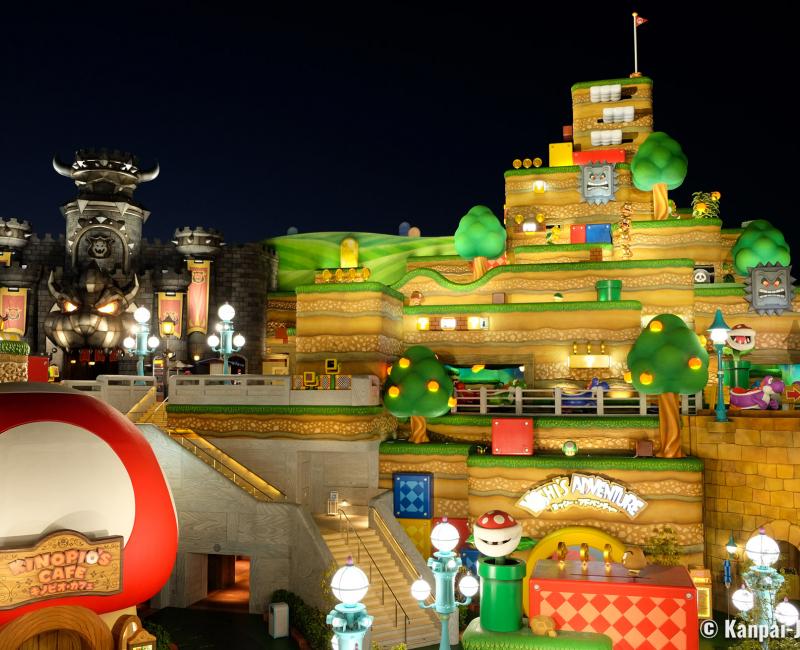 The real-life Mushroom Kingdom
The entrance to the land is one of the famous warp pipes that leads to the heart of the colorful Mushroom Kingdom. The scenery is beautifully done and includes countless details and moving elements, to the wonder of visitors totally immersed in this impressive view. In the background, various soundtracks from Mario's universe video games play softly and offer a musical environment all along the journey.
The awesome monumental decors, built on 2 levels, include:
Princess Peach's Castle,
Bowser's Castle (Bowser is named Koopa in Japan), and,
Mount Beanpole.
Walking inside the park, you will easily encounter the main protagonists and even take a picture with them:
Mario and Luigi,
Captain Toad, and,
Princess Peach.
For this overview of Super Nintendo World shortly after its inauguration, we will see two main attractions, an interactive treasure hunt, two merchandise shops, one cafe-restaurant and a couple of snack vendors.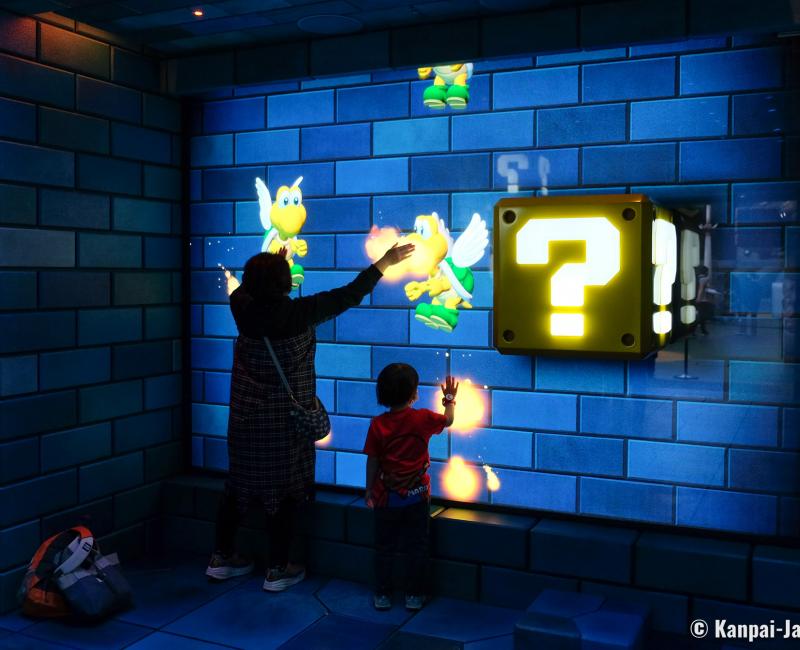 Interactive game with the Power-Up Band
Pass holders don't need to pay additional fee to access Mario's world in Universal Studios Japan, but the Power-Up Band bracelet is certainly a must-have to enjoy all the subtleties of this universe.
The Power-Up Band is a kind of magnetic key similar to a smartwatch without screen and working with a smartphone 📱 app. The Band exists in 6 types available to purchase and each of them represent a team: Mario, Luigi, Peach, Yoshi...The game can start and the goal is to help one's team to score and secure a higher ranking by playing interactive mini-games and collecting a maximum of coins and digital stamps throughout the park.
The Power-Up Band is a replacement for game console paddle and allows gamers fan of Nintendo to play their favorite video games in real life. The park's hyperconnectivity and the immersive digital technology were thoroughly designed to experience:
Punching cubes to *virtually* collect coins,
Solving riddles, some of which based on sounds,
Escaping Piranha Plants, or
Defeating a Goomba.
To access Bowser Jr's Castle 🏯 in the hidden world of Super Nintendo World, 3 keys are necessary and to be collected in a quest. The final fight against Mario's sworn enemy takes place on screens in an original setting.
The virtual treasure hunt is particularly suited to children and without a doubt enhances the interest of this Mario Park. The Power-Up Band can also be used in the 2 main attractions, then as an Amiibo with the Nintendo Switch at home.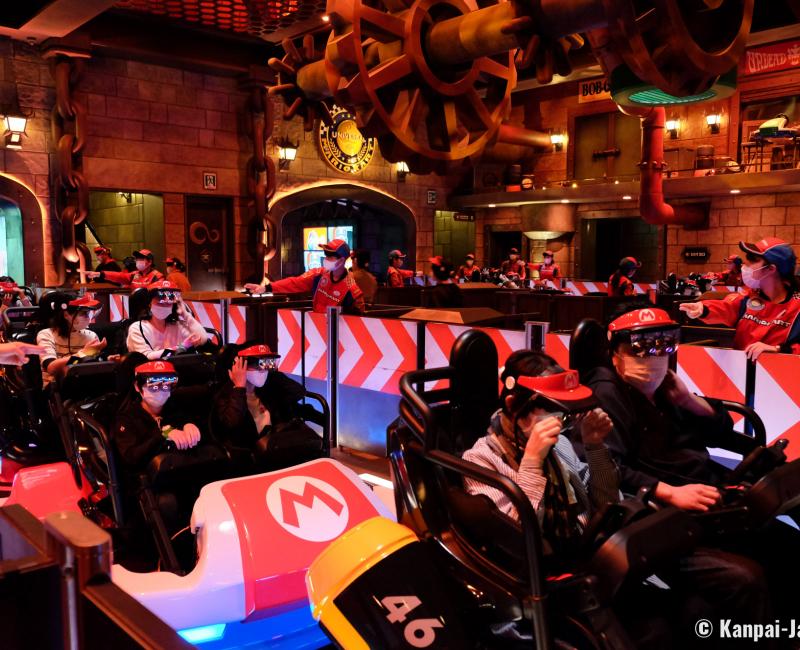 Attraction: Mario Kart Koopa's Challenge
Despite its attractive name, Mario Kart is not really a racing game as speed is not the core of the action. It is more akin to an augmented reality shooting game. Equipped with a red helmet on which the affixed visor serves as a screen, 4 people ride the kart, 2 at the front and 2 at the back.
Then the race ride begins and players shoot shells on opponents and other targets appearing before their eyes, as they move forward. The digital technology is successfully harnessed with sharp and seamless animations. That is certainly where the true challenge lay for the attraction's designers.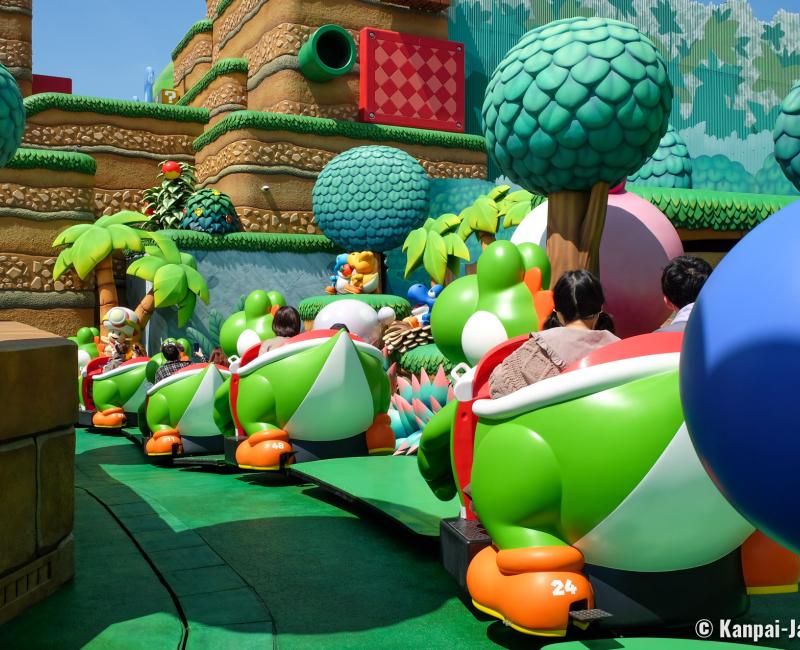 Attraction: Yoshi's Adventures
Yoshi's Adventures is the best attraction to ride with children: an omnimover ride constituted of variously colored Yoshis. Decors are dazzlingly cute, ideal to delight the younger ones and please the amateurs of kawaii sceneries. Moreover, the itinerary of this little train 🚅-like attraction winds in the park allowing for nice panoramic views from its heights and over the whole Nintendo Park.
While on the ride, players can collect a maximum of colored eggs hidden in the decor.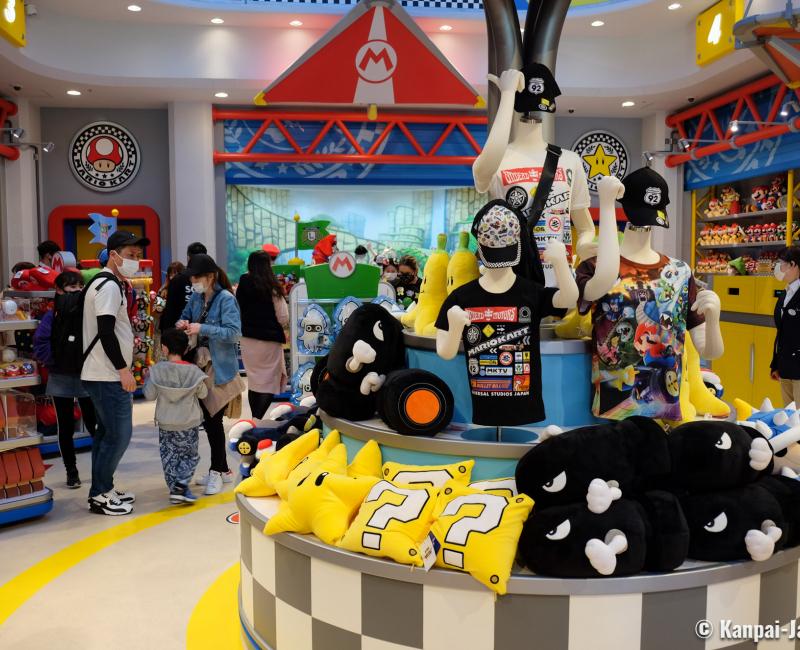 Mario universe in all its variations: gifts and food
The official park would not be complete without a comprehensive offer of Mario's merchandise. And the creative design team really racked their brains to provide a large items array of the Italian plumber's universe. You can find anything: the unavoidable soft toys, tableware, original figurines, vivid colors tee-shirts, hats of all shapes, the famous Groucho-glasses, bath towels, decorated boxes for tissues and senbei crackers, it is almost impossible not to buy something!
Lastly on the food side, Kinopio's Cafe is a restaurant serving Mario-ized dishes. The menu is both of Italian inspiration, to remind of the plumber's origins, and American with the classic bacon cheeseburger. Mushrooms are naturally references to Chef Toad, the owner of the restaurant.
We also recommend a stop at the Pit Stop Popcorn, that sells popcorn of course, but in unusual containers, such as a Power Star that lights up and can be used later as a souvenir lamp.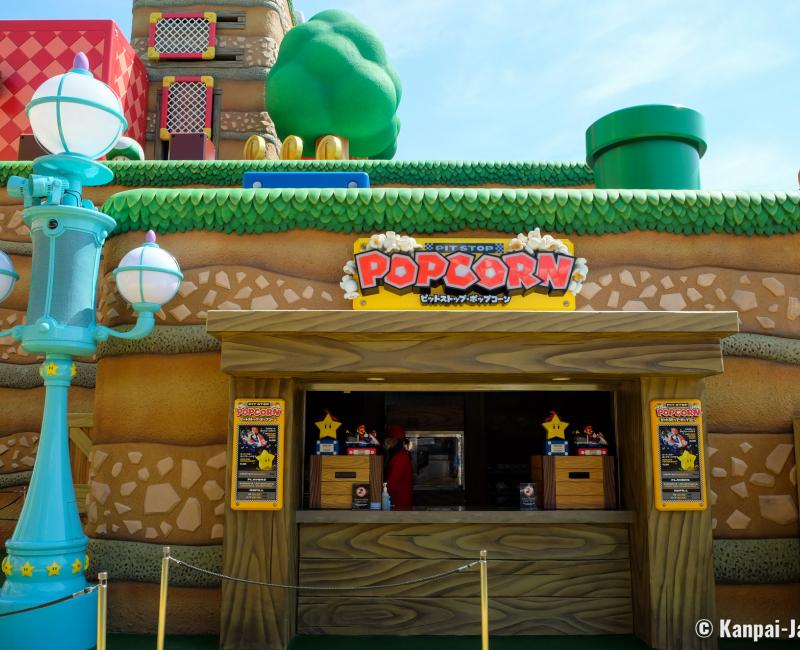 Upcoming attractions
The construction of new attractions is expected, to enhance the park in a near future. Some have been confirmed, such as attractions related to Mario, Donkey Kong and Zelda, but their opening is scheduled later.
Moreover, an American version of Super Nintendo World, in Florida's Universal Orlando Resort is expected for 2025.
---
Super Nintendo World is mainly targetting children and huge fans of Mario, and is much more pleasant to visit in group, with friends or family. The beautiful decors of the park faithfully recreate the universe of the famous video games and hopefully they will not age too much before foreign tourists can come back. It is a good place for interactivity and friendly competition, but if you are looking for thrills you'd rather visit the other USJ lands.