Arima Onsen
The traditional and historical hot spring town
Add to my favorite places
Arima Onsen is a hot springs town on the side of Mount Rokko, in the north of Kobe, in Hyogo prefecture. It is one of the three oldest hot springs in Japan, its history dating back to more than 1,300 years ago. Several dozens of hotels and ryokan have built up the landscape of this mountain village famous for its water's healing properties.
Now a relaxation and entertainment area, Arima Onsen ♨️ was built as a traditional mountain village. A couple of concrete buildings popped up with modernity, but most of the place retains a timeless atmosphere, with its wooden houses from the Edo period and its hilly narrow streets. And it is what Arima Onsen's visitors are seeking: a place forgotten by time, a couple hours away from their everyday life.
The thermal village gained its reputation thanks to two types of hotsprings:
Kinsen, a salty and iron-rich golden-brown water, with skin-soothing properties; and,
Ginsen, a clear water of a silvery sheen, composed of carbonate and radium, that help relieving muscle and joint ailments.
According to historical chronicles, emperors of the 7th century Jomei and Koutoku were fond of Arima Onsen. Today, visitors have the choice to bathe in:
Ashiyu foot baths, that are free to access throughout the village;
Two public bath houses Kin no yu and Gin no yu, that welcome visitors for a one-day getaway; and,
Hotel facilities, for a longer stay.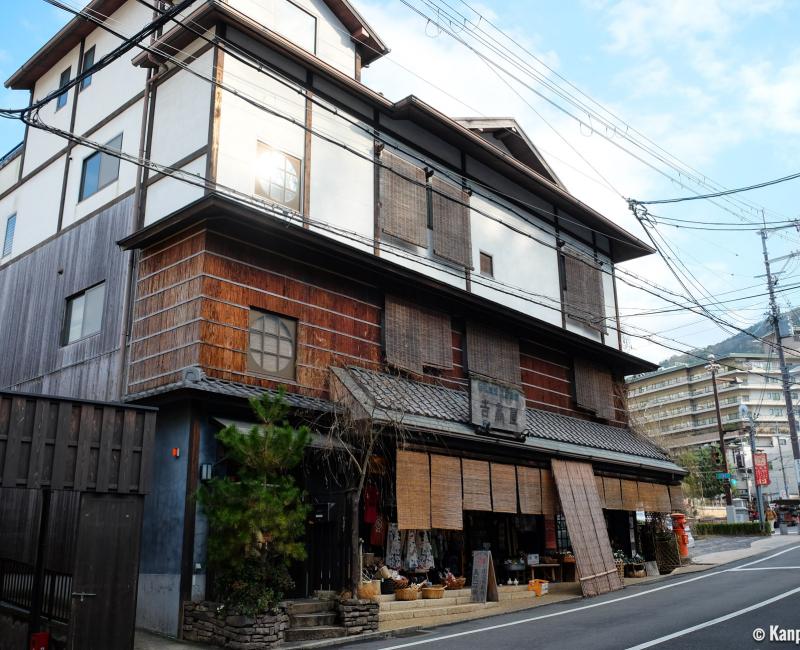 It is recommended to try at least the public baths. Thanks to their relatively small size, there is no need to spend more than half an hour per bath. However, there is no cold bath, which can be a discomfort in summer. Those who would like to enjoy the full onsen experience can stay in one of Arima Onsen's hotels 🏨, whose baths facilities are more sophisticated and high-end. As for the foot baths, they are often overcrowded with tourists and can thus be avoided.
Arima Onsen is akin to an amusement park for Japanese hot springs amateurs and provides many additional activities. Yumotozaka shopping street is at the heart of downtown Arima and offers a wide range of shops from artisanal products to local groceries. The latter sell classical Japanese delicacies with a twist: senbei rice crackers, pancakes or delicious rolled cakes. Moreover, several Buddhist temples like Onsen-ji and Nenbutsu-ji recall history and names linked to Arima, such as Gyoki, a Buddhist priest of Nara period or shogun Toyotomi Hideyoshi. Lastly, the handful of clearings arranged in the pine forest, and Zuiho-ji park as well, make for a pleasant stroll around the village in the daytime.
Arima Onsen offers a lovely getaway from Kobe or Osaka and is the ideal place to hang around and rest. The village's small surface allows to go to any place walking, and the transportation network serves Arima from neighboring big cities. The seasonal peaks are in spring 🌸 and in autumn 🍁, and those periods' weekends are especially crowded. The other side of Mount Rokko, accessible in 10 minutes by ropeway, is a pleasant complement to the visit, with outdoor activities and a wonderful panorama on Osaka Bay.
This article was written after tour sponsored by the Region's Tourist Information Center. Kanpai has been invited and guided but keeps a total freedom of editorial content.