Jogasaki Coast
The Suspended Coastline of Izu
Add to my favorite places
Jogasaki coast is located in Ito, on the north-eastern side of Izu peninsula. Its marked-off walking trail borders impressive rock formations and also crosses the sea thanks to a bridge suspended twenty-three meters above the water. The generosity of the beautiful coastal landscape immediately captivates visitors.
Jogasaki Kaigan is a natural landscape born from the slow erosion of the seashores created 4,000 ago by an eruption of Mount Omuro, a volcano 🌋 located only a few kilometers inland. The coast is one of the most beautiful steep landscapes in Japan and is undeniably conveniently located at only two hours away from Tokyo by public transportation.
The train 🚅 station is in a pleasant residential neighborhood, with beautiful houses, a handful of shops selling craft or diving equipment and a café. It is easy to picture oneself living in this quiet place near the sea that can also boast a sakura 🌸 avenue to photograph each spring. After a short walk, the entrance of the site, signaled by Kadowaki lighthouse, is on sight. The lighthouse has a freely accessible indoor observation deck allowing for a glimpse on the walking course. Then back to the foot of the building and it is time to proceed on the trail under the maritime pines.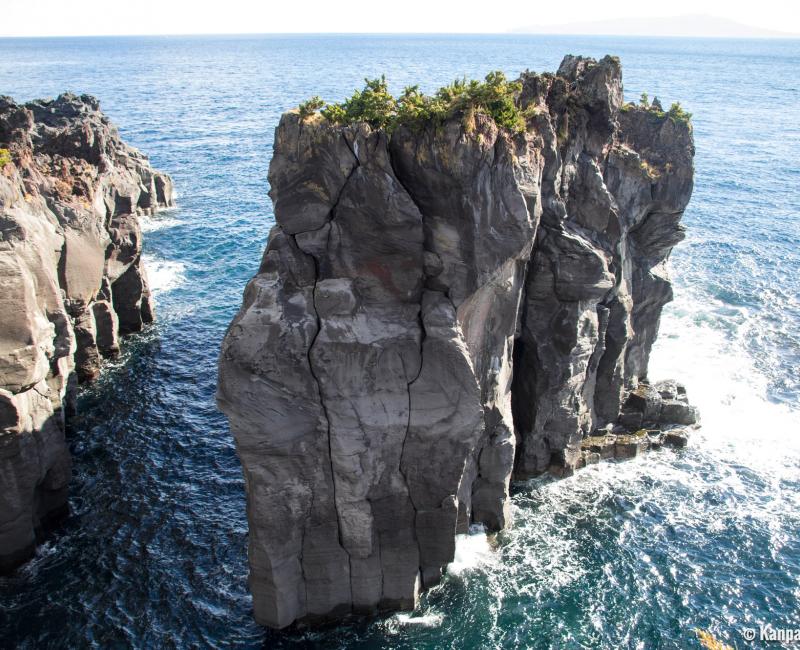 A hike with scenic views on the Pacific Ocean
The panorama on the Pacific Ocean and the finely cut cliffs are as beautiful as they are invigorating. The walking path hugs closely the coastline, and the breath of the waves is strong, especially when crossing Kadowaki suspended bridge, high above the swirling water. This fifty meters long bridge hanging more than twenty meters above sea level is the highlight of the visit. It is a nice subject to photograph, as it stands out against the rocky coastal background. The area is sometimes crowded, usually on weekends, but it is always possible to find a quiet place to rest and admire the scenery. The locals know that and it is frequent to meet some of them fishing on the cliffs.
Beside train, bus is also a good transportation option, as it stops near the sea, in front of a nice flowery (paid) park. A few meters north, a walking path going down to the coast quickly connects to Jogasaki's main entrance. The stroll under the trees, with the occasional beautiful view on the jagged rocks is charming. Hikers can walk on longer courses, for a thorough exploration of the coast, of about ten kilometers for example, and that allow the visit of nearby temples and shrines.
Jogasaki Coast is essentially an outdoor outing, and services on site are minimal with only a few vending machines for drinks and snack stalls at the station or the bus stop. Visitors, however, appreciate the still wild aspect of the place, and the rough beauty of the landscapes.