Green Car: The first class of Japanese trains
⏱ 3 minutes
The first class of the national train company Japan Railways (JR) is named "Green" and is easily identifiable thanks to its green four-leaves clover logo.
However, the "green" denomination has no relation whatsoever with any kind of environment-friendly measure.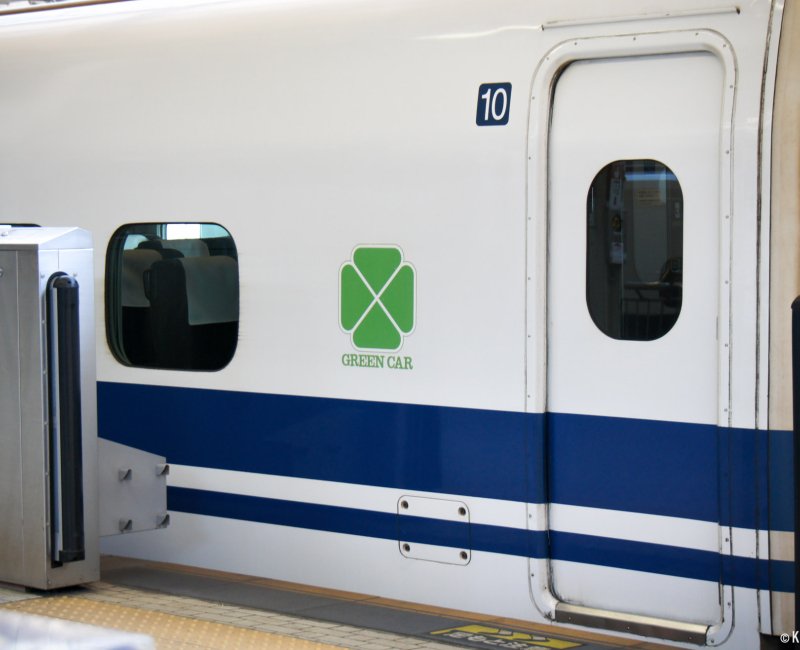 What are Green car advantages on the Shinkansen?
Shinkansen 🚅, the Japanese high speed train, is naturally the flagship train for Green class. JR doesn't spare efforts to promote this high-end class in its fastest trains. All Shinkansen train sets have one to three Green cars, usually located in the middle of the platform for an easier and quicker boarding and / or exiting the station.
It goes without saying that first-class cars benefit from the same (high) level of cleanliness, maintenance and services (i.e., a trolley selling beverages and food) as the ordinary cars, as well as thoroughly thought design (such as seats facing travel direction).
On Shinkansen trains, the Green class offers numerous advantages. For example, regarding seating:
Larger seats, with a 47.5 cm width (43 cm in ordinary class);
Deeper seats with a 116 cm depth (91 cm in ordinary cars);
Larger reclining angle (up to 40°);
More comfortable seats and backrests;
Larger tray tables;
Armrests about four times bigger than in ordinary cars;
Larger, carpeted, adjustable footrests;
Larger covering on the sides of the headrests;
Individual light and electric plug;
Heater control under the seat;
Free oshibori (warm towel);
Radio (with earphones) and free magazines.
The same comfort level is extended to the whole car 🚙:
Only four seats per row (arranged in 2-2 instead of 2-3 in ordinary cars);
Larger windows to enjoy the landscape;
Larger middle corridor;
More storage space for luggage (traveling with suitcases in Japan can be a hurdle. For an easier trip consider using the takkyubin delivery service)
As you can see, the higher comfort level of the Green class is noteworthy.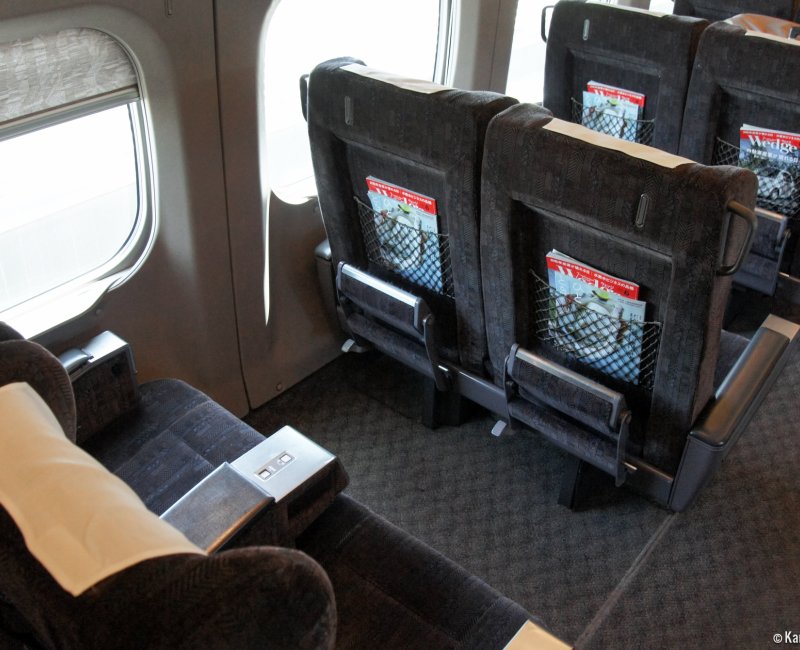 Why choose Green over ordinary?
Besides this down-to-earth comfort, a travel in a Green car will prove way more quiet, as there are indeed fewer passengers in first class than in ordinary cars. The choice of Green class allows for a better experience, especially in two occasions: long travels and trips during Japanese high touristic periods (e.g., Golden Week, Obon, New Year's Eve) when the ordinary class is crowded!
As a matter of fact, such high-quality services do have a price. Planning a budget on individual tickets can become quite costly, and this is why we always recommend to purchase the Japan Rail Pass. The ordinary version is already a good deal, but the JR Pass Green provides an even greater value.
Besides Shinkansen, numerous "Limited Express" trains, as well as some "Rapid" and a few local or night trains also accommodate Green class. For trains that are not Shinkansen, Green cars are located closer to the head of the train where the view is nicer.
Additionally, when using Green class, seat reservation is required in all Shinkansen and in most of the other trains!
On a side note, JR introduced in 2011 a luxurious "Gran Class," only available in a couple of Shinkansen, with an even higher quality of services and, naturally, prices (not included in the JR Pass).