Taking the train in Japan: the guide
⏱ 9 minutes
As an unavoidable means of transportation on the archipelago, the train presents some characteristics that need to be understood.
Since travelers ask themselves lots of questions about how it works, we chose to synthesize some good information to know, to approach Japan's railway system quietly and with serenity, and to use it in the best possible conditions.
Different types of trains
We can list Japanese trains 🚅 according to their velocity. Below are the most common, from the fastest to the slowest:
Shinkansen (新幹線): High speed trains or bullet trains. Japanese bullet trains are operated and owned by JR, on exclusives railways with mandatory tickets or passes.
Limited Express (特急 tokkyû): An "under Shinkansen." Much slower but also only stops at the biggest stations.
Semi Express (準特急 juntokkyû or 準急 junkyû): Only operated by some private companies.
Express (急行 kyûkô or 通勤 tsûkin at rush hours): One of the most common types of trains. Convenient for going outside the big cities without losing too much time.
Rapid (快速 kaisoku): Not as rapid as its name says, it stops at numerous stations.
Local (普通 futsû): The slowest of all but offers a complete service as it stops at all stations
These distinctive types explain the important diversity in duration, over the same geographical distance.
Shinkansen trains aside, inside the cars above the doors, the diagram of the line shows the precise stations where the different types of trains stop, from the fastest (on the top) to the slowest (on the bottom). Since we pay for tickets depending on the covered distance, it is often faster and smarter to ride a fast train on the longest part of the journey and then change to a local train just before your arrival station.
Note that it's forbidden to eat or drink in trains, except in the Shinkansen and (usually) Limited Express trains.
Shinkansen: The Emperor
Since 1964, the Shinkansen has been the star of Japanese trains.
It is a lot more expensive than the others, but also happens to be the fastest. Its public velocity can easily exceed 300km/h, while the latest magnetic tests have powered it up to 600km/h / 375mph!
It uses only its dedicated railways and its number of lines is carefully measured. Sometimes, full train stations are exclusive to Shinkansen, which you can recognize by the prefix "Shin"— just like Shin-Osaka which is 4 km north of Osaka station.
Here are the several regional Shinkansen, listed from north to south:
From Shin Aomori (north of Honshu) to Kagoshima (south of Kyushu) there are about 2,200 kilometers of Shinkansen lines, completed in March 2016 by a 200km additional line from Hakodate (south of Hokkaido).
Click here on our map to make it larger: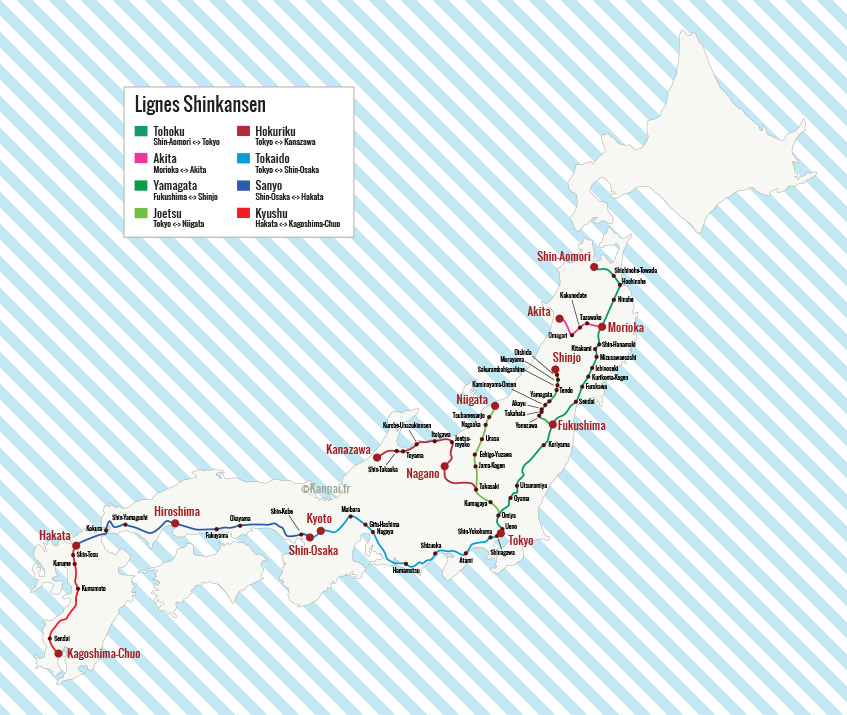 The Shinkansen is also divided into several types, with the fastest stopping in fewer stations. Here are the main types (names depending on the regions):
Nozomi/Mizuho/Hayabusa (equivalent to an Express), the first two are not being compatible with a JR Pass
Hikari/Sakura (equivalent to a Rapid)
Kodama/Tsubame (equivalent to a Local)
A good piece of information: the journey between Tokyo and Kyoto lasts 2h20 with a Nozomi, 2h40 with a Hikari and 3h30 with a Kodama train. The Nozomi was inaugurated in 1992.
To celebrate the 20-years anniversary of the Evangelion anime, JR operated a Kodama with the colors of the Eva-01, between Shin-Osaka and Hakata (from November 7, 2015 to March 2018, more here and there).
The Shinkansen technology has been recognized across the world since at the end of 2015, Japan has announced the development of high-speed train projects in India and in the US (between Dallas and Houston) in the coming years.
The next Shinkansen in Japan (the N700S series "Supreme") will be inaugurated in 2020 and its 16 cars will weight 11 tons less than the current trains. It will not be faster (300km/h) but will consume less and offer individual electrical plugs. The Green Car 🚙 passengers will benefit from having 15% more space for their legs.
The in-train food-cart service aboard the Tokaido Shinkansen Line connecting Tokyo to Osaka will be discontinued from October 31, 2023. The Central Japan Railway Company that operates the line decided to cut this service in anticipation of labor shortage, but also due to a larger number of takeout options available at the stations, as well as a demand from customers for a quieter train environment. However, passengers in Nozomi and Hikari trains' Green Cars (First Class) will still be able to use a smartphone 📱 app to order food and drinks, that will be delivered directly to their seat.
How to purchase a train ticket in Japan
We cannot say it too often: for all information about schedules, hours, prices and stops, the Hyperdia website as well as Navitime's are your best friends. However, it's not possible to order a train ticket online.
Before purchasing a ticket, choose which company you want:
Japan Railways/JR (national, sometimes privatized) covers the most used journeys, which are divided into several regional parts from the north to the south: Hokkaido, East, Central, West, Shikoku and Kyushu
Tens of private companies, in specific regions. Among the most famous are Hankyu, Keihan, Keikyu, Keisei, Kintetsu, Odakyu, Sanyo, Tobu and Tokyu.
Note that it's not possible to book a seat (and there are no ticket inspectors) apart from the Shinkansen and the Limited Express. It is useless, therefore, to try booking a seat in slower trains.
Without Japan Rail Pass/All companies
You will find tickets vending machines in all train stations in Japan.
Above the machines you will see a poster showing the price of each journey, between the current station (shown in bold or red) and the one of your destination.
Pay the precise amount corresponding to your journey at a machine to obtain your ticket. You will have to punch it in at the automatic gates upon entering *and* at the exit, where it will be swallowed by the machine. It is therefore important to keep it during your entire ride.
As usual, the most convenient method will be to use a Suica card to:
Avoid the duration, difficulty and potential mistakes while purchasing individual tickets, and
Save from few tens to thousands of yens (5% on each travel).
With a Japan Rail Pass/on JR lines
If you own a JR Pass (only valid on JR lines), you should choose the most comfortable option since you do not have to bother carrying train tickets.
Simply cross the entrance doors (not the automatic doors) while showing your JR Pass to the JR staff.
In the Shinkansen and Limited Express, show your JR Pass to the train conductor:
By itself, if you are in a non-reserved car; or
With your reservation ticket, if you have a specific seat (see below).
Reserving or not reserving your seat in the Shinkansen
The Shinkansen has a very specific reservation system with a particular pricing:
Total price of the ticket = cost of the ride (distance) + price of a reserved seat (指定席)
The latter is not mandatory because each Shinkansen has up to 5 (often 3) non-reserved-seats cars at the head or tail of the train. They are designated like 自由席 non-reserved cars, so it's possible to get in without paying the price of a reservation.
However, here are some non-exclusive cases where it's advised, and sometimes mandatory, to reserve a seat (which is possible up to 6 months in advance):
If you possess a JR Pass (the reservation price is already included);
During the most frequented hours (7-9 am/6-8 pm/weekends) or during holiday seasons (Silver and Golden Weeks/Obon/New Year season) during which trains are busier or, even crowded;
if you want to be sure to have a seated space, especially on longer rides, or to do the ride next to somebody in particular (children for example);
To travel quietly (there are fewer people in reserved cars and often a more "business" population); or,
If the Shinkansen does not have non-reserved cars (which is rare);
If you travel with oversize luggage (reservation required, even for JR Pass holders for whom it is free).
Indeed since May 2020, when traveling by Shinkansen with oversize luggage, booking a seat in the Oversize Baggage Area is required (compulsory reservation but free for JR Pass holders). As a general rule, it is recommended to "travel light" regardless of the type of train you will ride.
If choosing a non-reserved seat, it's advisable to arrive in advance to be at the beginning of the line for entering the car: first arrived, first served!
Some reserved cars are "silent cars" in which it's forbidden to talk louder than whispering: please respect this rule if you travel inside one of them.
Reservation process
There is only one address: go to the green JR counters in train stations みどりの窓口 "Ticket Office" (sometimes JR全線きっぷうりば ).
If you do not speak Japanese, and because most of the staff does not understand English, write the desired information on a sheet of paper, especially the stations and hours of departure and arrival and places on the train (window side is 窓側 madogawa). It is possible to reserve all of your rides at once if you already have a planned itinerary. However, you will need your JR Pass in hand to book for free.
Tickets will be printed out in Japanese or in English. Usually, the JR staff does it in the international version for foreigners. The dedicated agent will systematically reserve seats next to each other, if possible. The number of the reserved seat is composed of the number of the car, one figure (the row) and one letter (the seat, from A to E in most trains).
Note that it is extremely hard to book tickets on the Internet 📶 for international travelers: Japanese people can do it through the unglamorous JR Cyberstation, from 6:30 am to 10:30 pm Japanese time. However, for those possessing a Japan Rail Pass, JR East (Tokyo region) only gives a possibility here in English, mostly for trains leaving from and arriving in Tokyo. Due to regional division, the Tokaido journey (toward Kyoto and Osaka among others) is unfortunately not among the given possibilities.
In the train, the ticket inspector will ask for your ticket only once, even if he or she comes back later during the ride.
Discounts on ticket prices
There are several classes for traveling, but mostly only on Shinkansen:
"Ordinary": Equivalent to a second-class in pricing but first-class in comfort and practicality;
"Green Car": The Japanese first-class which requires a specific JR Pass; and
"Gran Class" (on only a few Shinkansen, not compatible with the JR Pass): The luxury range with large seats that can be tilted up to 145°, along with free drink and food.
Often times, the best discount (without counting numerous other practical aspects) comes from traveling with a JR Pass, which offers free train rides with JR during the entire chosen period.
JR Tours (JR's travel agency) used to offer a small discount on individual tickets, for non-carriers of the JR Pass: Platt Kodama. As its name says, the promotion was valid only on this Shinkansen type, the slowest of the Tokaido. But it still allowed to save from 20 to 30% off the public price. The service has been discontinued on November 30, 2022.