The Worst Times to Travel in Japan
Touristic Peak Seasons and Congestion in the Archipelago
⏱ 7 minutes
When planning a first trip to Japan, the first natural move is to decide on when traveling in Japan. We already provided a long and detailed answer in our article "the best season to go to Japan". It summarized important seasonal thematics in Japan (spring, summer, autumn and winter), as well as visits recommendations month by month (foreign tourists favorites being April, July, August and October).
As a matter of fact, there are three inescapable factors that narrow choice for prospective travelers in Japan:
School holidays: when traveling in family, and especially with kids, following the school calendar is unavoidable,
The possibility to take leave from work, that can be limited due the employer or the type of job,
The stereotypes about Japan, conveying the idea that one must visit the country in April or possibly in October (we will explain below why these stereotypes should be disregarded).
These constraints, combined with a strong growth of tourists attendance in Japan since 2011, became so prominent over the recent years that it impacts the capacity of foreign tourists to enjoy their travel. The contrast can be overwhelming depending on the time of the year they choose to visit the archipelago.
Why avoid specific touristic seasons in Japan?
We gradually noticed that some seasons are to be avoided when traveling in the archipelago. Japan in general is of course under no threat of overtourism, as the country received in 2019 only a third of the number of travelers coming to France, the first touristic destination in the world. However, what was not even imaginable until the end of the 2000s requires now a special attention (and Kyoto's inhabitants are painfully aware of the problem) and led us to write this article.
The situation is simple: mass tourism is the source of unavoidable difficulties, starting from the law of supply and demand that rules tourism market. Therefore, when traveling during times we don't recommend, tourists will face the two following main issues.
Extremely high prices
The yield management system makes prices skyrocket:
Some flights 

✈️

have their price doubled in the very high season, compared to the low season (except for promotions, an economy direct roundtrip flight costs about $1.500USD in April, that is to say, more expensive than a Premium Eco flight in low season!)
It is even worse for accommodations, with prices that increase threefold, sometimes fourfold depending on the demand's pressure.
The other touristic services follow the same trend, so it is also true for transportation (with the notable exception of JR Pass, whose price is fixed), private guides, Pocket Wi-Fi rental, various entrance tickets, etc.
Tourists gather in mass at the same places and at the same times
The tourists crowd generates unpleasant constraints, such as:
Waiting lines to access some events, museums, or temples (it has become more frequent to be denied access to a site during flowers blooming peak, and almost impossible to discover the Moss Temple or a Sumo tournament during very high season).
A less comfortable travel for the tourist, and a pressure put on locals, who, although usually patient, tend to get irritated.
The unpleasant closeness with other people that makes it difficult to take pictures not showing a dense crowd at the foreground of an object or a moment.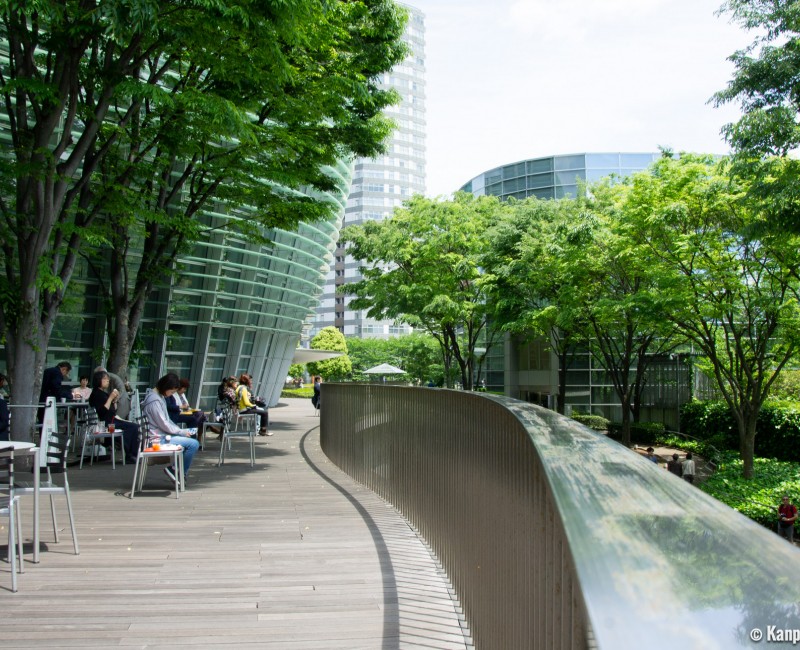 Before listing the periods to avoid, let us talk about the special event that are the Olympic games 🏅. Even if Tokyo 2020 was postponed to summer 2021, if you are not an athlete, a relative or friend of an athlete or fond of this kind of event, it is not recommended to travel in the Japanese capital between July 23 and August 8 in 2021.
When NOT TO go to Japan?
Each year, if possible, avoid traveling in Japan at the following times:
From mid-March to early May
This time of spring gathers several important seasonal events:
Sakura 

🌸

(Japanese cherry trees), usually blooming in a short time spanning late March and early April. Therefore, many people visit Japan for this ephemeral moment (starting from Japanese people, but also crowds of foreign touristic buses),
Many prospective travelers think the blooming season lasts the whole month in April, but it is false, except in the north of Honshu, whose touristic interest for a first trip is questionable,
The Golden Week from late April to early May is THE national week of vacations for Japanese people, with busy transportation networks and a lot of difficulties to travel in the country as a consequence.
From mid-July to mid-August
Taking vacations in summer is quite common in the world, and some of us don't even have the possibility to choose when they want to travel. But Japan summer's drawbacks are:
A very unpleasant weather at this time of the year (an unbearable mix of high temperatures and humidity),
This short span of a few weeks sees the highest number of foreign tourists in Japan,
All Japanese pupils are on school break in August, adding to the flow of tourists,
Obon, the celebration of the dead in mid-August (that can be compared to All Saints' day) is the occasion for Japanese people to travel to their home towns and reunite with family.
In October
October is still too early to admire the colors of autumn in Japan 🍁 (except for a few koyo in altitude), and a lot of oblivious travelers are disappointed as they carelessly thought that October = vacations = red maple leaves.
In Summary
If you are retiree or don't have to take care of children, make sure to avoid the periods described above to ensure the best travel possible! Japan is an extraordinary destination, wonderful at any time of the year but discovery can be tarnished by the constraints we just explained.
Additionally, the Coronavirus 🦠 pandemic extended the periods to avoid to autumn 2020 and spring 2021: prices are likely to skyrocket first, and congestion is foreseeable, to compensate tourism industry loss of revenue in spring and summer 2020.
So, what are the understated seasons we recommend?
We have selected the more interesting seasons to make the best of your travel in Japan. Additionally you will save money when planning your trip, and be able to:
Travel for a longer period, and visit more places for the same price,
Achieve the same project for a lower budget.
In January and early February (except Chinese New Year Period)
Most of people are back to work and focus on their New Year's resolutions, so it is the ideal period to discover the incredible ski areas and resorts of Japan, or to benefit from the lower humidity rate to have a rare full view on Mont Fuji 🗻.
From mid-February to mid-March
The blooming of plum trees is almost as beautiful as the cherry trees', but nobody goes to Japan at this time of the year.
In May (post-Golden Week)
It is Kanpai's publication manager's favorite period to travel in Japan, as there are not many tourists, vegetation is in full bloom, the weather perfect and prices are quite affordable.
In June (especially the first half)
Tsuyu ☔️, the rainfall season lasted originally between June 10 to July 10, but climate change has somehow disturbed the passing of seasons in Japan. Therefore, tsuyu sometimes starts only in early July, and is not as strong as it used to be.
In September
Many think that September is the month of typhoons, but it is a mistake: typhoons cross Japan frequently from June to October (in 2020, the first typhoon 🌀 of the season appeared on May 12!). Moreover, even if there is no certitude on when typhoons will form, once they do, their itinerary is quite predictable. Most of the time they do not cause very big constraints. In September, summer is more pleasant, as much for the weather than the absence of tourists.
End of November and early December
It is THE time to admire the beauty of momiji, whose season is longer and certainly as beautiful as sakura's, with very few rains. A period surprisingly avoided by foreign tourists.
During Christmas and New Year Holidays
While prices are shamelessly high for expatriates leaving Japan for their vacations abroad, it is not quite true for going in the archipelago. Japan is not the first destination one thinks of for holidays. But you should not fear the closing down of big cities during the few Osoji days.
---
If you can, travel in Japan following our recommendations above and feel free to give us some feedback !