The words of the year in Japan
2020 Japanese Buzzwords: Coronavirus and Pop Culture
⏱ 10 minutes
2020 was a strange year by all means, but how did the Japanese perceived it? Let's look for hints with the Word of the Year selection, unveiled on December 1 by Jiyû Kokuminsha, the publisher of the annual Gendai Yôgo no Kiso Chishiki ("Encyclopedia of contemporary words") in association with U-Can, another publisher and provider of distance education courses. Since 1984, about thirty words are analyzed, among which ten of them are chosen at the end of the year to constitute the U-Can shingo-ryûkô go top 10 ("U-Can Top 10 of neologisms and trend words").
The jury was composed of six panelists: intellectuals from the academic world, arts, press and entertainment sectors, and Jiyû Kokuminsha's encyclopedia publication director. The 10 words or expressions of the final ranking are chosen for what they show of Japanese society at the moment.
If 2019 in Japan was deeply impacted by sports and especially the Rugby World Cup, 2020 is the year of Coronavirus 🦠 for Japan and the world. Among the 30 items selected for the Word of the Year, about 20 are more or less directly related to the pandemic! Even the long-awaited, then postponed Tokyo Olympic Games 🏅 seem to have disappeared from the minds.
3密 (san mitsu) is the word of the year 2020
San mitsu (or 3C) is the slogan created by the Japanese Ministry of Health in March 2020 to help prevent the spread of Coronavirus. It reminds to avoid the 3Cs:
Confined spaces (密閉 mippei);
Crowded places (密集 misshû);
Close-contact settings (密接 missetsu).
U-Can panelists consider that san mitsu was popularized by Yuriko Koike during a press conference where she said "mitsu desu!" ("you are too close!") to journalists. This phrase has thus become the theme of a mini-game, where Koike is the main character who must preserve social distancing by shouting "mitsu desu!"
One of the panelists, a linguist, recognizes in san mitsu a typically Japanese wording structure, in the same vein as the San ko (3高, the 3 highs : high income, high education and high size) or the 3K (kitsui, kitanai, kiken: demeaning, dirty and dangerous for some types of jobs). There is a little bit of irony in awarding this prize to Tokyo governor as she is often criticized for her immoderate use of foreign words in her communication.
If Itsutsu no ko (the 5 smalls) had been uttered earlier, there is little doubt that the word would have secured a good ranking in the selection.
The rest of the Top 10: Covid and entertainement
2. Ai no fujichaku (愛の不時着),
From the Japanese title of a Korean drama (Crash landing on you) broadcasted by Netflix Japan since February 2020, that features a love story between a rich South-Korean heiress and a North-Korean elite officer. Its success may have been favored by the necessity to stay at home in the beginnings of the Coronavirus pandemic, but it rekindled the Korean wave in Japan.
3. あつ森(あつまれ どうぶつの森) (Atsumare dôbutsu no mori)
Nintendo's game Animal Crossing New Horizons was released in March 2020, at the beginning of long confinement periods all around the world. Notwithstanding its inherent qualities, the game had its sales probably boosted by the pandemic, as its virtual space was used as concert hall for famous singers (along with K.K. Sliders) or for electoral activities during the American presidential election campaign.
4. アベノマスク (Abe no masuku)
"Abe's masks" is the bitter nickname, formed in reference to the Abenomics, for the reusable sanitary masks 😷 sent by Shinzo Abe's government to the Japanese people. This campaign has been harshly criticized as a waste of public money: distribution was chaotic, masks were too small and many were delivered dirty or damaged.
5. アマビエ (Amabie)
Amabie is a fantasy creature from Japanese folklore, or yôkai. It is said to have appeared for the first time during Edo Period, and to be able to ward off diseases and epidemics, specifically when displaying its picture of an anthropomorphic shape with 3 legs and a bird's beak. Amabie's image was of course used countless items, from omamori protective charms, to stationery goods, and even in the Japanese Ministry of health's communication.
6. オンライン○○ (online maru maru)
The term alludes to the forced digitalization of many activities due to the Coronavirus. Digitalization was hastened to medical consultation (online shinsatsu オンライン診察), online recruiting (online shûkatsu オンライン就活), online class (online jugyô オンライン授業), and even online drinking parties (online nomikai オンライン飲み会)! With this word's selection, the panelists wanted to highlight the problems entailed by this accelerated trend, such as equipment inequities, or difficulties to create real social bonds.
7. 鬼滅の刃 (Kimetsu no yaiba)
From the manga Demon Slayer's original title, by Koyoharu Kotoge, whose publishing ended in May 2020, and whose animated series is broadcasted on TV since 2019. The movie (Demon Slayer: Infinity Train 🚅) was released in October 2020 and is breaking all the Japanese box-office's records.
8. GoToキャンペーン (GoTo Campaign)
The GoTo campaigns are an extraordinary budget to sustain Japanese economy during the Coronavirus pandemic and break into 4 sectors: tourism with GoTo Travel (GoToトラベル), restaurants with GoTo Eat (GoToイート), shopping with GoTo Shotengai (GoTo商店街) and events with GoTo Event (GoToイベント). The campaigns have globally reached their goal, despite having many flaws, such as the possibility of unlimited travels during the designed period, or a reservation system that was detrimental to restaurants. They are now considered as one of the way Covid-19 further spread in Japan since summer.
9. ソロキャンプ (solo kyampu)
Camping alone was popularized by Internet 📶 and Hiroshi, a comedian who shares videos of his solo bivouacking on You Tube. With the spread of the Coronavirus and the necessity to preserve social distance, the practice of camping has become trendy again, either in the traditional way with backpack and tents, or in its upscale version of glamping.
10. フワちゃん (Fuwa-chan)
Fuwa-chan is a YouTuber since 2017 and a dynamic comedian of excentric look, always walking around with a selfie stick. Her craziness, candor and simplicity earned her a large popularity. She even collaborated with Tokyo Metropolitan Government to record an interview with Yuriko Koike and prevention messages aimed at a younger audience to prevent the spread of Covid-19.
Coronavirus as the main concern of the year
The Top 10 hugely reflects the influence of the pandemic, but most of the other selected words also bear the mark of the virus. One can mention the notorious PCR test (PCR検査, PCR kensa), that contact cases (濃厚接触者 nôkô sesshokusha) have to take in order to prevent any cluster (クラスター) formation. Telework (テレワーク/ワーケーション telework / workation) appears although it is not directed at essential workers (エッセンシャルワーカー). Thus the "new lifestyle" or "new normal" (新しい生活様式/ニューノーマル atarashii seikatsu yôshiki / new normal) promoted by Yuriko Koike includes the social distancing (ソーシャルディスタンス), thanks to visioconference apps, such as Zoom (Zoom映え , Zoom bae). Japanese people were encouraged to stay at home (おうち時間/ステイホーム Ouchi jikan / Stay home), especially in spring 🌸. During the state of emergency, a "self-restraint police" (自粛警察, jisshuku keisatsu) took some momentum and targeted individuals suspected of spreading Covid, by harassing them, either online or in real life.
Uber eats (ウーバーイーツ), the app's use sparked thanks to the Coronavirus, with a new kind of discount for a delivery service: customers who went to collect their order themselves had a discount on their purchase in the app…
Aside Covid-19, the other topics are mainly related to entertainement, with NiziU (ニジュー), a girls band recruited thanks to a reality-TV show, 香水 (Kôsui, perfume) a song by EITO that saw a renewed interest in 2020. Two humorist groups' gimmicks gathered the attention this year: Borojuku's まぁねぇ (maa nee, "you're right!") and Pekopa's 時を戻そう(toki o modosô, "let's go back in time").
Kaogei / ongaeshi (顔芸/恩返し, actors'play / repay one's debt) refer to J-drama Hanzawa Naoki, whose eponymous hero is a banker, and the most viewed series in Japan, with a new season released in 2020.
AI超え (Aigoe, "Overcome AI") is a reference to Sota Fujii, a young shogi prodigy, whose performances even exceed those of artificial intelligence.
The only mention to international politics is the Black Lives Matter movement (BLM運動, BLM undô). As for domestic politics, the new Prime Minister Yoshihide Suga in under fire for his refusal to give details on the appointment of a scientific council, and especially on the rejection of 6 candidates "after a global and eagle's view [of their activities]" (総合的,俯瞰的, sôgoteki, fukanteki).
Lastly, the surprising phenomenon of カゴパク (kago paku, "walk out with the cart") has noticebly grown after the generalization of charging all plastic bags in supermarkets, in July in Japan. Usually, when proceeding to payment, the cashier transfers the purchased goods from the customer's basket to another one, that the customer will bring to another table to pack their purchase with the bags provided by the shop. As the bags are not free anymore many customers just naturally walk out the supermarket with the shop's basket. Some supermarkets have found that they were missing as many baskets in one months as they usually do in one year!
This Top 10 shed new light on Japan, and especially on the way some Japanese see their own country. Jiyû Kokuminsha's panelists do not hide their disapproval of the ruling government, which can be surprising if we believe in Japanese clichés about the uniformity of Japanese society.
Reading their arguments and analyzing the context offer the discovery of many underlying trends and expressions, that are not always visible to a Western audience, due to numerous obstacles such as language and culture.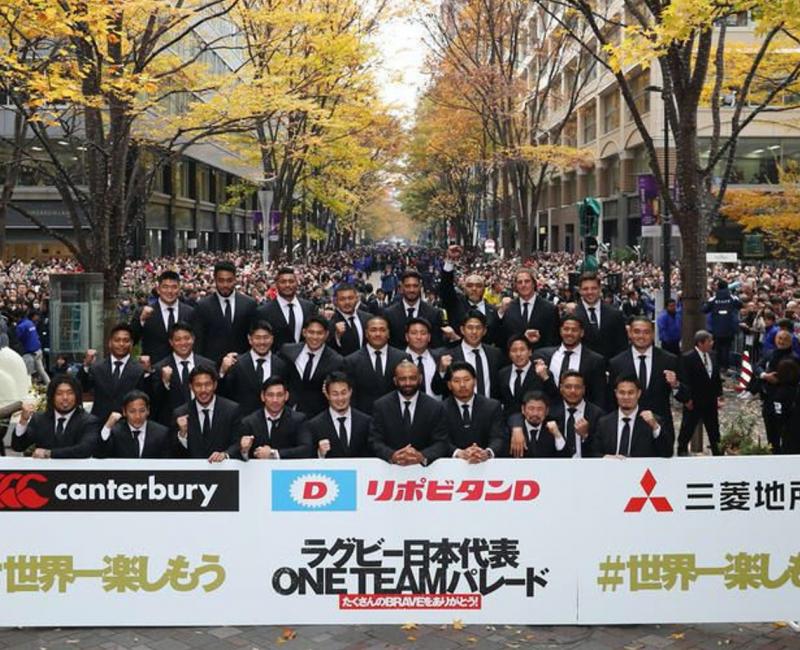 Previous years
Words related to sports are still dominant. Politics are quite important as well, and Japan's former Prime minister Shinzô Abe's name was often cited, be it for political controversial decisions or scandals.
2019
ONE TEAM: slogan of the Japanese Rugby Team, the Brave Blossoms, during the Rugby World Cup, to highlight in a positive way the diversity of its members' origins, with only half of them of Japanese citizenship.
計画運休 (keikaku unkyû): "planned cancellation" is the security scheme to stop all transportation means before a typhoon 

🌀

hits to limit damages. The expression was often employed in 2019, a year when the meteorological phenomenons were particularly powerful and destructive.
軽減税率 (keigen zeiritsu): the "reduced tax rate" is the temporary measure that aims to smoothe the 10% VAT rise, with an implementation limited to non-essential products in its first stage.
2018
そだねー (sodanee): "that's right", was used and popularized by Japan's women curling team, winner of a bronze medal in the 2018 PyeongChang winter Olympics;
eスポーツ (isupootsu): "e-sport", the electronic sports, as a Japanese won a gold medal in an Asian e-sport tournament in summer 2018. Sodanee and e-sport were the two first entries of 2018 Top 10;
#MeToo: the famous hashtag ranked 10th.
2017
インスタ映え (Insta bae): "Instagrammable", to commemorate the advent of the new famous social network;
忖度 (sontaku): "assumption", ex-aequo with Insta bae, was used by the founder of Morimoto Gakuen Group, in a fraud scandal of the same name, to which Japan's Prime minister Shinzô Abe's name has been linked;
J アラート (J araato): "J ALERT", at the fourth rank, is the national warning system to alert the population in case of danger. It was widely used in 2017, due to North-Korea's multiple missile launchings.
2016
神ってる (kamitteru): "he's divine", said about a baseball player who scored two decisive home runs in two consecutive matches;
トランプ現象 (Toranpu genshô): "Trump phenomenon", ranked at the third place, reflecting the shock of the discovery of the new United States president and his fancy language;
2015
爆買い (bakugai): is a Japanese slang word meaning "shopping spree" that Chinese tourists encounter when visiting Japan, due to their high purchasing power. It is ex-aequo with:
トリプルスリー (toripurusurii): "Triple Three", accomplished by professional baseball player Tetsuto Yamada with 30% of batting average, 30 stolen bases and 30 home runs over one season;
エンブレム (enburemu): "emblem", at the sixth rank, to recall the choice of the Tokyo 2020 Olympics 'emblem, which much passionated the Japanese in 2015.
2014
ダメよ~ダメダメ (Dame yo dame dame): "No way, no, no!", from a Japanese comic duets' phrase making fun of the Japanese who are yet to learn to assertively say no, even when their government tried to amend the 1947 pacifist Constitution of Japan, in July 2014;
集団的自衛権 (shûdanteki jieiken): "the right of collective self-defense", ex-aequo with Dame yo dame dame, and in the same context, is the argument employed by Japan's Prime minister Shinzô Abe to justify the amendments he wanted to enforce in the Japanese Constitution;
ありのままで (ari no mama de): "The way I am", at the third place, is the Japanese version of "Let it go", the main song from the movie Frozen, released in 2014, and as successful as in the rest of the world.
2013
お・も・て・な・し (O MO TE NA SHI): "hospitality". In 2013, four special prizes were awarded, among which one to "hospitality" used by announcer Christel Takikawa during her presentation speech for the attribution of 2020 Olympics to Japan;
アベノミクス (Abenomikusu): "Abenomics", at the fifth rank, is the name of the economic policy that Prime minister Shinzô Abe has been implementing in Japan since December 2012;