Shukkei-en
The Japanese Garden in Downtown Hiroshima
Add to my favorite places
Shukkei-en is a traditional Japanese garden located in Naka ward in Hiroshima in Chugoku area. Inspired by the Chinese West Lake in Hangzhou, this green space is home to many maple trees making it a must-see during koyo season in Japan.
Created in 1620 by Soko Ueda for feudal lord Nagaakira Asano, the garden was offered by the latter's family to Hiroshima prefecture in 1940. Destroyed in 1945 by the atomic bombing, Shukkei-en nonetheless reopened to the public in 1951.
Located between Hiroshima museum of arts and Kyobashi river, not far from the castle 🏯, this little piece of nature is an invitation to contemplation. The garden's main entrance is to be found after a walk along the museum on the street perpendicular to the tramway and turning on the left. Its gate is guarded by two magnificent bonsai, offered to visitors' admiration.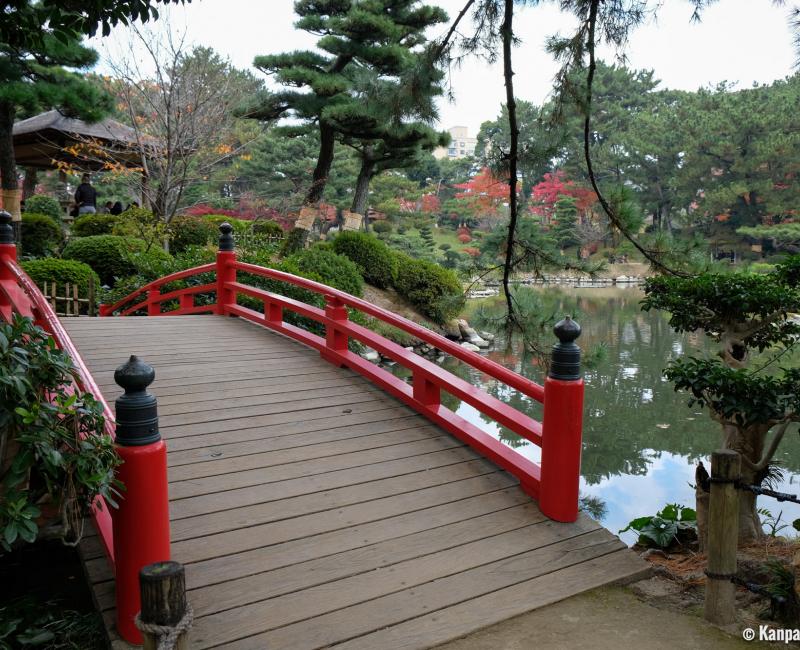 A wide path opens, along which stand a café and a souvenir shop, and at its end a classical tea house, whose background is formed by the garden. Its vegetal architecture is built around a wonderful pond that made the place's reputation. Shukkei-en can translate into "the Shrunken-Scenery Garden". The walk winds through several different miniaturized landscapes, among which visitors feel like they are wearing the seven-league boots, as they cross from a valley to another in less than one hour.
All the views on the park share a common place: the Koko-kyo Bridge, the symbol of the place. The bridge appears like a granite rainbow that divides the main pond from north to south. This pond shelters hundreds of multicolor koi carps, which indeed look wonderful, but eagerly gather at each passerby to collect any bit of food, like aquatic pigeons. The visit continues at the bottom of the valleys where is growing the medicinal plant garden Yakuso-en, surrounded by bamboos. Then the visit course ends back at the entrance, where the two bonsai, sturdy and firm like Welsh guards, have not moved an inch.
Hiroshima and its surroundings' name are still tainted with the sinister events that befall the city in the recent history, or associated on a more positivenote with the very famous sacred island of Miyajima. However, there are very interesting outings in the city, that are less crowded, some of which are wonderful in autumn 🍁, such as Shukkei-en garden and Mitaki-dera temple, located a little bit off-center to the north-west.