Katsuo-ji
The Daruma Dolls Temple in Osaka
Add to my favorite places
Katsuo-ji is a Buddhist temple located in the mountains of Minoh City, in the northern suburb of Osaka. It belongs to the Saigoku Kannon pilgrimage in Kansai, but nowadays its reputation stems from its gathering of traditional Daruma dolls, as symbols of good fortune and granted wishes.
Katsuo-ji's history began during Japanese antiquity, in early Nara period (710 – 794). First a simple hut at the top of the mountain, it became an actual Buddhist temple in 765 thanks to the incitement of Kaijo, a Buddhist monk and a prince of the imperial family, who was looking for a remote place to practice meditation and search for enlightenment.
A temple favored by the authorities
Katsuo-ji received its current name in the 9th century, after it was visited by emperor Seiwa (850 - 881). According to the legend, Seiwa miraculously recovered health thanks to the temple's monks' prayers. As an expression of his gratitude, he authorized the temple to use the name 勝王寺 Katsuō-ji which literally means "the temple that triumphs over the emperor." However, the temple's head decided to replace 王, the kanji meaning "king," by the kanji 尾 meaning "tail," but with the same pronunciation "ō". The substitution was intended to preserve hierarchy, as the king should remain invincible.
Throughout Japan's history, Katsuo-ji maintained a strong relationship with authorities, and especially with Minamoto and Toyotomi shogun dynasties, whose representants came to pray for victory and participated in its reconstruction after it was burnt in 1184.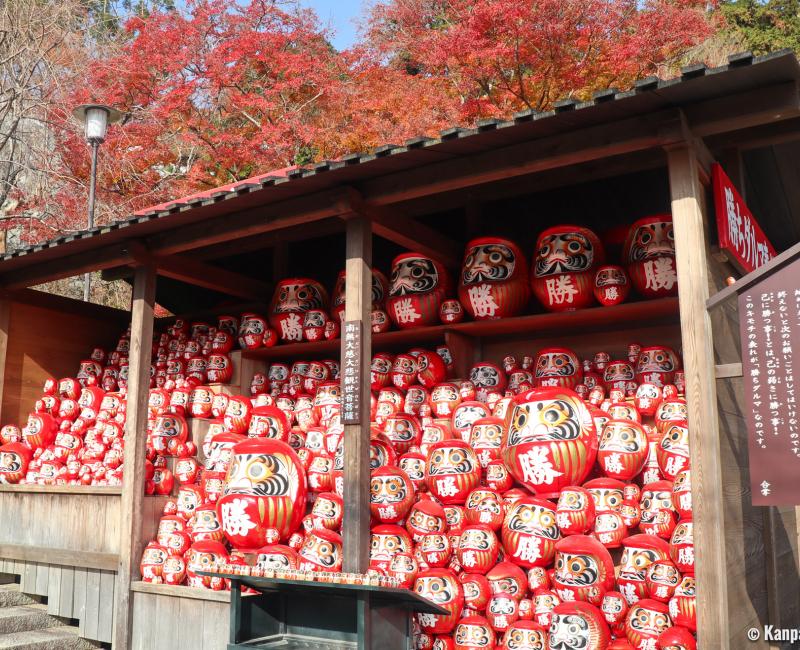 Enter the territory of Daruma dolls
Since its promising beginnings, the temple never lost in power, and its winning reputation ensured attractiveness to worshippers. It is thus no surprise, when visiting Katsuo-ji, to encounter hundreds of Daruma dolls scattered everywhere in the temple's grounds. Like an army of good little soldiers, they are testimony of the temple's fame regarding its power to grant wishes of success. The happiest pilgrims are thus guaranteed "the winner's luck" and "control over destiny."
Daruma dolls are traditional Japanese lucky charms picturing Bodhidharma, a legendary monk founder of Zen Buddhism. They are usually crafted by temples, in an egg-shaped figure of papier mâché, available in various colors.
The custom is to bring back a Daruma doll to its temple of origin after one year, where it will be exhibited with its two eyes painted black as a proof of their owner's success, or ritually burnt by the monks at the end of the year. Tourists enjoy these dolls as beautiful souvenirs from Japan, to bring back as a decoration, in the same manner as a maneki-neko or a kokeshi.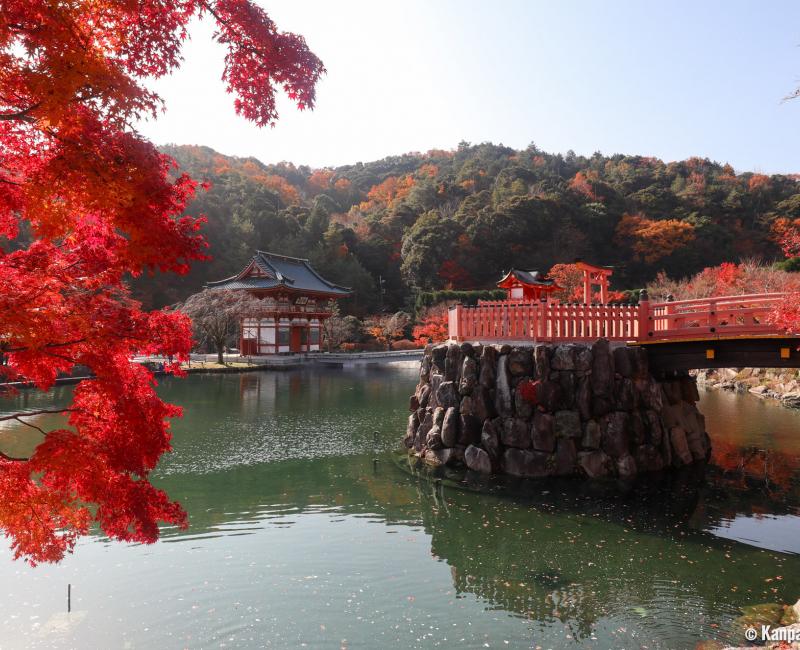 A colorful visit
Visits are beautiful all year long in Katsuo-ji:
Moreover, illuminations are frequently held at nightfall in the temple's grounds. A quieter atmosphere then welcomes the foliage light up.
There are two paths to visit Katsuo-ji's various pavilions: one going up and one going down. The temple's grounds are accessible to persons with a reduced mobility thanks to gentle slopes passages doubling the stairs.