Osaka Northern Suburb
Nature and Culture at a Stone's Throw From Umeda
Add to my favorite places
Osaka northern suburb is located to the north of Kanzaki River, the natural border with the prefecture's capital. This urban periphery includes cities such as Toyonaka, Ikeda, Minoh, Suita and Takatsuki, and offers beautiful excursions in nature within reach of transportation networks.
Beyond its downtown touristic attractions, Osaka also provides nice destinations, easy to reach with public transportation on a refreshing one-day trip. Osaka's inhabitants enjoy these outings on weekends, while tourists can take the opportunity of any fine weather day.
Great cultural attractions in the outskirts of Osaka
Osaka northern suburb spreads towards Kyoto and is very urbanized, with residential districts lining the road between the two large cities. Aside from low-density housing, the area also displays several cultural attractions and green spaces that are worth a visit. It could be interesting to stay a couple of days more in the area to discover its heritage:
In Suita, the large Expo'70 Commemorative Park, including, among other things, the Tower of the Sun, several gardens blooming from spring to autumn and Japan Folk Crafts Museum;
In Toyonaka, stop by to discover Hattori Ryokuchi Park and its Open-air Museum of Old Japanese Farm Houses, ideal for an greenery excursion;
In Ikeda, follow the leads of the city's history from its feudal castle's ruins to the fun Cup Noodles Museum by Momofuku Ando, the famous inventor of instant ramen.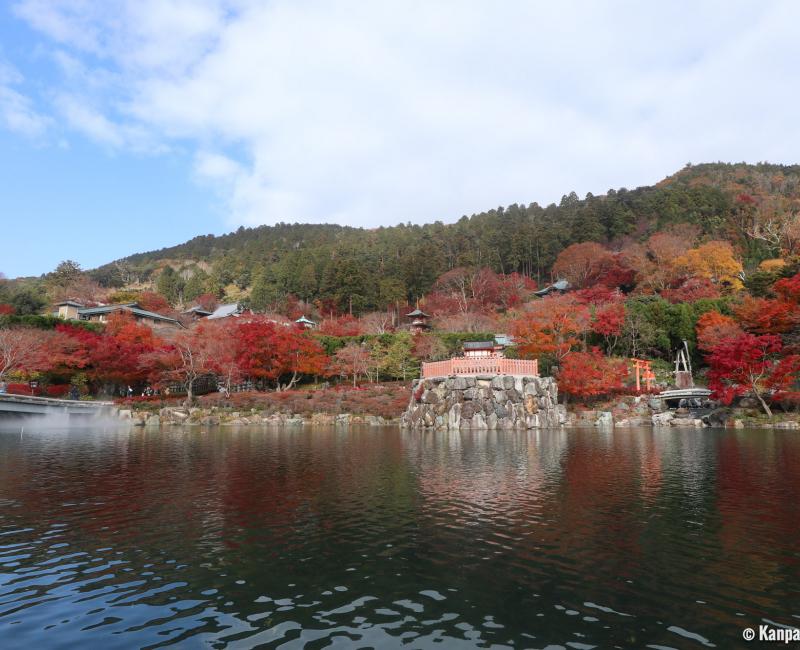 Beautiful walks at the change of seasons
Autumn is one of the best seasons to visit the north of Osaka prefecture. Koyo 🍁 foliage amateurs can enjoy the maple trees leaves reddening in the forest. Minoh city welcomes many visitors who came for a break in Meiji-no-mori Mino Quasi-national Park or pray Daruma at the wonderful Katsuo-ji temple.
In spring, the beautiful Settsukyo Park in Takatsuki welcomes Japanese families who come to enjoy the blooming of cherry trees and celebrate ohanami. After a lunch break under the sakura 🌸 flowers, walk on one of the several hiking trails, with various levels of difficulties. Along Akuta-gawa River, you can enjoy good fishing spots and walk in the Japanese countryside, from bamboo grove to pine forest and fields.
With its pleasant rural aspects, Osaka Northern suburb will please amateurs of outdoor activities and family and friends outings.