Blue Note Tokyo
The First of the New-York Jazz Venues in Japan
Add to my favorite places
Blue Note Tokyo is a bar and live jazz venue located in the classy and central Aoyama district. Opened since 1988, this club of the New-York's franchise The Blue Note is renowned as the best live jazz locale of the Japanese capital. With 300 seats, its restauration service and quality program ensured its popularity among the Japanese and international clientele.
Blue neon lights frame the relatively small entrance of the Blue Note. The place's discreet yet elegant front does not prepare however for the large venue awaiting downstairs.
Since its opening, about thirty years ago, the club hosted many jazz musicians, the most famous having their portraits in the gallery that welcomes customers. While the concert venue is wide, it nonetheless provides a classy and comfy atmosphere that perfectly suits jazz music. The decoration was designed to remind of the New-York City origins of the bar with a red brick wall and comfortable leather upholstered seating. One would not be surprised to be addressed in a perfect American English.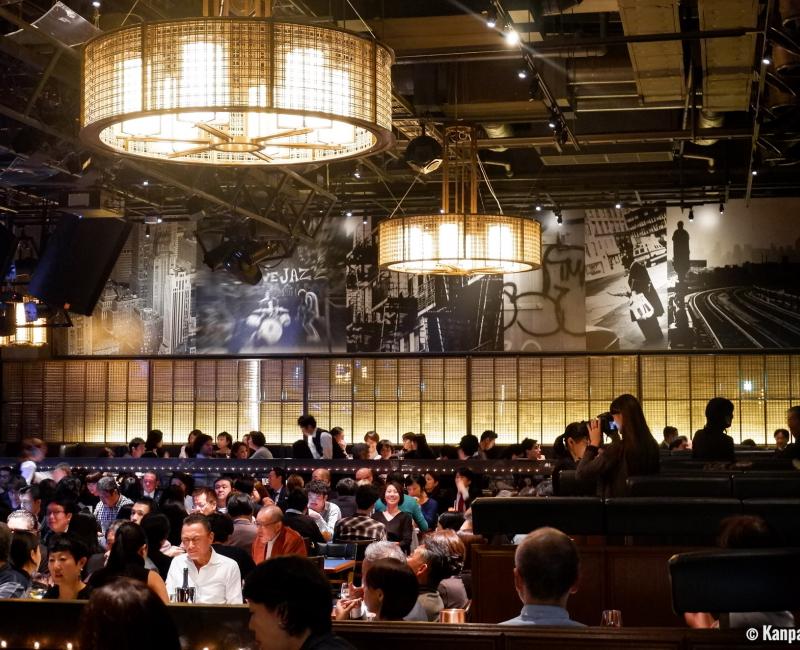 A jazzy night in Tokyo
All efforts were made to have the spectators comfortably seated and spend a lovely evening with friends or in couple. The seats are arranged so as everyone can enjoy an unobstructed view on the stage, and the nearest tables are even touching it. Artists can enter from the back of the bar and walk among the clients to reach the stage, which adds to the intimate ambiance.
In the beginning of the evening and before the concert, the dining room offers an international course and an interesting choice of drinks. Food is quite tasty, and we also recommend this place for dinner. Then, the lighting turns blue to announce the start of the show. The sound quality is excellent, and customers enjoy accompanying the musicians: they beat time, get up and sing even in another language, however, there is no space to dance.
Thanks to its regulars and insiders' audience, the Blue Note Tokyo is a sound value for live jazz amateurs. The acoustic and the program guarantee quality concerts all year around, in a laid-back yet refined place.
Other Blue Note clubs existed in Nagoya, Osaka, and Fukuoka, but they are definitely closed at the time of writing.
This article was written after a tour sponsored and organized by Tokyo
Metropolitan Government
. Kanpai has been invited and guided but keeps a total freedom of editorial content.