Nezu Museum
Elegant marriage of art and nature
Add to my favorite places
Nezu Museum is an art gallery located at the south of Aoyama district, in Minato ward, in Tokyo's center. Opened to the public in 1941, it houses the collection of Nezu Kaichiro, one of the biggest art collectors of Japan. More than 7,400 pieces of art, including some national treasures, are exposed on a rotating basis, while the whole museum is surrounded by a superb Japanese garden.
The museum's private collection belongs to the businessman and art connoisseur Nezu Kaichiro (1860–1940). Only one year after he died, a building was inaugurated in the middle of the capital city to welcome the first amateur art lovers. During the Second World War, a big part of the museum was destroyed; fortunately, however, the masterpieces were sent away from Tokyo. Although renovated several times, the museum, in its current version, dates from 2006 and can be distinguished by its pure geometrical forms, which are in harmony with the surrounding nature. We owe this design to architect Kengo Kuma, currently working on Tokyo's 2020 Olympic Games 🏅 stadium.
The main entrance is hidden behind a bamboo alley, which dresses up the building's entire facade on the street side. The visit's tone is given: urban noises and agitation become quiet and let a peaceful universe settle in, which is beneficial for contemplation. Behind the main hall where some masterpieces are already displayed, a long bay window lets the garden appear.
Most of the objects displayed here are related to pre-modern Japanese art and were derived from Oriental Asia. Six galleries, spread on the ground and first floors, can easily be visited. The museum is not that big, and visitors can take their time to fully enjoy the pieces' aesthetics. The temporary exhibitions are diverse and change about every month. Galleries 1, 2, 5 and 6 are usually dedicated to them, while rooms 3 and 4 house the permanent collection.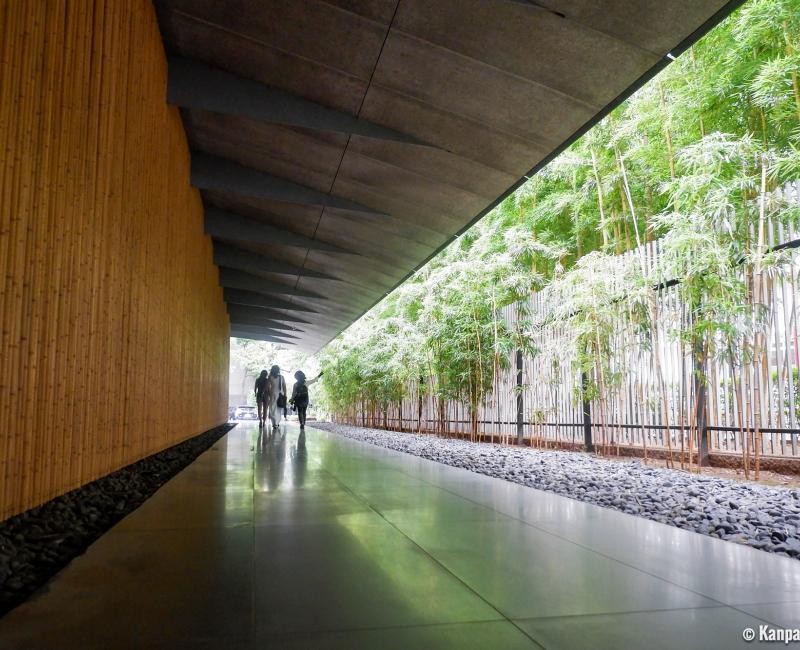 Numerous explanations are given that are pleasant for foreign tourists. For example, the "Lacquer Techniques and Design" exhibition gives much information about the creation of patterns and the evolution of design throughout time. The lacquer boxes, plates and trays are delightful, impressive and very detailed. All year long, rich and diverse themed exhibitions follow one another, such as of tea utensils from the Momoyama era, floral beauty in Buddhist art or kosode-style kimono 👘 patterns. Nezu Kaichiro's passion for his collection's masterpieces becomes almost tangible, as the plethora and quality of exhibitions and pieces are impressive.
The museum's visit gives access to a splendid Japanese garden, which completes the museum. One can almost feel like he or she is in the middle of a lush rain ☔️ forest. We take real pleasure in getting lost within a maze of tiny landscapes made of water ponds and Buddhist sculptures of bronze or stone. Some small traditional buildings to take tea are also nested inside the garden. Yet right in the middle of Tokyo, this garden impresses with its quiet atmosphere and wildness, where we easily can hear feathered inhabitants singing.
Nezu Museum is a beautiful surprise that is almost mandatory for fine art amateurs walking around Tokyo. Its atmosphere totally fits its neighborhood: discreet and refined. It is also close to Omotesando Luxury Avenue. The museum is alive and follows the seasons through the colors of its garden and of its numerous temporary exhibitions.