Tokyo City View + Sky Deck
Mori Tower's Observatories in Roppongi Hills
Add to my favorite places
Tokyo City View and Sky Deck are two observation decks located at the upper floors of Mori Tower, in the Roppongi Hills complex, in Minato ward in Tokyo. They give a 360° view on the Japanese megalopolis, from indoor and outdoor, at about 250 meters above sea level.
Tokyo visitors have probably already heard about Roppongi Hills, a huge urban project completed in the early 2000s in the eponymous district of the capital. This 27-acre complex is organized around shops, restaurants, apartments, offices, and even movie theaters, museums and parks.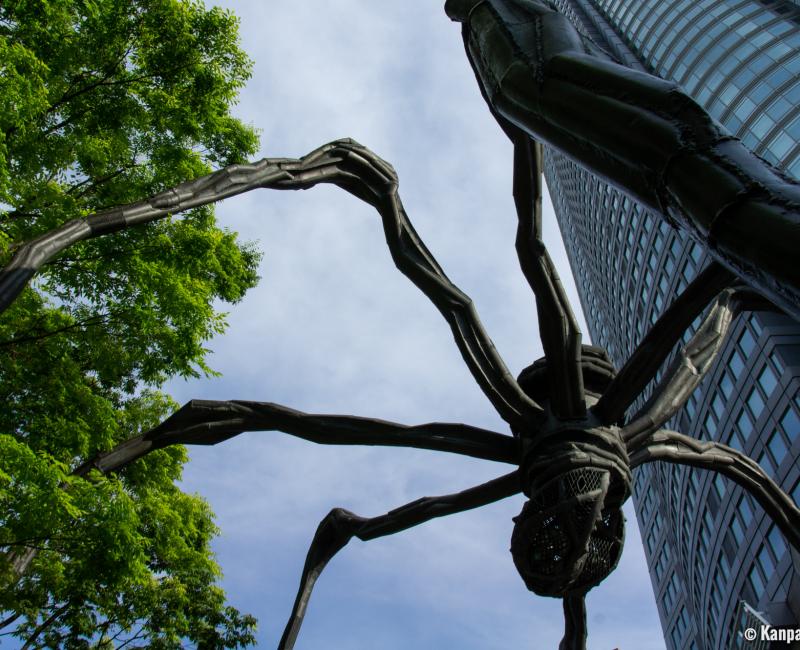 Roppongi Hills Mori Tower
Mori Tower is somehow Roppongi Hills' central hub, around which the activity flows. At its foot is awaiting a giant spider called "Maman": a ten-meter-high sculpture achieved by French artist Louise Bourgeois (1911-2010).
Mori Tower opened on 2003, April 25, and its importance is highlighted by the famous brands and companies that chose it for their Japanese head offices: Google, Ferrari, Goldman Sachs, Barclays, Time (Warner), Chevron, Konami, Pokémon Company, J-Wave or Gree!
The 54 floors of Mori Tower are divided as follows:
The first six floors include shops and restaurants,
The upper six are devoted to Mori Art Museum and the observatories,
The rest belongs to companies' offices.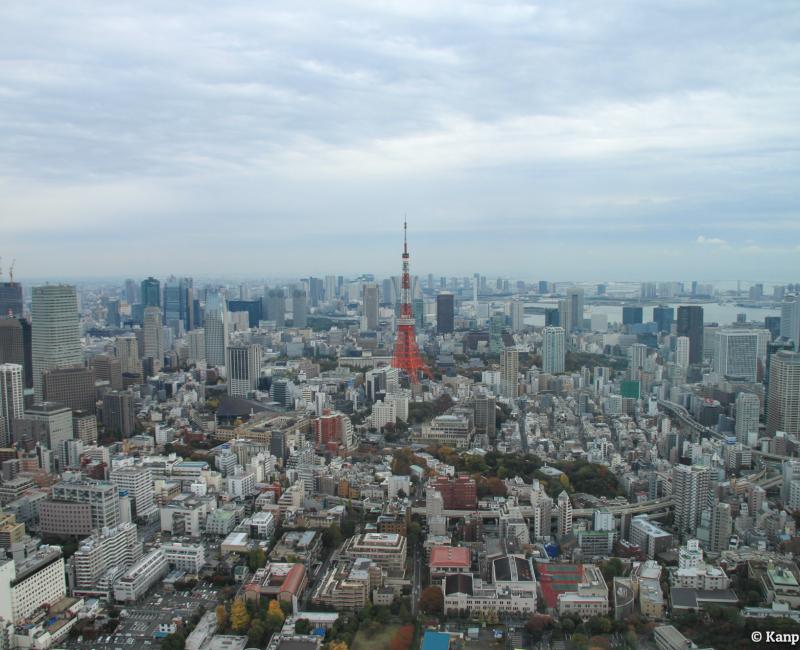 Indoor and outdoor observatories
We will focus on the observation decks here.
At the 52F (51st floor), Tokyo City View opens on the whole megalopolis, 250 meters above sea level. It has two main advantages over other aerial points of views in Tokyo:
Its location (close to the heart of the city and near the Bay), and,
A 360° panoramic view.
These two advantages associated offer a glimpse on the main districts of Tokyo from a central location, and especially the contemplation of the nearby Tokyo Tower 🗼 through incredibly high windows. Windowsills and seating are laid out for visitors to rest and take the time to enjoy the view.
If the weather allows it (access is forbidden in case of mild to strong winds), climb to Tokyo Sky Deck: the roof of the building is one of the few open-air observatories in the capital. Before enjoying the impressive outdoor view, one must put belongings in coin lockers. However, cameras 📷 are authorized to capture the incredible vista.
On the roof, visitors can walk on a very secured, one-way course allowing a 270° view, from three of the four sides of the tower, and on a wooden path surrounding the heliport. Surprisingly, machineries are installed between visitors and the void almost all along the way and are sometimes noisier than the wind. On one side, there is the Tokyo Tower, on another the horizon unfolds over humongous Shinjuku and up to Mount Fuji 🗻 when the weather is clear. In any case, the view is stunning.
Our advice: don't let the recent (stunning all the same) Tokyo SkyTree overshadow other observatories which sometimes are small treasures, such as these two observation decks in Roppongi Hills.