Roppongi Hills
The 2000s' Iconic Urban Complex in Tokyo
Add to my favorite places
Roppongi Hills is a major culture and leisure center located in Minato ward, in the south of central Tokyo. With the famous 54-stories Mori Tower as its landmark, the urban complex is sheltering miscellaneous shops, restaurants, an art museum and an attractive open-air observation deck. Locals and tourists alike gather here for entertainment and spend a good time.
Roppongi Hills stands out from Tokyo's other urban complexes thanks to its ocher stone facades. Inaugurated in 2003, it quickly became the focal point of the lively Roppongi district, whose nightlife has already been famous for a long time.
Despite the successive opening of competitor facilities such as Akasaka Sacas in 2005 and Tokyo Midtown in 2007, Roppongi Hills never lost its charm and the streets of this "city in the city" are still popular, especially on the weekends when groups of friends meet for a good time.
On weekdays, the streets are swarming with salarymen working at the many Japanese and international big companies' offices that are part of the complex, in particular the recording studios and headquarters of TV Asahi, hosted in a remarkable all-glass round building. Events broadcast by the television company are often held on the central plaza called Roppongi Hills Arena.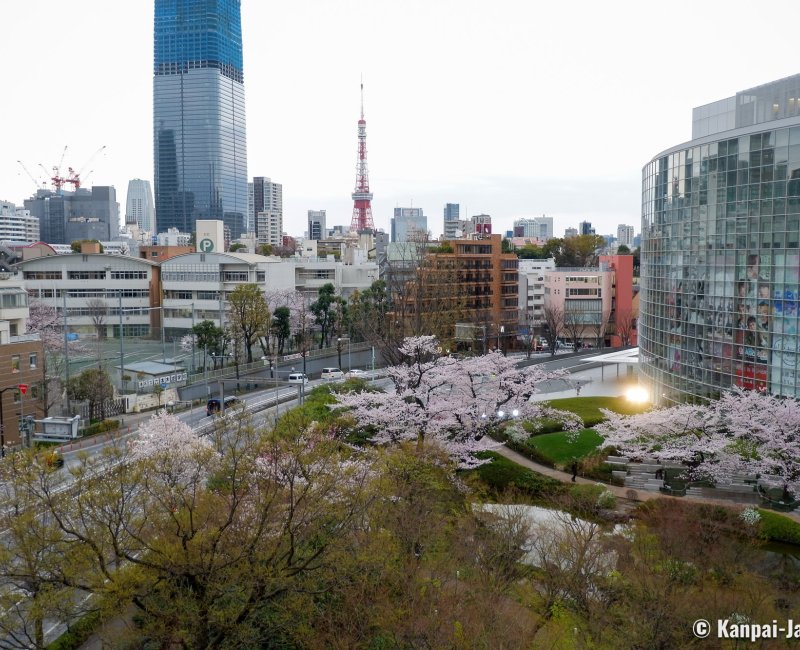 Mori Tower as a landmark
The Roppongi subway 🚇 station is connected to the Mori Tower that overlooks the landscape and around which are located the main places to discover. After walking between the legs of the gigantic spider "Maman" ("Mom"), by French artist Louise Bourgeois (1911 – 2010), the 2 major attractions of the complex are located at its upper floors:
Mori Art Museum, at the 53F with interesting temporary exhibitions on arts and contemporary architecture;
Roppongi Hills' observation decks: the indoor Tokyo City View and the outdoor platform Sky Deck, for a beautiful panoramic view at 270 meters of altitude on the center of the capital, especially the Tokyo Tower, Aoyama Cemetery, the New Olympic Stadium and Shinjuku and Shibuya's skyscrapers.
The lower floors are home to a conventional shopping mall with fashion shops, several restaurants or cafes with outdoor terraces. You will also find luxury shops at the Roppongi Hills complex, such as Rolex or Louis Vuitton boutiques, as well as the 5-stars hotel 🏨 Grand Hyatt Tokyo.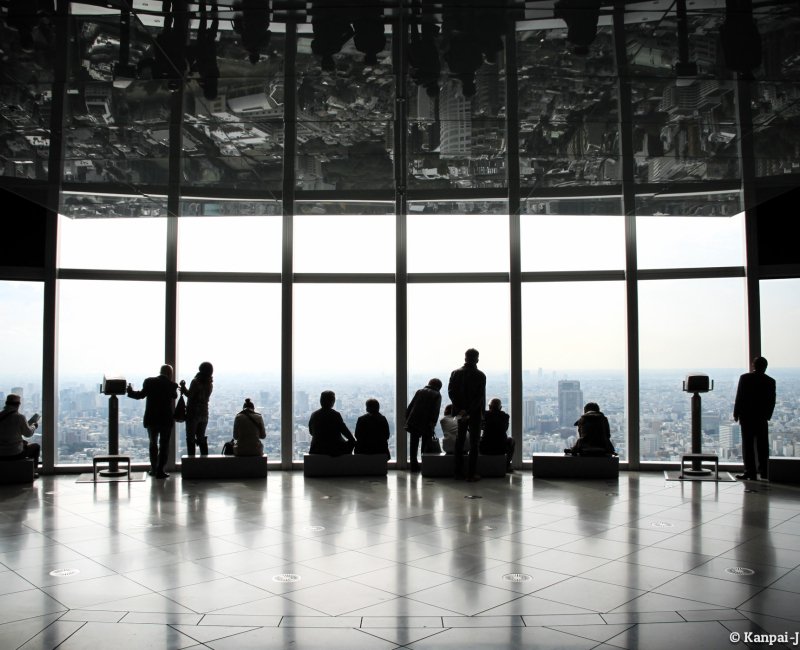 Sakura blossoms at the foot of the buildings
Early spring is a good season to visit Roppongi Hills, that can boast 2 cherry trees spots blooming near the end of March:
Mohri Garden, a Japanese style garden arranged around a small pond and located at the entrance of the Mori Tower and TV Asahi headquarters;
Sakurazaka street, winding at the foot of the complex, and its playground Robo-Robo. The dozen of trees on the side of the road make a beautiful pale pink forest cover.
The ephemeral beauty of the sakura 🌸 blossoms can be photographed day and night thanks to the illuminations lighting up the path for a walk in the evening during the short blooming period.