Spice Curry Shinkai
🍛 Healthy and Spicy Curry Restaurant in Tokyo
Add to my favorite places
Spice Curry Shinkai is a curry restaurant in Minato ward's Toranomon area, a southern-central location in the Japanese capital. In this small shop at the 1st floor, also featuring a whiskey bar, customers can enjoy delicious and appetizing curries flavored with 17 kinds of spices and medicinal herbs.
The restaurant Spice Curry Shinkai located in Toranomon district belongs to a 3 restaurants network specialized in "medicinal" curry ( 薬膳カレー yakuzen kare in Japanese), all located in Minato ward:
The main shop is near Azabu-juban subway station; and,
The 3rd restaurant is near Daimon subway station.
The shop advertises its curry as healthy thanks to a gluten-free recipe, enhanced by 17 natural spices and medicinal herbs. With a strong and spicy flavor, Shinkai's curry is closer to Indian cuisine than Japanese cuisine. 100 % vegan dishes are also available from the menu.
Spice Curry Shinkai restaurant is at the first floor of a little gray building and it is directly accessible by the stairway behind the front door, from which exudes a delicious curry aroma.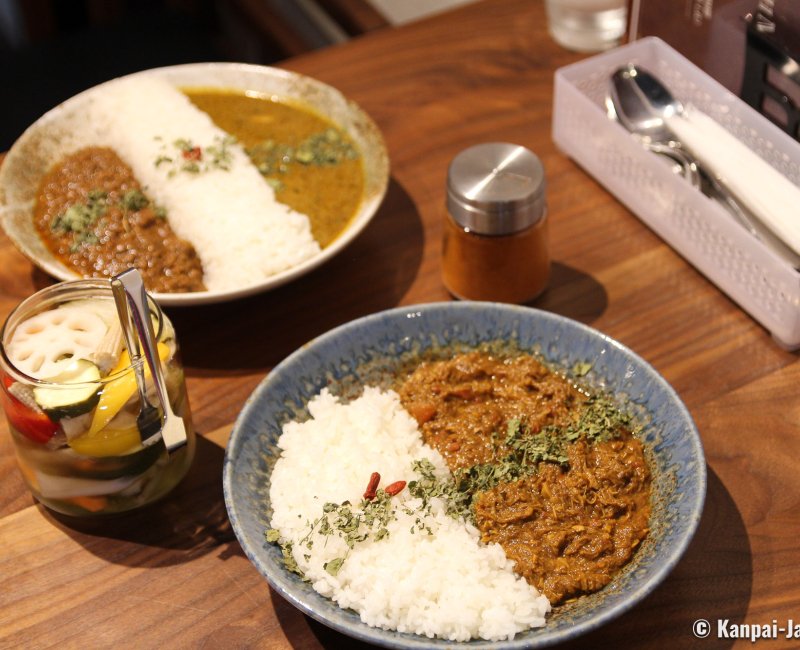 Original and appetizing curry plates
The restaurant's menu (available in English) displays very few choice in order for the shop to offer the best curry recipes, served in beautiful deep ceramic plates.
We strongly recommend to try the double flavor curry, appetizing just by the look of it, with a generous central partition of white rice, on the 2 sides of which 2 different curry sauces are available. We particularly loved the delicious pork and red pepper version.
As in any restaurant in Japan, the main dish is sided with pickles. At Spice Curry Shinkai, they are home made and served at the table in lovely glass containers. Good and beautiful, they bring some originality with pickled lotus roots or diced Japanese yam.
The place also offers a subdued, yet laid-back and refined atmosphere. The whiskey bar counter, with its dimmed lights and dark wood furniture, contributes for a large part to this cozy ambiance.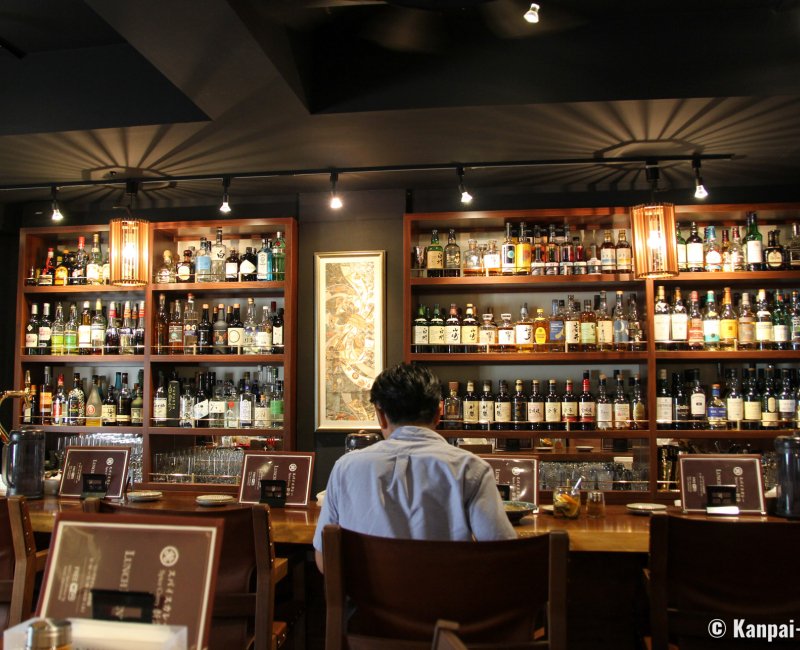 Restaurant at lunch time and whiskey bar in the evening
Spice Curry Shinkai is a restaurant at lunchtime, but the evening is dedicated to a whiskey bar. The place thus becomes a good address to taste Japanese whiskey. The bartender offers advice on a large selection of bottles from various makers and vintages.
Excessive drinking put your health at risk. Alcoholic beverages should be consumed in moderation.
Thanks to its fast service and in a quiet and subdued atmosphere, the restaurant provides a well-deserved gourmet break on a day-trip in the capital. Several popular sightseeing sites are located within walking distance, such as Atago-jinja shrine, Zojo-ji temple and the famous Tokyo Tower 🗼.