Kishu Tosho-gu
The Tokugawa Mausoleum in Wakayama
Add to my favorite places
Kishu Tosho-gu is a Shinto shrine in Wakayama City, south to Osaka in Japan. Dedicated to shogun Tokugawa Ieyasu, the site's main pavilions ornamented with wonderful and colorful wooden carvings and wall paintings are the Kansai's area counterpart to his mausoleum in Nikko.
Kishu Tosho-gu shrine was built in 1621 by Tokugawa Yorinobu (1602 – 1671), who was the daimyo (ruling lord) of the Wakayama domain and direct descendant of Tokugawa Ieyasu (1543 – 1616), the founder of the shogunate in the early Edo period (1603 – 1868). The site, nicknamed "Kansai's Nikko" is dedicated to Ieyasu as well as to Yorinobu.
Authentic Edo period sculptures and paintings
The same grandiloquence as Nikko's mausoleum can be mainly found in the ornamentation of the main pavilion and the worship hall. Splendid carvings and wall paintings were made by Hidari Jingoro (1584 - 1644) and painters of the Kano and Tosa schools, remnants of the Azuchi-Momoyama period (1573 – 1603). Colorful and very detailed, the artworks represent traditional and legendary animals of Japan such as a dragon, carps, cranes, turtles, or the phoenix.
Note that taking picture of these artworks is prohibited. They are also frequently renovated to preserve their beauty.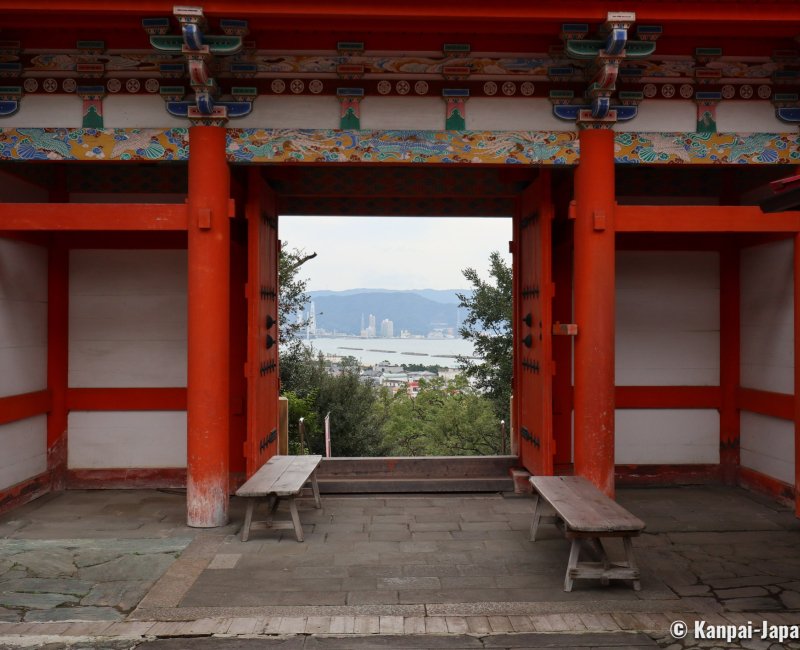 An almost solitary visit
The site is nestled in the heart of a thick forest and the great torii ⛩️ gate at the entrance solemnly opens the way on a lantern 🏮-sided cobbled alley. The pavilions are perched on the heights overlooking Wakanoura Bay and are reachable after climbing the 108 steps of the main stone stairway called Samurai-zaka. Then, the main esplanade is marked by the Romon gate, of marvelous vermilion color and through which one can have an unobstructed view on the seaside.
Despite its rich past in connection to the power of the Tokugawa's, over time Kishu Toshogu became a rather quiet neighborhood shrine, and rarely visited by tourists. Its daily life atmosphere is therefore enjoyable, with both the immersion in the neighborhood's life and in the spiritual atmosphere.
Nearby, Wakaura Tenmangu shrine offers a similar ambiance and the visit ends at the seaside and Wakayama Beach 🏖.