Nankinmachi
Kobe's Chinatown
Add to my favorite places
Nankinmachi is a Chinese district in Kobe, in Kansai area in Japan. This Chinatown is relatively small but is home to one of the largest Chinese community in the archipelago. Its two main streets are packed with dozens of shops and eateries exhaling colors and flavors of Asia.
Located a stone's throw away from the central covered shopping galleries, Kobe's Chinatown is certainly a must-see of the city. The place is also known under its Japanese name Nankinmachi, and shelters the core of Kansai's Chinese community.
With Yokohama and Nagasaki's Chinatowns, Nankinmachi is one of the three largest Chinese district in the country. It was created in 1868 after the reopening of the port and the authorization given to foreign traders to settle in the city that was developing at a fast pace. The "people of Nankin" (a nickname that locals gave to Chinese residents in reference to Nanjing, China's former capital) were forced to relocate a little bit further to the east, but they quickly developed their activities and made their area an important settlement in Kobe.
Unfortunately, WWII bombings completely destroyed the Chinese town whose land was reallocated to a pleasure district for sailors until the 1970s. In 1981, Kobe city decided to rebuild Nankinmachi and doubled its initial superficies. It was renovated again after the Great Hanshin earthquake in 1995, and is now the stronghold of Chinese cuisine in the area.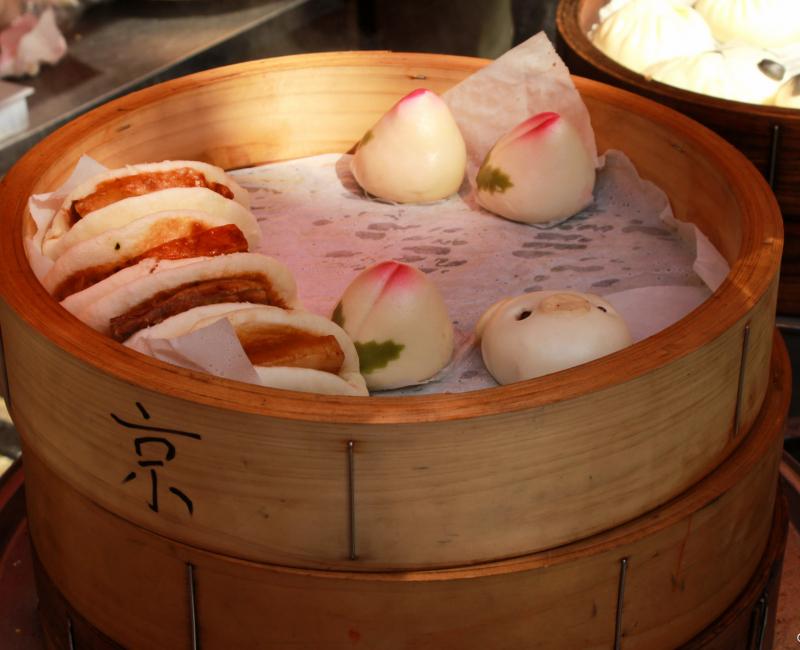 The high-place of Chinese cuisine
This Chinatown is in fact located at the intersection of two streets, of two hundred meters long from west to east, and a hundred meters from north to south. Its central plaza Azumaya is typical and colorful and served by three entrance gates:
Choanmon in the east,
Seianmon in the west, and,
Minamiromon in the south.
They contribute greatly to the ambiance, as well as the numerous lanterns 🏮, sculptures, and images.
With twelve thousand expatriates (twice as much as in Yokohama) residing here, and hundred shops and restaurants, this very packed district is characterized by its golden and vermillion colors, that give it a particularly joyous and festive atmosphere. Moreover, the Chinese food eateries offer a choice of delicious butaman and shoronpo and make the place particular, far from the snobbism characteristic of Kobe. There are also some places to play games such as mah-jongg.
Nankinmachi district takes a whole new dimension during the Chinese New Year celebrations, when traditional dances and parades enlighten hungry tourists' wandering.