Mitaki-dera
The Ideal Autumnal Excursion from Hiroshima
Add to my favorite places
Mitaki-dera is a temple of the Shingon school of Buddhism, located on the slopes of Mount Mitaki, in the north-west of Hiroshima. It was founded in 809 by monk Kukai and is now the 13th temple of the Chugoku 33 Kannon Pilgrimage. A nice hike in the mountain, especially enjoyable in autumn, leads to the main hall.
From Mitaki JR station, carefully follow the signs to find this quiet and peaceful place of worship. A walk of about fifteen minutes is necessary to reach the foot of the mountain. At the back of a parking lot, a stone stairway marks the beginning of a short and easy hike to Mitaki-dera's main hall.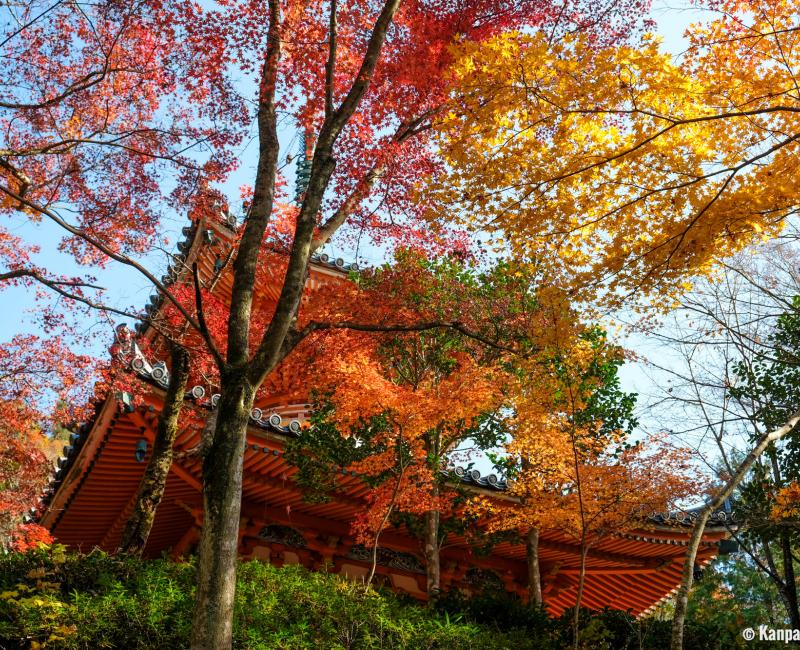 A spiritual journey in the mountain
Jizo statues of child-like appearance welcome visitors with a benevolent expression giving a heartwarming reassurance before entering the mountain path. The entrance is free, but at the beginning of the trail, on the left, a sign indicates the amount of the recommended donation. There is no reception desk nor staff, as visitors are considered trustworthy and abiding to make their donation in a beautiful stone box. If you are unsure of what to do, just do as the locals do.
The two-story Tahoto Pagoda stands behind marvelous maple leaves 🍁 as if hiding to observe hikers. Initially built in 1526 in Hiro Hachiman-jinja shrine in Wakayama prefecture, it was moved to its current location in 1951, in order to soothe the spirits of Hiroshima's atomic bombing victims. According to the explanations that can be found on site, Mitaki-dera was also affected by the atomic bombing, as its impact was close to the temple.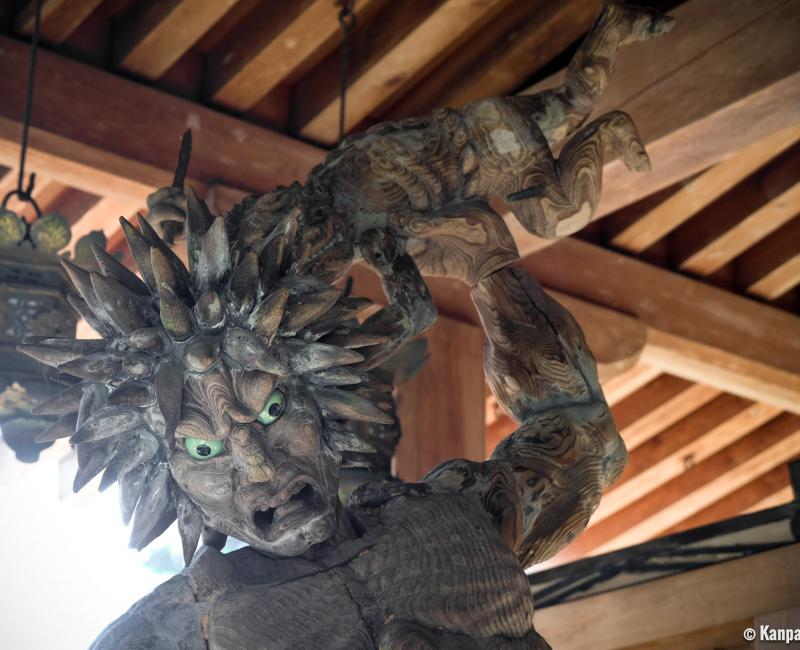 The soothing beauty of the temple's grounds
The beautiful path is lined with countless stone steles and Bodhisattvas statues. Mitaki-dera's grounds shelter three waterfalls from which its name, meaning "three waterfalls temple," originates. Two of them are visible along the trail. The third one is the wonderful companion of the temple's main hall.
A beautiful Japanese traditional fountain of tsukubai style, made with stone and bamboo, is the ideal place to take a well-deserved break. A strange wooden statue stands at the entrance of the main hall: a threatening character is holding a child above its head in a throwing gesture. Despite its demon-like appearance and spiky hair, it represents Kongo-rikishi, a nyo deity that protects from evil spirits. It is thus a positive guardian who helps Jizo to live in peace and harmony, feelings that permeate visitors as they are charmed by this spiritual walk of an undisputed beauty in autumn.