Kobe Luminarie
The winter light festival in Kobe
Add to my favorite places
Luminarie is the name of an annual light-up festival in Kobe, Hyogo Prefecture. It was first organized in 1995, in memory of the Great Hanshin-Awaji earthquake, 6.9 on Richter magnitude scale, and is one of the oldest winter festivals in Japan. During 10 days each year in the beginning of December, Kobe Luminarie attracts more than 3.5 million visitors.
Kobe Luminarie was created by two artists, one Japanese and one Italian, to convey a message of hope and recovery each year in memory of the 6,437 people who died during Kobe's earthquake in 1995. Kobe Luminarie installations are as grandiose as they are popular. But don't fear the crowd and walk into those fairytale-like light tunnels, that deserve to be seen at least once in your life.
The path to the illuminations starts at Motomachi Station's exit, in downtown Kobe, guarded by policemen who show the way to the beginning of the attraction. Illuminations are set up on Kobe's main streets, so car traffic is stopped at night to allow visitors walking around and enjoy the festival.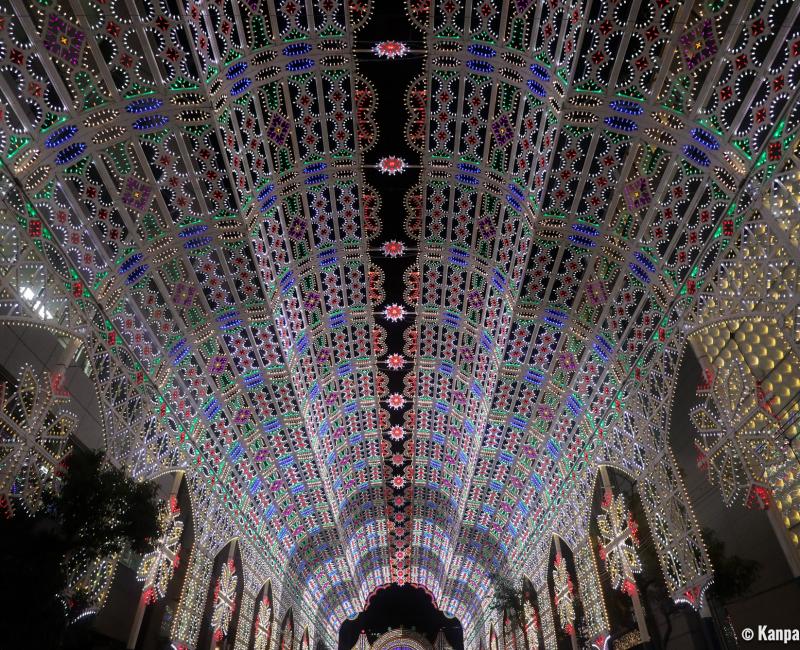 A long-awaited rendezvous under the city's lights
However, it is not true to say that Kobe Luminarie can be enjoyed freely. It is indeed not advisable, and even sometimes forbidden to stop to take pictures. As a matter of fact, to avoid congestion and please a maximum of visitors, staff members standing along the path repeat to "keep moving" on the megaphone over and over. The instructions are strictly followed, as nobody dares to stop, and visitors move very slowly in procession to allow quick pictures or to just enjoy the beauty of the illuminated structures.
The nightly promenade is astonishing with its light walls standing 20 meters above ground on each side of the path. It really feels like walking into a cathedral, with a final apotheosis under a dome located in Higashi Yuenchi Park in Sannomiya. A feeling of gratitude wells up when discovering the wonderful stage production of the sound and light show at dusk.
Access to Kobe Luminarie is free even though it might be quite difficult to raise funds for such a big event. Since a couple of years, however, Kobe Luminarie's organizators call for donations. Visitors can thus give money at collecting booths, where they receive a souvenir card as a thanking gift.
In 2019, Kobe Luminarie celebrated their 25th anniversary and has displayed a new staging for the occasion.