Kobe Port
Cultural Walk and Shopping at the Foot of the Tower
Add to my favorite places
The port of Kobe is a commercial harbor spreading at the foot of Kobe Port Tower, and opening on Osaka Bay in Hyogo prefecture. It is structured around Meriken Park and Haborland, the favorite dating places of Kobe's young couples.
Meriken Park
Contrary to what its name suggests, Meriken Park is not a garden nor a green space. It is actually a wide concrete esplanade home to, among other things, the Kobe Maritime Museum and its huge white lattices structure. Mechanical engineering amateurs can also visit Kawasaki Good Times World, a splendid Kawasaki showroom within the Maritime Museum.
At the end of the wharf, an area is dedicated to the Port of Kobe Earthquake Memorial Park, where a part of the heavily damaged port has been preserved as is after the Great Hanshin-Awaji Earthquake. The earthquake struck the city on January 17, 1995, with a 7,2 magnitude on Richter Scale. Thousands of people were injured and 6,437 killed, and the material damages amounted to ten thousand billion yens 💴. The traces of the violent earthquake voluntarily remain in Meriken Park to pass on the memory of this disaster.
Meriken Park celebrated its 150th anniversary in 2017, with the installation in November of a huge Christmas tree that was illuminated from early December. It was the second tallest Christmas tree in the world after Rockefeller Center's in New York.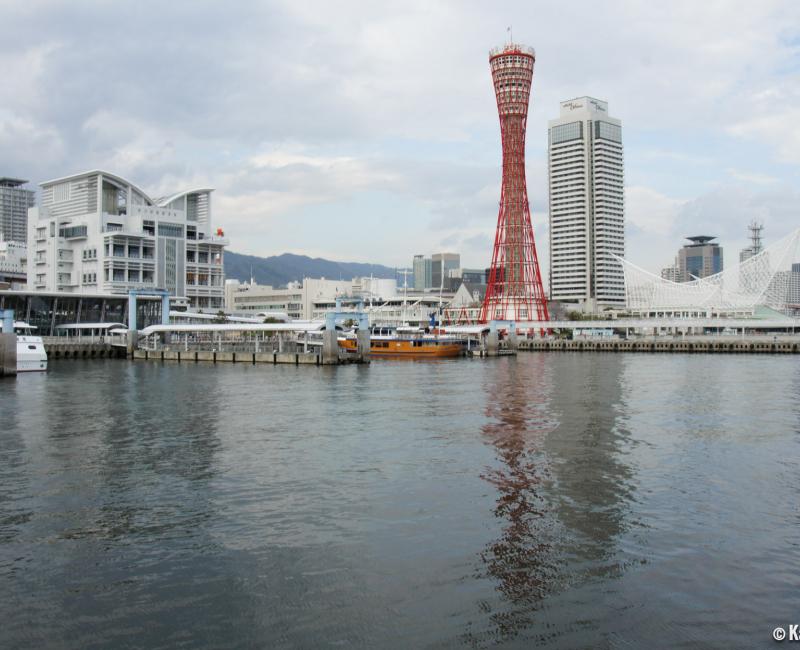 Harborland
On the other side of the port, Harborland is a vast shopping complex, with numerous shops of all kinds and sizes, as well a cinema and countless cafés and restaurants. Two shopping malls share the place, and are either partly covered or opening on the bay.
At the end of the promenade, the Mosaic Big Ferris Wheel highlights a delightful vintage landscape, as can be seen in the pictures below.