Nofuku-ji
Hyogo's Great Buddha
Add to my favorite places
Nofuku-ji is a Buddhist temple of the Tendai School located in a residential area of Kobe's Hyogo ward. It shelters one of Japan's Daibutsu (Great Buddha) reminding on a smaller scale those of Nara and Kamakura. The temple's grounds also feature a main hall and a little garden, very pleasant in spring.
Nofuku-ji temple was founded by monk Saicho in 805, but it was only in 1891 that the outdoor sitting Buddha statue was inaugurated. It was however destroyed during WWII to use its materials in wartime effort, and it was rebuilt in 1991. A few purists do not acknowledge this recent version as the country's third biggest Buddha, as other statues, such as Takaoka's or Gifu's, are in the competition for the same title. Nevertheless, Hyogo's Buddha is still impressive thanks to its 18 meters height and its location, in the heart of a residential neighborhood where it offers a contrasting view among the buildings and houses.
The atmosphere is old-fashioned and confidential, but the place is still worth the detour. Far from the tourists crowds, visitors are greeted with the temple's motto in Latin, saying "peace for the one who enters, good health for the one who leaves". The main hall Tsukinowa-Eiden dates back to 1953 and was renovated in 1997 after the 1995 Great Hanshin earthquake. Nofuku-ji is a syncretistic site, with a bright, small Shinto shrine and a lovely green space attached.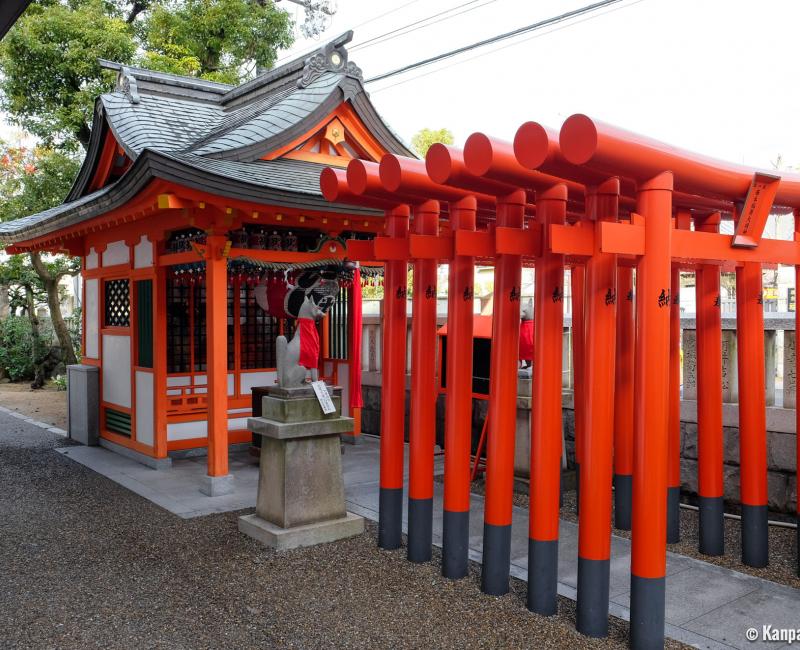 The temple as an integral part of its surroundings
The site is however quite small and the visit rather short, unless you are a photographer amateur seeking to take the perfect picture of Buddha. Therefore, we strongly recommend wandering in the neighboring streets, from Hyogo station to the walk laid out along Shinkawa Canal.
The area offers many spiritual places, cemeteries, neighborhood temples and shrines to find among the houses. The most memorable are Hiruko shrine and Shinko-ji temple, located at only a five minutes' walk, respectively to the north-west, and to the south of Nofuku-ji. The sites benefit from good signage, with maps translated in English and directions indicated by plates on the ground. However, the legends, such as Japan's Seven Lucky Gods (Benten, Bishamonten, Daikokuten, Ebisu, Fukurokuju, Hotei and Jurojin) and other detailed explanations are only in Japanese.
Even though Nofuku-ji is located in the old city, the renovations and the meticulous maintenance of the religious buildings show Kobe City's will to attract tourists by highlighting new faces of its heritage, in addition to the entertaining places of the port and the city center.
This article was written after a tour sponsored by Hyogo prefecture. Kanpai has been invited and guided but keeps a total freedom of editorial content.