Nakagin Capsule Tower
The World's First Capsule-Apartments
Add to my favorite places
Nakagin Capsule Tower is a double modular tower for housing and office use located in Tokyo's Ginza district. Created by Kisho Kurokawa in the early 70's, this iconic structure of the Metabolism architectural movement was designed as a take on the dynamic megalopolis' growing need of accommodation at the time. It is currently being dismantled to disappear from the Japanese capital's landscape in April 2022.
🚧 Definitely Closed
Dismantlement works since April 12, 2022
Nakagin Capsule Tower is the first major work of Japanese architect Kisho Kurokawa (1934 - 2007), who was involved afterwards in many other projects, such as the National Museum of Ethnology in the north of Osaka, or the National Art Center Tokyo, one of his last great creations.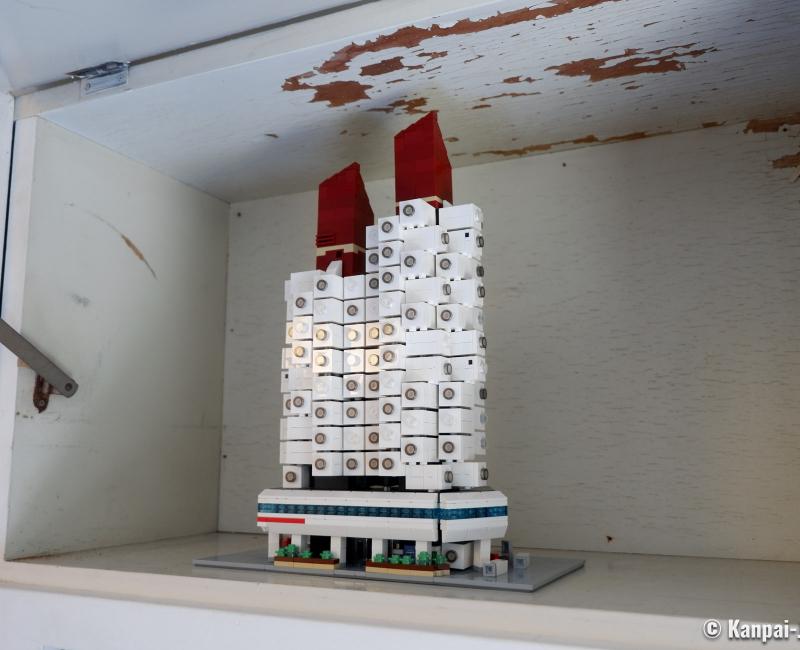 Symbol of Metabolism Movement in Japan
Born in Nagoya and graduated from Kyoto and Tokyo's schools of architecture, Kurokawa is one of the founders of the Metabolism Movement, メタボリズム Metabolizumu in Japanese. This architectural current appeared in post-war Japan and was based on the principle of considering urban architecture as an organism, that could therefore grow and adapt easily to the needs of a mass society. "Metabolism" had its Golden Age in the 1970s with the Expo 70' World Fair in Suita (Osaka), and the inauguration of Nakagin Tower in Tokyo in 1972.
At that time, Tokyo (and more generally the country) was on a powerful economic growth. Kisho Kurokawa imagined an accommodation solution suitable for salarymen with small functional apartments in the heart of the city, to avoid long daily commutes between offices and urban periphery homes.
Ginza was naturally selected as the location for the project, as it is close to Shimbashi, and not far from Shinagawa and Marunouchi, areas that gathered most of the offices and therefore the prospective tenants targeted by the architect. In 1972, the south of Ginza district offered a relatively flat landscape. The view from the upper floors of the tower thus encompassed an unobstructed panorama on:
Ever since Nakagin Capsule Tower's edification, several tall buildings as well as Tokyo Expressway running next to it have been constructed. Nonetheless, its distinctive silhouette still attracts the attention with its modules attached in a structure reminding of a hive and opening by a large round window.
The Metabolism Movement inspired other buildings, similar to Nakagin Tower that can be viewed in Japan, such as:
Capsule House K (1974) by Kurokawa, located in Karuizawa; and,
Shizuoka Press and Broadcasting Center (1967) by architect Kenzo Tange, also located in Ginza.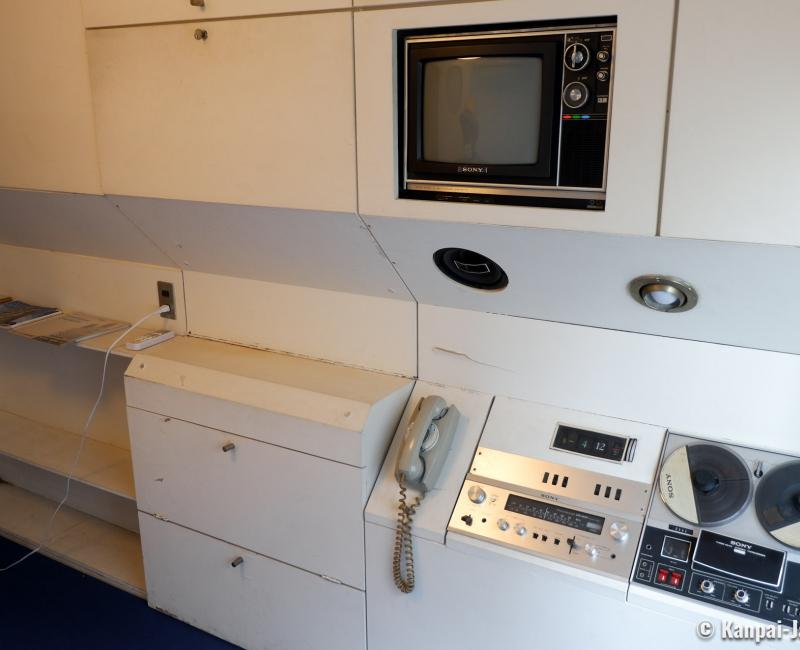 A futuristic concept of livable modules
Nakagin Capsule Tower is composed of two adjoining towers made in reinforced concrete, the smallest being 11 floors and the highest 13. A total of 140 steel capsules are cantilevered, attached to the main structure by only 4 anchors, and each unit has a 10m² superficies.
The units' thorough conception included the same layout and audio and video built-in devices by Sony, a guarantee of quality. Each capsule's modern design was qualified as futuristic at the time, and comprised:
At the entrance, sanitary facilities with toilets and bathroom, closed by a door and that somehow remind of those of campers or long-distance flights,
A main living space divided into 2 zones:

A wall with custom built-in furniture and a small foldable table to eat, work or entertainment with the fitted equipment (television, telephone, radio, and hi-fi stereo),
A sleeping corner with a 1-person bed, a lamp and sometimes an armchair.

Lastly, as a central element, the iconic porthole style 1,3 meters diameter great round window with its circular blind.
Kisho Kurokawa, who was also interested by ecology and recycling, initially planned for maintenance and the replacing of the capsules every 25 years. At the beginning of commercialization, a capsule cost about the same price as a beautiful luxury car 🚙.
Even if the inner space is quite small, the capsule-apartment provides its dwellers all they need to enjoy a comfortable night after a long day at work. The many restaurants, izakaya pubs and other konbini in the vicinity easily provided food and places to go out at night with colleagues. Moreover, like in a hotel 🏨, there was a conciergerie service to take care of the laundry.
Unit owners in Nakagin Capsule Tower could occupy their modules as they wished: temporarily or on a permanent basis. Several contiguous units could also be used as a single apartment, with each module constituting a room. Some have an additional kitchenette with a fridge and a camp stove.
Over time, the uses of Nakagin Capsule Tower broadened, and some units were converted into offices and meeting rooms. Other were used for art exhibitions. Some were also rented on Airbnb for a while, thought without the acknowledgement of the building's management.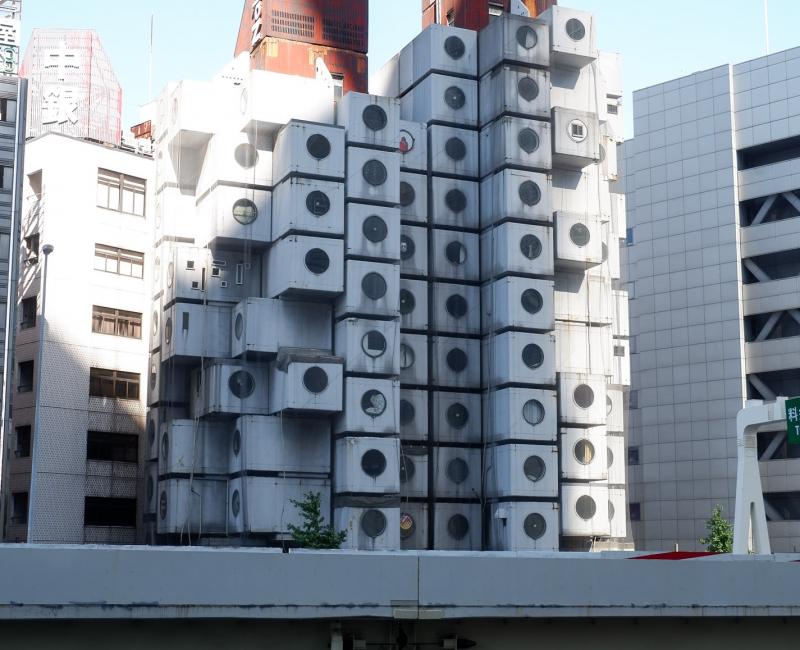 The capsule renovation that will never happen
In 1997, namely 25 years after the tower's completion, the first replacement of the capsules could not be achieved. The agreement of all owners for such a large project could not be reached, and it was found out technically impossible to change one unit at a time, apart from their neighbors.
A construction company was chosen to undertake the major works necessary in Nakagin, but it went bankrupt due to the 2000s economic crisis. Then, Kurokawa's death in 2007 added further delay the process. Finally, the 2011 Tohoku Earthquake caused important damages and put an end to any hope of a full and complete renovation of the building.
Rust has invaded the capsules and there are many leaks, in the accommodation parts as well as in the common areas. Thermic insulation has become insufficient which makes the capsules energy-consuming and too costly to maintain.
Some nostalgic owners have undertaken crowdfunding campaigns to preserve this architectural heritage. However, the Coronavirus 🦠 pandemic that started in 2020 once again put the project and the search for generous investors on hold. In March 2021, it was finally decided that Nakagin Tower will be dismantled. The works started in October 2021 and the dismantlement is to start in April 2022. Until then, guided tours of a sample capsule in its original condition were possible under specific conditions (admission by lottery for a ¥3,000 / ~US$19.96 fee). Note however that taking pictures in the common areas was forbidden due to their state of disrepair.
During its 50 years lifespan, Nakagin Capsule Tower was an unusual landmark in the Japanese capital and inspired several generations of contemporary architects and amateurs of innovative concepts.
In order to preserve what can be, some museums in the world have promised to retrieve and exhibit units of Nakagin's capsule, such as Paris' Centre Pompidou. Moreover, it is already possible to see one at Saitama Prefecture's Museum of Modern Art, whose building was also designed by Kisho Kurokawa.