Sushiya Ginzo Kitte
🍣 A Good Sushi Restaurant at Tokyo Station
Add to my favorite places
Sushiya Ginzo Kitte is a sushi restaurant located at the basement floor (B1F) of Kitte Marunouchi shopping mall, in front of Tokyo Station in Marunouchi district. This typical small Japanese restaurant offers a good value for money for visitors roaming around the capital.
Thousands of passengers, commuters, or passersby transit every day in Tokyo station, and many of them take a quick break there for lunch or dinner before continuing their travel. It is the same for tourists, who are a growing number to visit the recently renovated area of Marunouchi. The beautiful shopping mall Kitte, next to the station, is thus home to dozens of restaurants, including two sushi 🍣 restaurants: the NemuroHanamaru kaiten-zushi in the upper floors, and Ginzo, located underground.
The first one's popularity makes it quite busy, and it is not unusual to see a long waiting line, may be due to the conveyor belt feature, of which foreign visitors are fond. We thus choose to avoid the crowd and eat at Sushiya Ginzo Kitte without any expectation. The restaurant, at the building's angle, is quite small, with only about fifteen seats at the counter and around tables so close to each other it is difficult to move in the restaurant.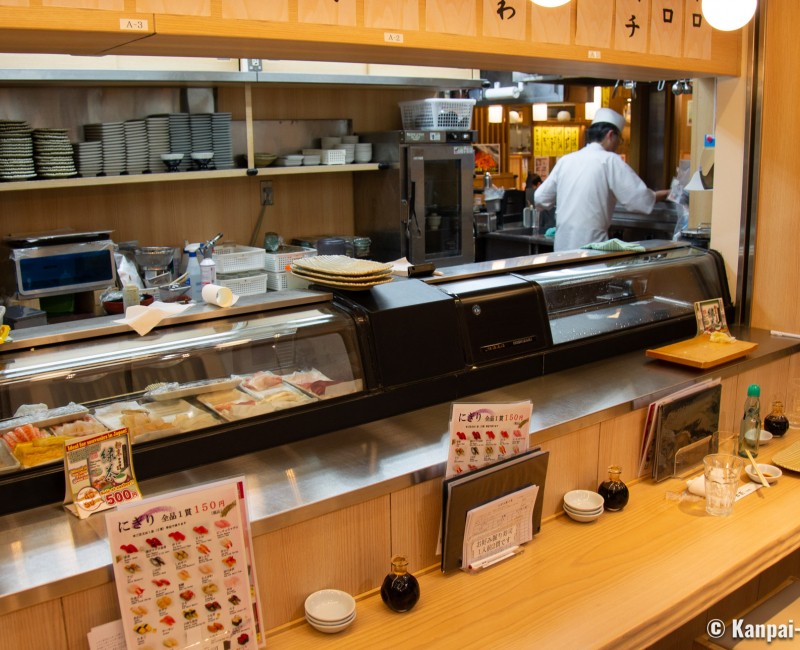 Good traditional sushi at affordable prices
But the point of a sushiya is naturally the food. And Ginzo has nothing to be ashamed of, as the fish was excellent when we ate there. There was a range of thirty toppings, to cater for everyone's taste, a choice that is not overabundant and inspires confidence to delicate eaters.
As for the prices, they were surprisingly affordable, in the lower average of sushi restaurants that are not kaiten. The value for money is attractive, as you can have for ¥305 (~US$2.07):
A pair of nigiri,
Or a plate with 6 makis.
The restaurant also proposes sets, with attractive prices, especially for lunch, but ordering à la carte is also possible.
The only negative point was the occasional cigarette smell, that seemed to ooze from the ventilation system.