A Guide to Riding the Kyoto Buses
The much criticized Kyoto transport network does not actually offer any completely reliable solution: 
The subway consists of only two lines and therefore covers a limited number of destinations;
The train is mainly intended to take passengers away from the city center, either westward towards Sagano, northward toward Kurama or southward toward Inari; 
Cycling, an ideal means of transport in and around the city center, is rather inconvenient outside those limits despite recent, but as yet insufficient efforts, towards creating more bike lanes; 
Taxi rides, a very convenient solution for a number of routes, obviously come at a rather high price which many travelers may not be able to afford. 
This is why, despite its drawbacks, the bus is the means of transport most used by the visitors of the former capital of Japan (and by its elderly inhabitants whose numbers reflect the population decline). Since it is not that easy to find one's way around with buses, we have devised a guide for you to feel more relaxed about it.
Map of the Kyoto bus network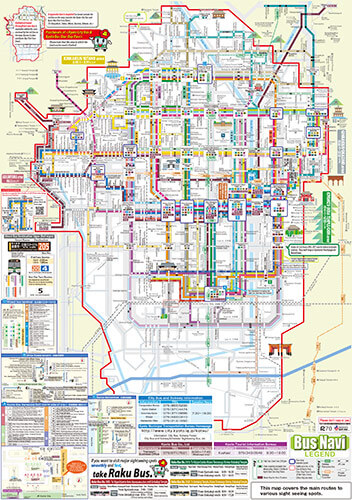 Click on the picture to display it full size.
Pros and Cons
The good points of the Kyoto buses:
Since buses use the well-developed Kyoto street and road network, they are able to cover most tourist destinations; 
They run quite frequently on the most used lines;  
More and more announcements, in particular those concerning tourist attractions, are delivered in English;  
The day pass (500 Yens / ~US$ 4.50) pays for itself in just three trips;
"Special" buses, numbers 202 and 205, are loop lines and numbers 100, 101 and 102 serve the most visited places; 
All municipal buses became compatible with IC cards (contactless, like the Suica card) in 2014. 
On the down side: 
Single tickets are expensive and not open to any discount  for IC card holders; 
Not a single bus in town is compatible with the Japan Rail Pass; 
Most lines have limited schedules and service sometimes ends before 5 a.m.;
Kyoto is increasingly subject to traffic congestion, and buses therefore often run late; 
Information displays only deliver basic, undetailed, and more often than not untranslated information; 
Buses are sometimes (even often) overcrowded, especially on the main lines and/or during rush hours; 
In most cases, carrying any luggage around will prove impossible; 
As often on Japanese buses, the seat-size does not fit the build of Westerners.  
Rates
Municipal buses are painted green. There are two different types which are described in detail below.
City buses
They only serve the city center; Arashiyama for example is not included and a different rate will apply to get there. Each line number is painted a different color. There is a single rate for all tickets whatever the number of stops or the distance covered:  
Adults: 230 Yens (~US$ 2.10)
Children from 6 to 12: 120 Yens (~US$ 1.10)
A pass called City Bus All-Day Pass is also available and allows an unlimited number of trips per day. It can be bought in all buses or from automatic ticket machines at a number of stops: 
Adults: 500 Yens (~US$ 4.50)
Children: 250 Yens (~US$ 2.30)
Be careful though: As is often the case, the pass cannot be used over a 24-hour time span. It is only valid for a day, i.e. from morning through evening and even though you only start using it in the afternoon, it will not be valid any more the next morning. 
Buses running both in the city and suburbs
Their distinctive feature is the line number painted against a white background. The applicable rate depends on the number of stops. 
They offer another type of pass called Kyoto Sightseeing (half-price for children):
1 day: 1,200 Yens (~US$ 10.90)
2 days: 2,000 Yens (~US$ 18.20)
When you purchase this pass, you get a free map plus a range of discounts in some Kyoto stores. 
Planning your itinerary
The good news for people who want to plan ahead or are unsure about how to find their way around is that there is a local version of Hyperdia, called Arukumachi, dedicated to the Kyoto transport network. 
On this website, you will find information about itineraries, schedules and rates and you can download the application on your smartphone.  
Operating mode and good practices 
As is the custom everywhere in Japan, people start waiting in line at the bus stop and are always careful not to block the sidewalk. Boarding is through the rear door. The procedure may then vary depending on the type of bus. 
On city buses:
You do not have to buy a ticket upon boarding. 
Before your chosen stop, press one of the stop buttons to request the bus driver to stop.
Pay your ticket money into the machine next to the driver before getting off:

In cash;
With an IC card;
By purchasing/presenting a pass. 
On buses running both in the city and suburbs:
Upon boarding, you may:

Take a numbered ticket;
Present your IC card;
Punch your pass if you already have one; 
Just wait to buy your pass when you get off.

Before your chosen stop, press one of the stop buttons to request the driver to stop. 
You pay the exact amount for your trip (shown  at the front of the bus and matching your ticket number) into the machine next to the driver before you get off:

In cash;
By presenting your IC card; 
By presenting your pass;
By purchasing a pass. 
Just like in most buses around the world, the name of the next stop is displayed on a screen in the front part of the vehicle, often spelled out in Japanese and sometimes translated into English. 
The machine located by the driver's seat
Situated to the left of the driver (who is at the front of the vehicle on the right hand side), this machine is intended to handle most passenger-related procedures. 
It may be used, among other things, to: 
Get change for 1000 Yen notes (~US$ 9.10), ideally before you reach your stop so as not to risk blocking traffic; 
Receive the exact amount for your payment through a tiny slot (no change given); 
Pay directly with your IC card, from which the amount paid will be directly deducted;
Stamp your pass when using it for the first time (you will only be required to present it to the driver after that).
The simplest way is obviously to use an IC card. If you forget your Tokyo Suica card for example, it will be worth purchasing an Icoca or Pitapa card (the local Kansai cards). 
Further advice
Given the difficulty that may arise from carrying any (especially bulky) luggage around when riding the buses in Kyoto, we strongly recommend you to use the excellent Takkyubin delivery system or simply hire a taxi when you have heavy luggage in tow.
Finally, the city of Kyoto offers free Wifi at all its bus stops (although not on the buses). You just need to connect to the "KYOTO WIFI" network and sign up to the terms of use from the page displayed by your browser. Sessions are 30 minutes long. This service is available from 5 a.m. to 1a.m.
Riding the subway: A possible alternative
Depending on your destination, it may sometimes prove more convenient to take the subway. However, although less crowded and free from traffic congestion, it has two main drawbacks. First of all, its network consists of only two lines: 
Karasuma / K (Turquoise and vertical) north bound to the Kyoto International Conference Center at Kokusaikaikan and south   to Takeda, via the Kyoto JR station. 
Tozai / T (red and horizontal, or nearly…), west bound to Uzumasa Tenjingawa and south-east to Rokujizo. 
They cross paths at Karasuma Oike in the city center. 
The second drawback is that it is the most expensive subway in the whole of Japan although it nonetheless fails to cover its abysmal losses (8.6 billion Yens in 2010 despite efforts to attract customers). You can pay with your IC card or buy a single ticket; cost depends on distance:
Adults: from 210 Yens (~US$ 1.90) to 350 Yens (~US$ 3.20)
Children: from 110 Yens (~US$ 1.00) to 180 Yens (~US$ 1.60)
The JR Pass is not compatible with the Kyoto subway either which, however, offers a one-day pass with unlimited traveling included:
Adults: 600 yens (~US$ 5.40)
Children: 300 Yens (~US$ 2.70)
It is also worth mentioning that the Arakumachi application also exists for the subway. Please visit this address to download it.