Meguro-gawa
The Sakura River in Tokyo
Add to my favorite places
Meguro-gawa is a river crossing the capital of Japan in its south-west and flowing in Tokyo Bay. At nightfall in spring, its pedestrian banks attract crowds of onlookers to admire the blooming cherry trees overlooking the water in a festive atmosphere.
More discreet than the Sumida River on the other side of Tokyo, Meguro-gawa is also less bombastic: lined with buildings, it finds its balance between a stuffy town planning and a quiet residential area south of Shibuya. Not necessarily the most attractive in normal times, the river gets a tourism peak every year with cherry blossoms between late March and early April. To this, two main reasons:
Trees positioning spills branches above the water, creating a sakura 

🌸

"carpet" or "ceiling" according to how it's envisaged;
Thus, since about thirty years, Nakameguro has turned into what is officially called Sakura Matsuri (literally, "the cherry trees / cherry blossom festival") generally in early April and during ten days. Upon nightfall, the walk of a few hundred meters on both sides of the river sheds a light deflected on some eight hundred trees, offering a superb show to countless visitors.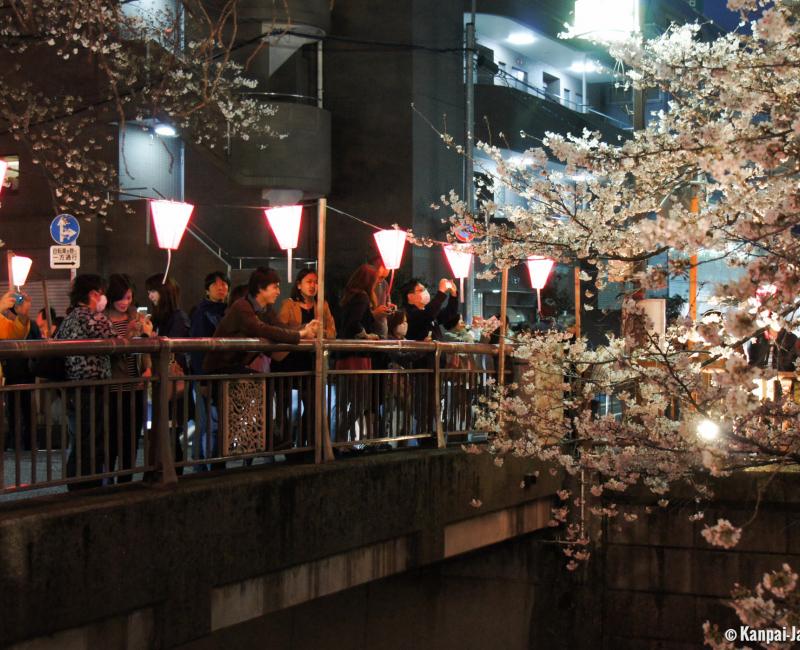 For they are many couples or friends enjoying views every night during this short period, simply to have a good time and capture photos. In Meguro-gawa, no place for blue tarps: one remains standing with a ¥600 / ~US$3.99 Champagne (or Martini) cup. Shops logically benefit from this seasonal event, but the atmosphere is relaxed and the ballet sumptuous.
However, it is impossible to try enjoying the scenery alone since the light-up goes out early, witnessing hundreds of people return to the adjacent subway 🚇 station, thinking about their next sakura spot for the following days.