Grand Chariot Hokutoshichisei 135° Hotel (Review)
Family Cottages in the North of Awaji
Add to my favorite places
The Grand Chariot Hokutoshichisei 135° is a hotel located near Nijigen no Mori theme park, in Hyogo Awaji-shima Prefectural Park. Inaugurated in May 2018, the establishment houses its customers in the heart of nature, in upscale, individual cottages, some of which featuring Naruto and Hello Kitty themed decoration.
Awaji Island's northern end displays several forest parks with beautiful seasonal landscapes and family-friendly entertainment facilities. The Grand Chariot Hokutoshichisei 135° Hotel 🏨 is located near Nijigen no Mori park's Godzilla and Crayon Shin-chan attractions and welcomes vacationists for a weekend or longer.
The hotel resembles a small country village, at the top of a hill, with:
The main building including the reception desk, the restaurant and shared spaces; and,
A string of small round villas, comparable to personal suites.
These individual lodges command a wonderful, unobstructed view on Hyogo Awaji-shima prefectural Park and the Akashi Strait, with Kobe's skyline in the horizon. The panorama on a clear night is especially beautiful. The place allows to enjoy both a sweet loneliness amidst nature and contentedness from being pampered by the helpful and efficient hotel staff.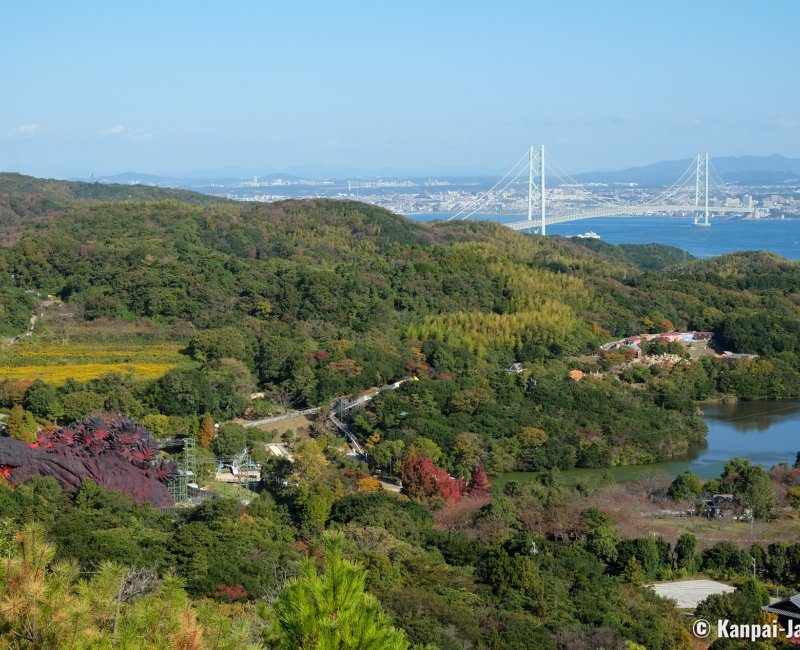 Cozy atmosphere in spacious round villa
The Grand Chariot Hotel characteristically lodges its customers in private cottages that can accommodate 2 to 4 guests each, with superficies varying from 50m² to 75m². Each villa is laid out like a large suite and therefore encompasses several spaces:
A living-room with armchairs, a sofa, a desk, a TV and a small fridge filled with drinks (beer, fruit juice and champagne);
One or two rooms with Western-style bedding (double beds and bunk beds);
A bathroom 

🛁

with a traditional Japanese cypress tub (hinoki-buro);
Japanese toilets 

🚽

;
A balcony or terrace fitted with a table and chairs.
The cabins' round shape and their all-wood interior design give the rooms a cozy Scandinavian atmosphere. The multiple French doors and the skylight at the top of the roof allow the flooding of natural light inside. In this comfortable setting, one can serenely marvel at the surrounding scenery.
To eat, however, you will have to walk a few hundred meters, to the main building's shared spaces. There, the restaurant serves a local gastronomy specific to Awaji, with the island's specialties such as seafood, tender beef and onion. Dinner and traditional Japanese breakfast are hearty, varied and delicious, so do not hesitate to have a try.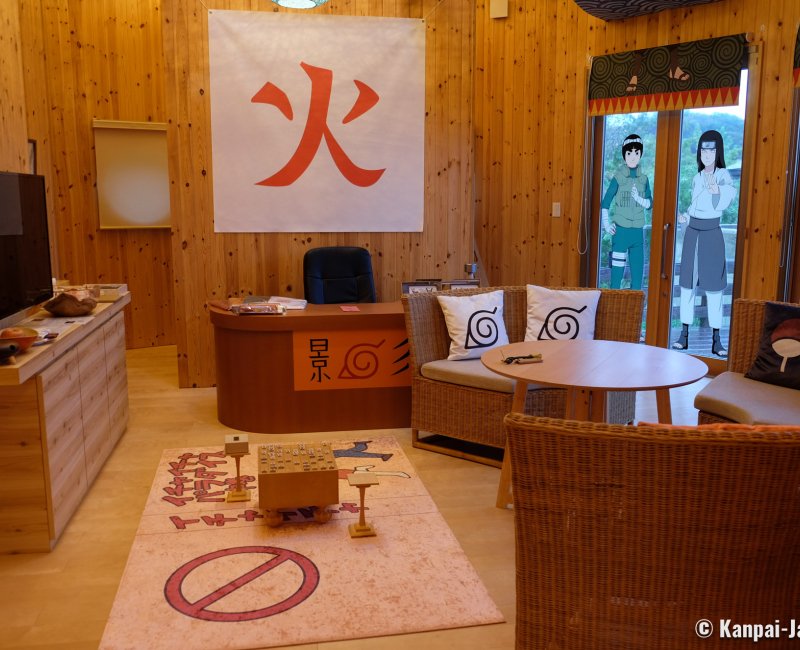 Naruto and Hello Kitty themed rooms
The Grand Chariot Hokutoshichisei 135° took inspiration from Nijigen no Mori Park to create several themed rooms, based on manga or Japanese culture characters. A new Naruto-themed cottage, the "Hokage's villa" (火影の別荘 Hokage no bessô in Japanese) was inaugurated in June 2020.
Naruto fans will certainly be delighted by the staging of the room, with plenty of funny references to the manga, such as Jiraiya, true to his "pervy sage" nickname, peeping through the window in the bathroom! The various decors are set to take pictures with your favorite hero, but more importantly, the place offers merchandising only available at the hotel such as yukata 👘, bags, sweets or small face towels.
In addition to this special lodging featuring Naruto, fans may enjoy 3 rooms dedicated to Hello Kitty, and one themed on Crayon Shin-chan available for booking.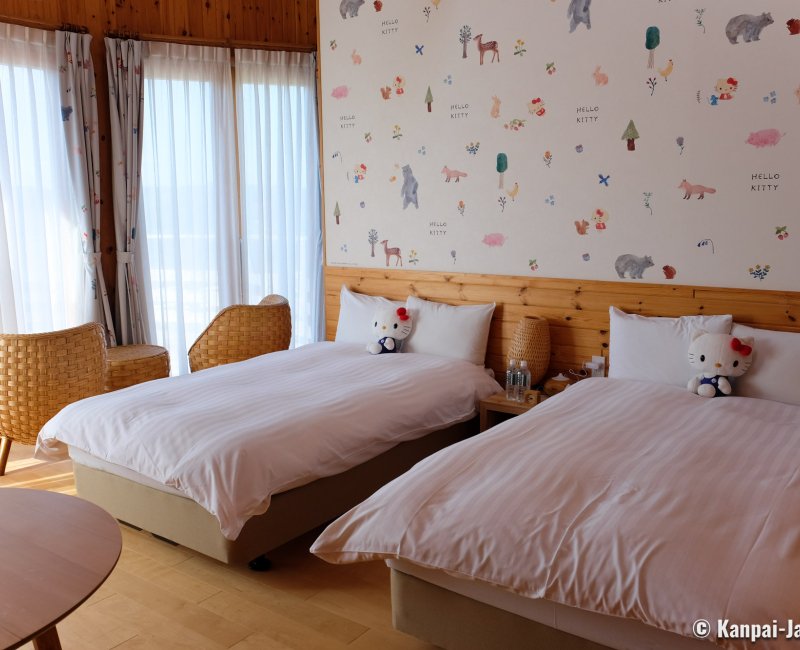 Recommended for families, groups or couples who are looking for the intimacy of a private lodging, the Grand Chariot Hokutoshichisei 135° Hotel is very convenient for Nijigen no Mori Park's visitors. While its location at the top of a forest hill may seem a bit remote, the hotel can be a convenient base to visit the various touristic sites in the north of Awaji Island with a car 🚙.