Showa Memorial park
The Large Green Lung in Western Tokyo
Add to my favorite places
Showa Memorial Park is a vast green area located in Tachikawa, in Western Tokyo. Since its inauguration in 1983, locals love the spaciousness of the place and the array of family activities offered. Its alleys bordered by wonderful gingkoes and the red hues of its Japanese garden make it a nice spot to visit in autumn.
Showa Memorial Park is an immense green space that commemorates Showa Era (1926-1989), the long reign of Hirohito, Emperor of Japan. The largest park in Tokyo Prefecture, it spreads on more than 165 hectares superficies, with hiking trails and numerous pleasant outdoor activities. Each season glorifies the typical vegetation of the area.
The main entrance is located about 10 minutes 'walk to the north-west of Tachikawa JR station. Its elegant alley leading to a majestic fountain is the iconic image of the park. A secondary entrance, from Nishi-Tachikawa, gives a direct access to the Japanese garden. It is the ideal place to have an outdoor lunch, and fresh takeaway dishes can be bought from the station's supermarket.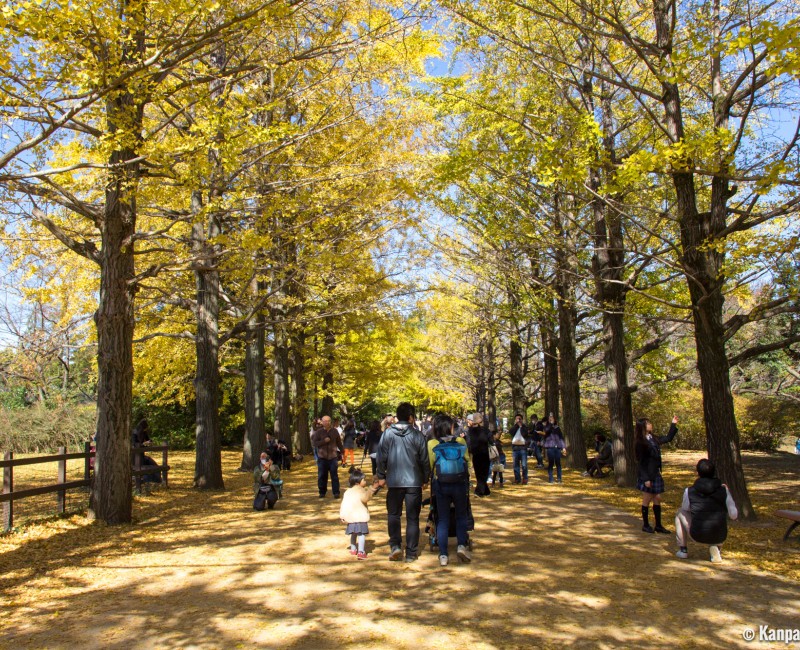 Leisure activities for all the family
The park is a lively space, displaying a lot of facilities for sports and recreative activities for all ages: bicycle rental, a pond with pedal-boats, a large outdoor swimming pool and even a frisbee ground. Several original facilities are dedicated to children such as long suspended nets to climb on, or massive inflatable games. There is also a huge stone dragon and many rocks to climb, the hardest being to choose what to do. In any case, observing Japanese people in their daily leisure is as pleasant as to merge with other families to enjoy the place. Important: the park can be quite crowded on nice weather weekends.
Another attractive side of the park are its natural landscapes, enjoyable to walk in and to contemplate. It creates a relaxing green parenthesis in the middle of Tokyo's urban scenery. The place is very suitable to rest under the big trees, or to read, paint or picnic in the middle of a vast green space.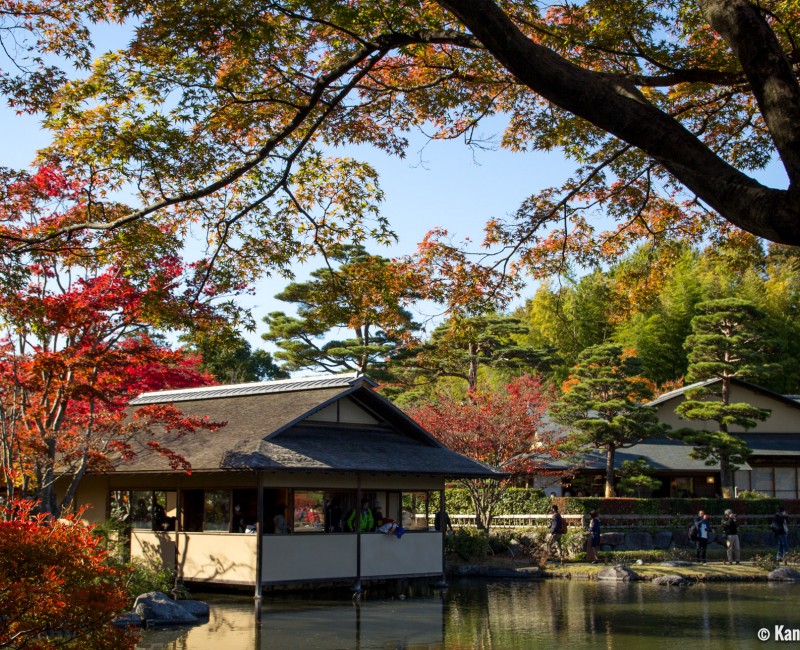 Enjoyable in any season
Then, it is time to explore for the best seasonal spots. The park is especially beautiful in autumn 🍁, and we strongly recommend the visit in November. Near Undo Hiroba ("Sports Plaza"), a marvelous alley lined with a hundred of gingko-biloba trees turn in a vibrant golden color. Moreover, beautiful Japanese maple trees can be seen around a pond, from the Japanese garden. Various flower blossoming embellishes the park throughout the year, especially in spring 🌸, with:
Tulips in mid-April;
Nemophilas at the end of April / beginning of May;
Poppies in mid / end May;
Irises and hydrangeas in June.
Amateurs of Japanese traditional gardening should not miss the bonsai exhibition, logically located next to the Japanese garden.
The historical aspect of this park, however, is quite thin, except for the reconstruction of a Showa Era farm and a small museum dedicated to Hirohito, a bit tight on information about the emperor.
A good half a day is necessary to discover Showa Memorial Park, located in peripheral suburbs, outside Tokyo. Its good points are the vast green spaces, the diversity of landscapes and the friendly environment. It is a good place to admire changing of seasons in Japan.