Oakwood Premier Tokyo (Review)
Yaesu's Luxury Apartment Hotel
Add to my favorite places
Oakwood Premier Tokyo is a luxury hotel located at Tokyo Station's Yaesu north exit, not far from Marunouchi business district. In the heart of Japan's capital city, it offers 123 furnished apartments for rent, with a wide choice from studio to 3-bedrooms apartments. In addition to high-quality accommodation, customers are welcomed in a warm and professional manner.
With the big construction works of Tokyo Station getting close to an end, the surrounding area (including both Marunouchi and Yaesu) retrieves its international, business-minded atmosphere. The Oakwood brand seized the latest renovations as an opportunity to settle in a building about two minutes away from the station on the northeast side, in front of Sakura 🌸 Dori. No need to say how perfect the location is, as Tokyo Station is a convenient transportation hub; you can take direct shuttles to Narita or Haneda airports, or board a Shinkansen 🚅 bound to the North or West of Japan, or you can simply travel within the city via the Yamanote line or metro lines.
Oakwood Premier Tokyo offers a fully serviced apartment hotel 🏨 that ranges from 30 square-meter studios to 110 square-meter three-room flats. We stayed in a 50 square-meter apartment with a separate bedroom on the 14th floor. After a classical entrance, the space opens up on a small kitchen with a bar in the living room. A corridor connects to a large bathroom 🛁 and then to the bedroom. All the services, from the furniture to the hi-fi soundboard, were very high-end. The view was outstanding, and the windows on two faces of the appartment accentuated the high-class feeling of it.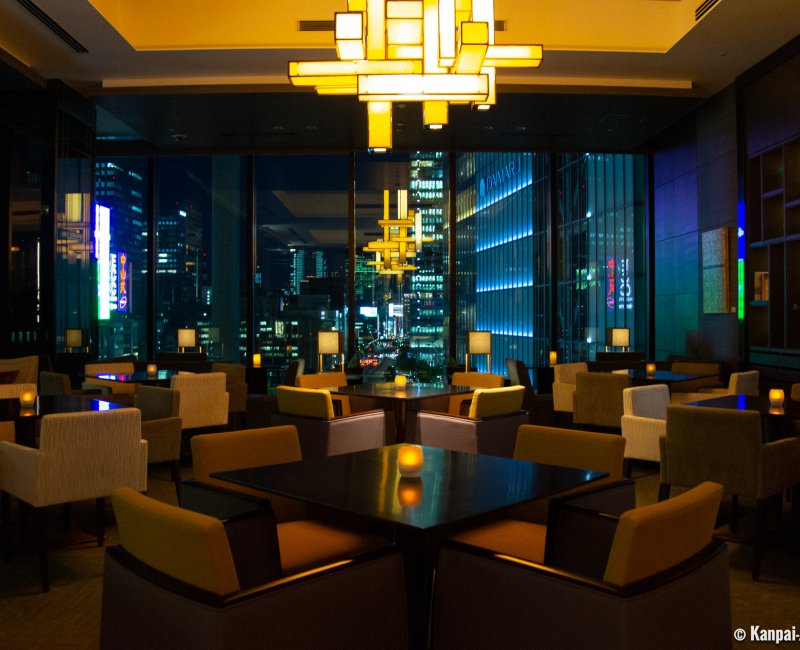 A large and comfortable home in the center of Tokyo
The apartments are totally furnished and everything, from usual bath products, safe-deposit box or electronic appliances (toasters, kettle, microwave, laundry machines, one TV per big room) is provided. A dishwasher and a touchscreen tablet are also included. Oakwood Premier Tokyo ensures that their clients settle in a total peace of mind, whether they are a group (such as families) or individuals such as wealthy expatriates.
Cleaning services are provided, as well as the replacement of bed sheets and towels everyday if desired, but also dry-cleaning for clothing, concierge services and permanent access to the resident-only lounge. The staff is very welcoming and shows a perfect mastering of English, a confirmed know-how in hospitality and high efficiency.
As for catering, we appreciated the diversity of options in the vicinity of the apartment: a konbini open 24/7 just in front of the building, the underground Daimaru supermarket located a few steps away, and numerous restaurants under and next to Tokyo Station. Breakfast is also served every morning in the lounge. Oakwood Premier's hospitality allows to quickly feel like home.
This global offer is a luxurious and extremely pleasant discovery to high budget travelers. Price per night starts at a couple hundred of US dollars (degressive according to the number of nights) and amounts up to a thousand US dollars per night for the biggest apartments. This is a fair price considering the large space of the accomodation and its exceptional location.
This review has been written after a stay sponsored by Oakwood Asia Pacific. Kanpai has been invited but keeps a total freedom of editorial content.